Last Updated on July 26, 2023 by Toya
Are you looking for the best resource for the fluffiest and easiest keto pancakes? If you are, then you'll be glad you're here. You'll find everything you need to know about making pancakes on the keto diet right here. From recipes, to tips and FAQs!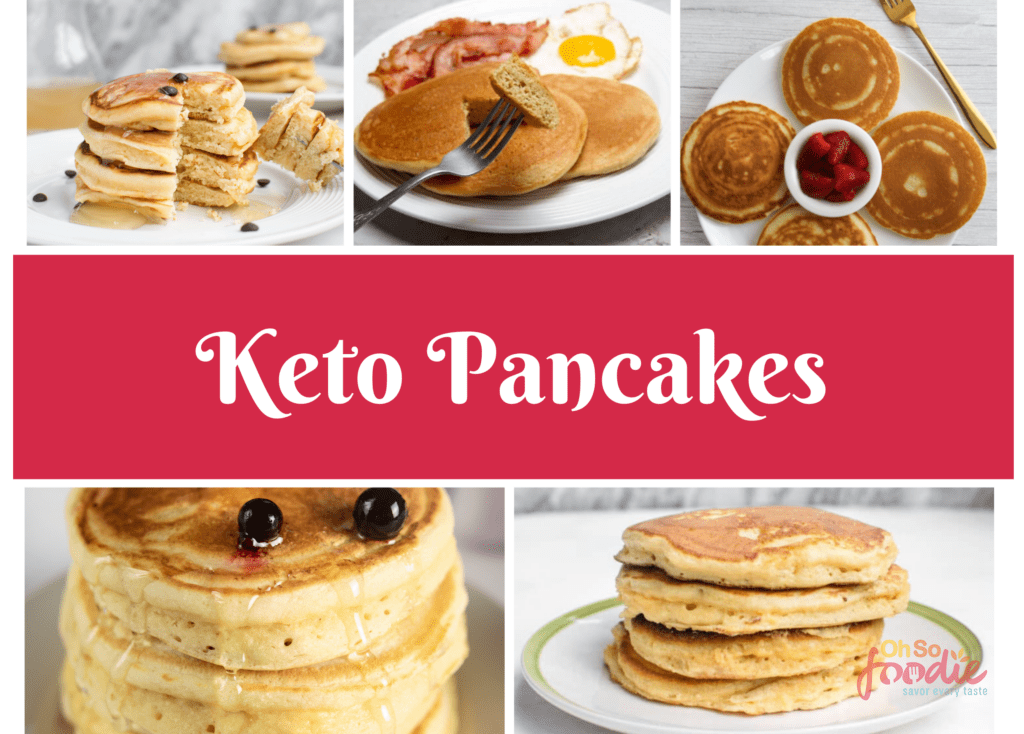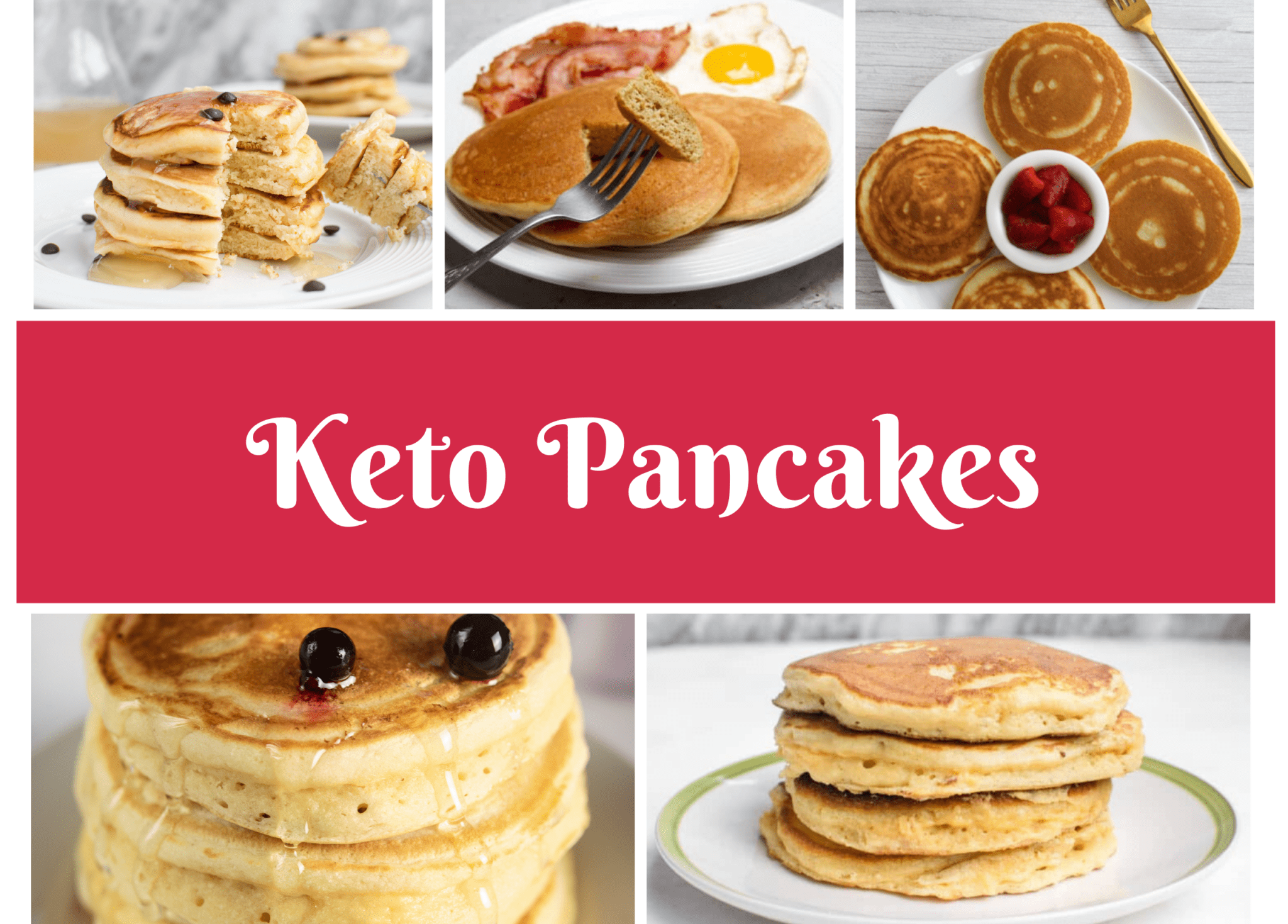 So, if you're a new to keto and you're looking for keto pancake ideas, or the guide to making pancakes on keto, this post is for you.
Also, if you've been doing keto for a while, and you just want some more low carb pancake recipes, you'll love this resource too!
Low carb pancakes FAQs
Can I eat pancakes on keto?
Yes! As long as the pancakes are made using keto friendly ingredients and are thus low in carbs, they can be eaten on a keto diet.
How to make keto pancakes fluffy?
To make keto pancakes fluffy, there a few ingredients that you can use such as baking powder, cream cheese and eggs that will make a world of difference in how fluffy your pancake turn out.
What is keto pancake mix made of?
Low carb pancake mix is usually made of almond flour, coconut flour, low carb sweetener, salt, baking powder and xanthan gum.
Why do my Keto pancakes fall apart?
Keto pancakes will fall apart if they're missing certain ingredients that can help keep the pancakes from falling apart.
Because keto pancakes are made with gluten free flours such as almond, coconut or sunflower flour, these pancakes lack the gluten which is found in all purpose flours that helps to keep the pancakes (and other recipes that use all purpose flour) from crumbling.
Therefore to prevent this from happening you should use either xanthan gum, eggs or psyllium husk in your keto pancake batter to keep the pancakes together and avoid crumbly keto pancakes.
How to store keto pancakes
Storing keto pancakes is very easy. Simply, place the pancakes onto a baking sheet in a single layer. Then place into the freezer for 1-2 hours or until they're frozen solid. Then, place all the frozen keto pancakes into an air tight container or a freezer bag, seal and then place into the freezer for up to 2 months.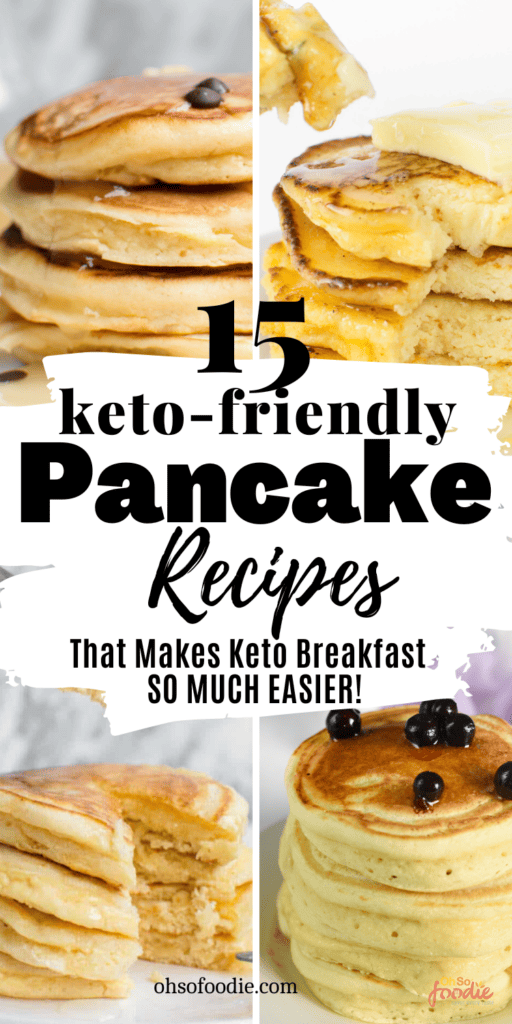 Common ingredients used in keto pancakes
Coconut flour – Coconut flour is another popular flour replacement on keto. It is used in many keto pancake recipes and has a sweet coconut scent and it is very absorbent and therefore used in smaller quantities. Coconut flour has 4 grams of net carbs in every serving 1 tablespoon serving.
Almond flour – This is a very popular type of low carb flour used for making pancakes on keto. Almond flour is made from grinding up almonds into a fine powder and it serves as a replacement for regular flour in keto cooking. Almond flour contains roughly 3 grams of net carbs in every 1/4 cup serving and comes in 4 different varieties including, blanched almond flour, almond flour, superfine almond flour, and almond meal.
Whey protein powder – This is another product that is used in many keto recipes such as pancakes. Whey protein is a zero-carb alternative to gluten-free flour like coconut flour and almond flour. It is used as a way to cut down on the amount of flour used in a keto recipe such as keto pancakes. My favorite whey protein powder to use in my low-carb pancakes are this isopure zero carb unflavored keto friendly protein powder.
Cream cheese – Used for adding thickness and fluffiness to keto pancakes, cream cheese should be a staple in your home if you plan on making great-tasting low carb pancakes.
Butter – Butter is for adding to keto pancakes as it makes these pancakes rich and moist without any additional carbs.
Eggs – Used to provide additional structure to gluten-free pancakes as well as used to add richness to pancakes. However, sometimes, you may not want to use eggs in your pancakes. In this case, you can check out some replacements for eggs in pancakes here.
Unsweetened almond milk – Used as the liquid of choice in most keto pancake recipes as it is low in carbs and easy to find.
Keto sweeteners – such as monk fruit, serve, erythritol, and keto brown sugar substitute. Like almost every other recipe, a sweetener is needed to bring all the flavors together in keto pancakes. These are some of the popular keto sweeteners that are used when making sugar-free pancakes.
Xanthan gum – Used to bind recipes that use gluten-free flour together, xanthan gum is another ingredient that can be used to add structure to gluten-free pancakes.
Keto Coconut flour pancakes
3 Ingredient keto coconut flour pancakes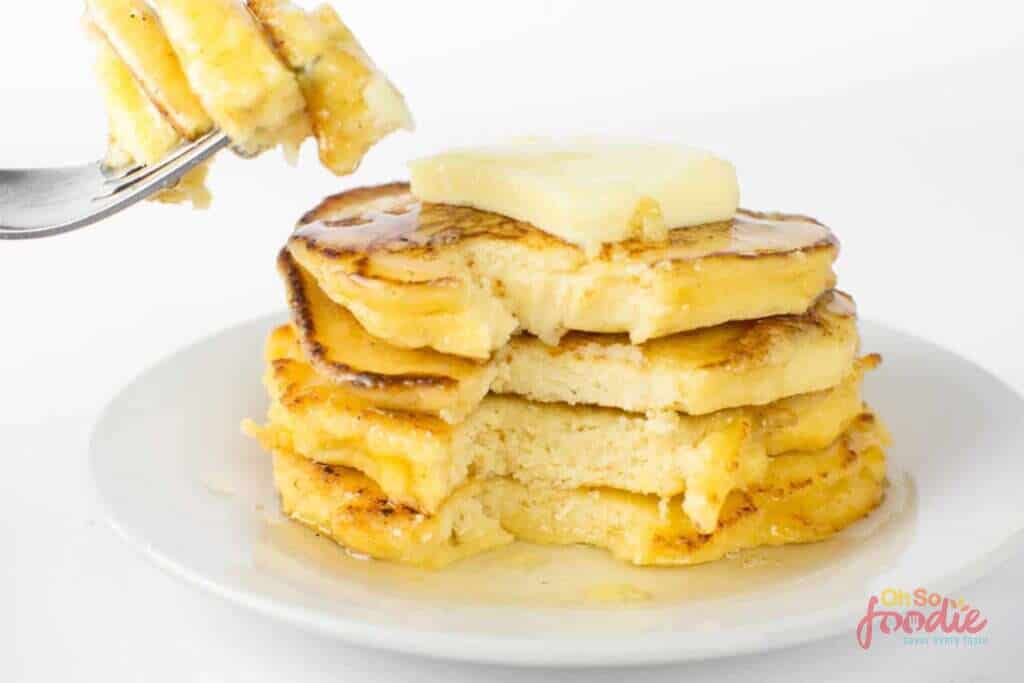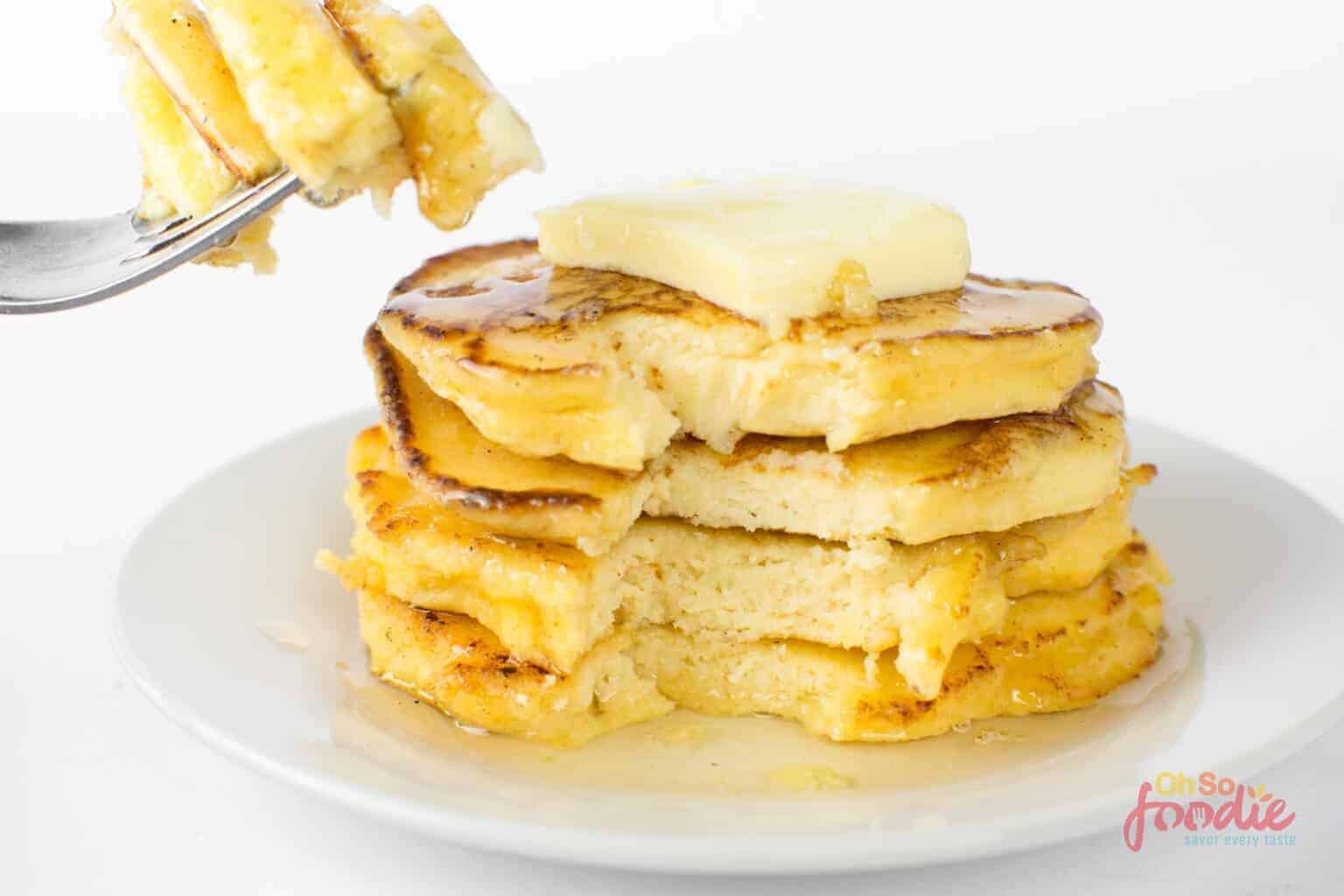 Made with only 3 ingredients as the name suggests, these pancakes taste really good and are perfect for a low carb breakfast. These keto coconut flour pancakes are made with coconut flour, eggs and cream cheese!
Keto chocolate chip pancakes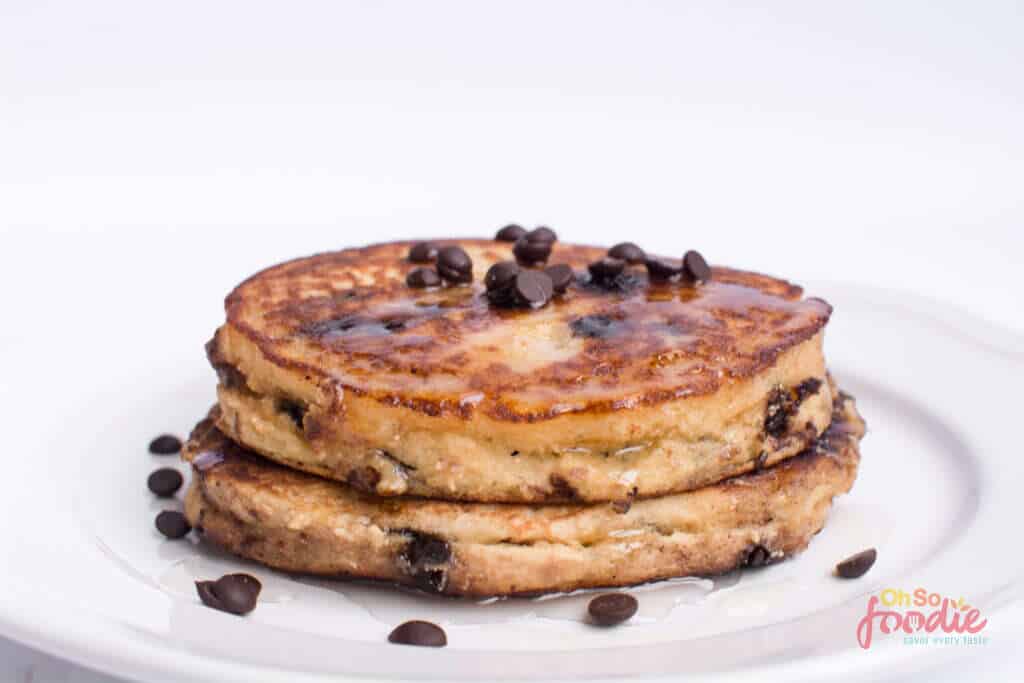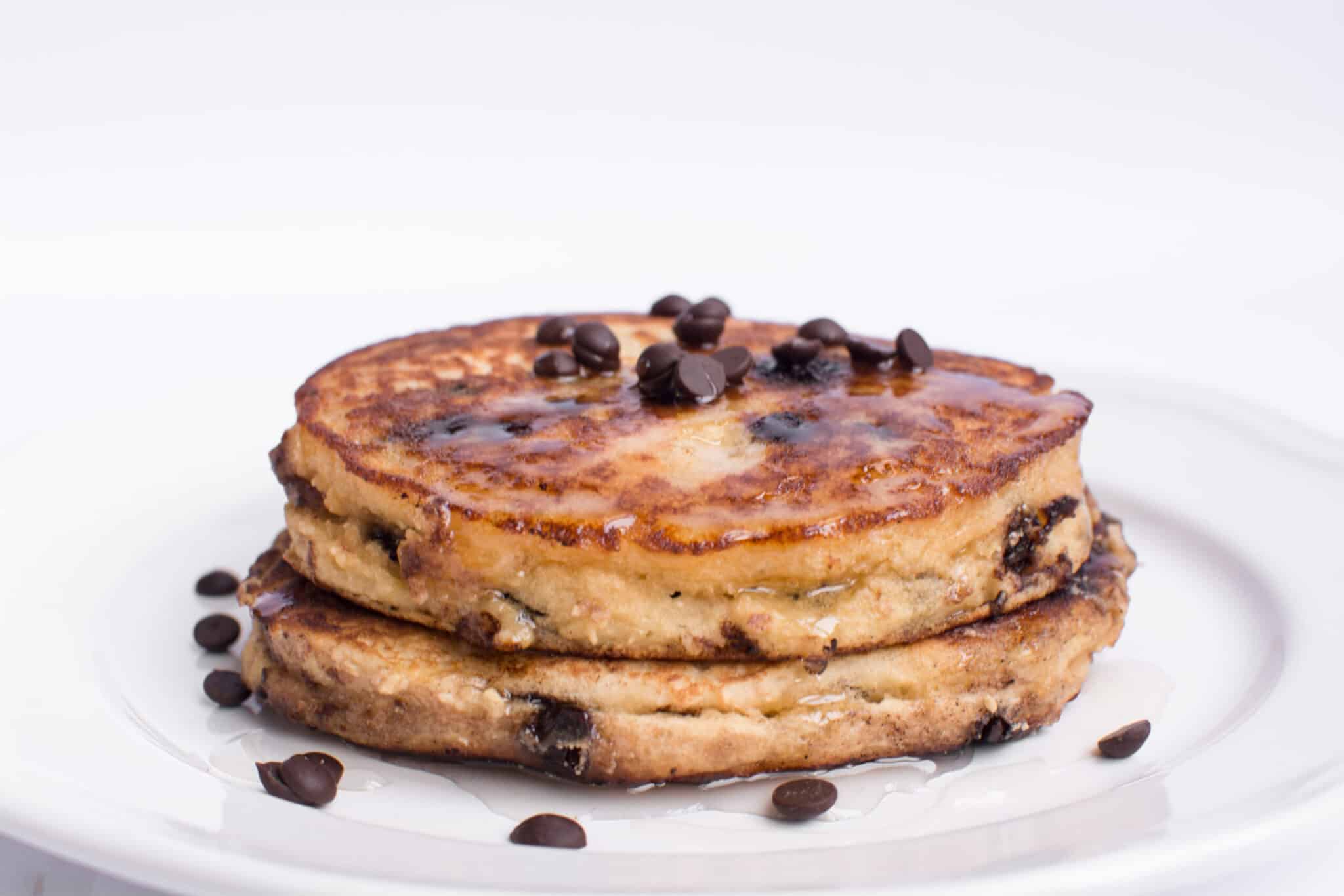 These keto pancakes are made with coconut flour and sugar free chocolate chips and they taste so good! These pancakes are great for breakfast or as a quick dessert. You can find the recipes for these low carb chocolate chip pancakes here.
Keto pumpkin pancakes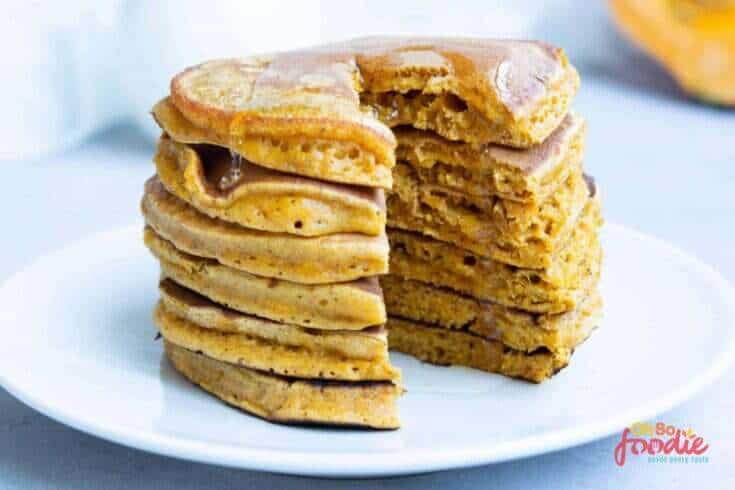 During pumpkin season, you absolutely must try out these low carb pumpkin pancakes. Made with coconut flour, pumpkin puree, pumpkin spice, eggs and some other easy ingredients.
Keto pancakes without almond flour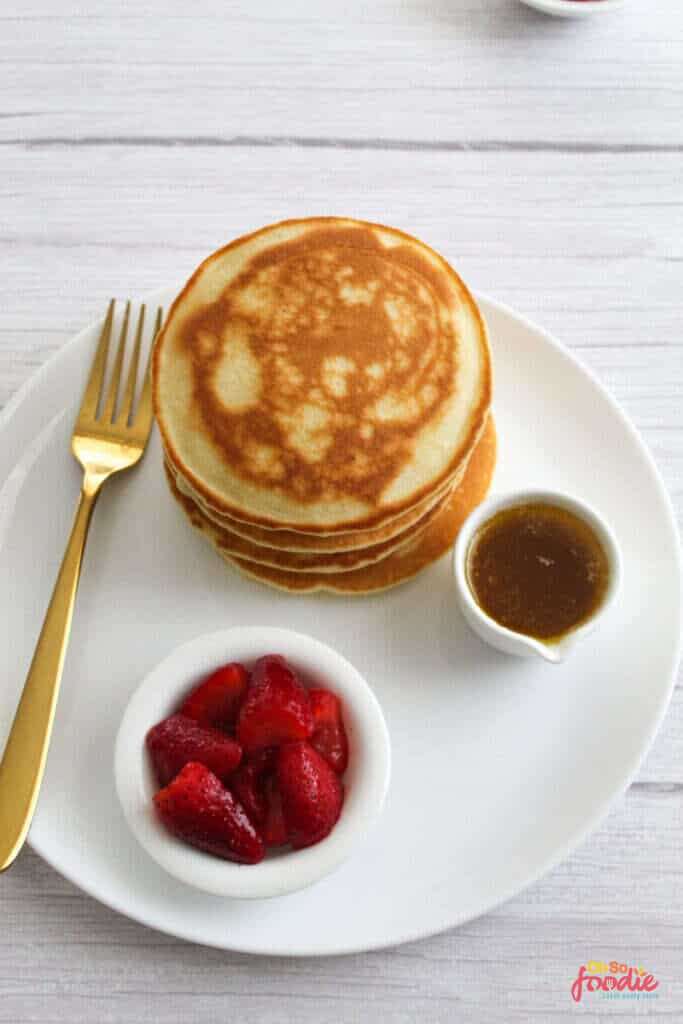 These pancakes are very easy to make, very fluffy and flavorful. Made with, simple ingredients like coconut flour, eggs, and swerve, these low carb pancakes without almond flour are sure to become one of your favorites ket pancakes recipes.
Keto almond flour pancakes
3 ingredient keto almond flour pancakes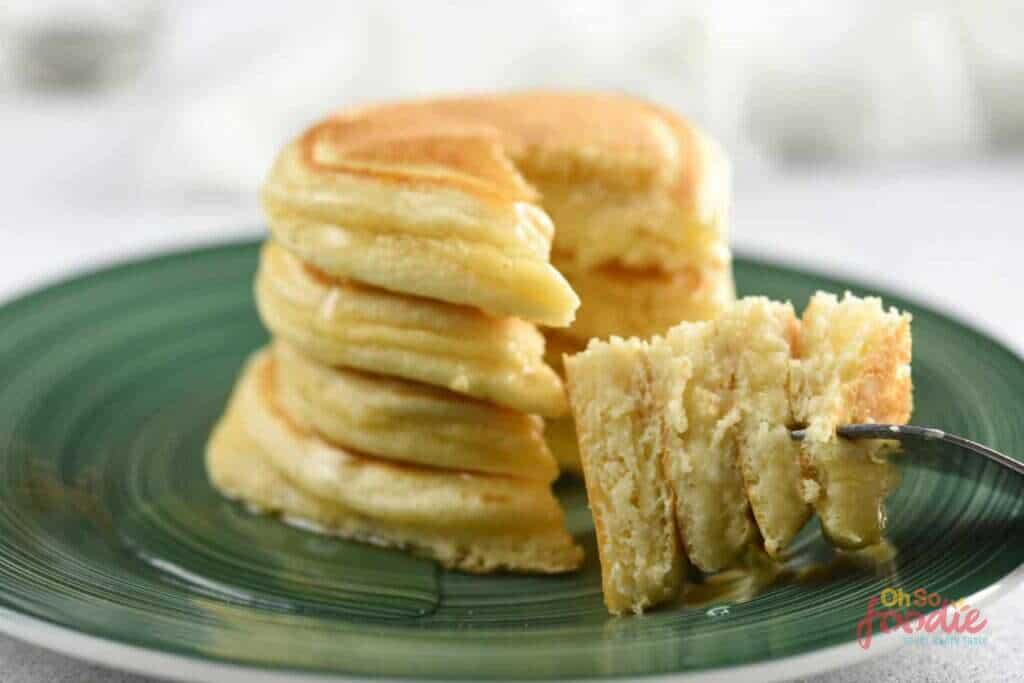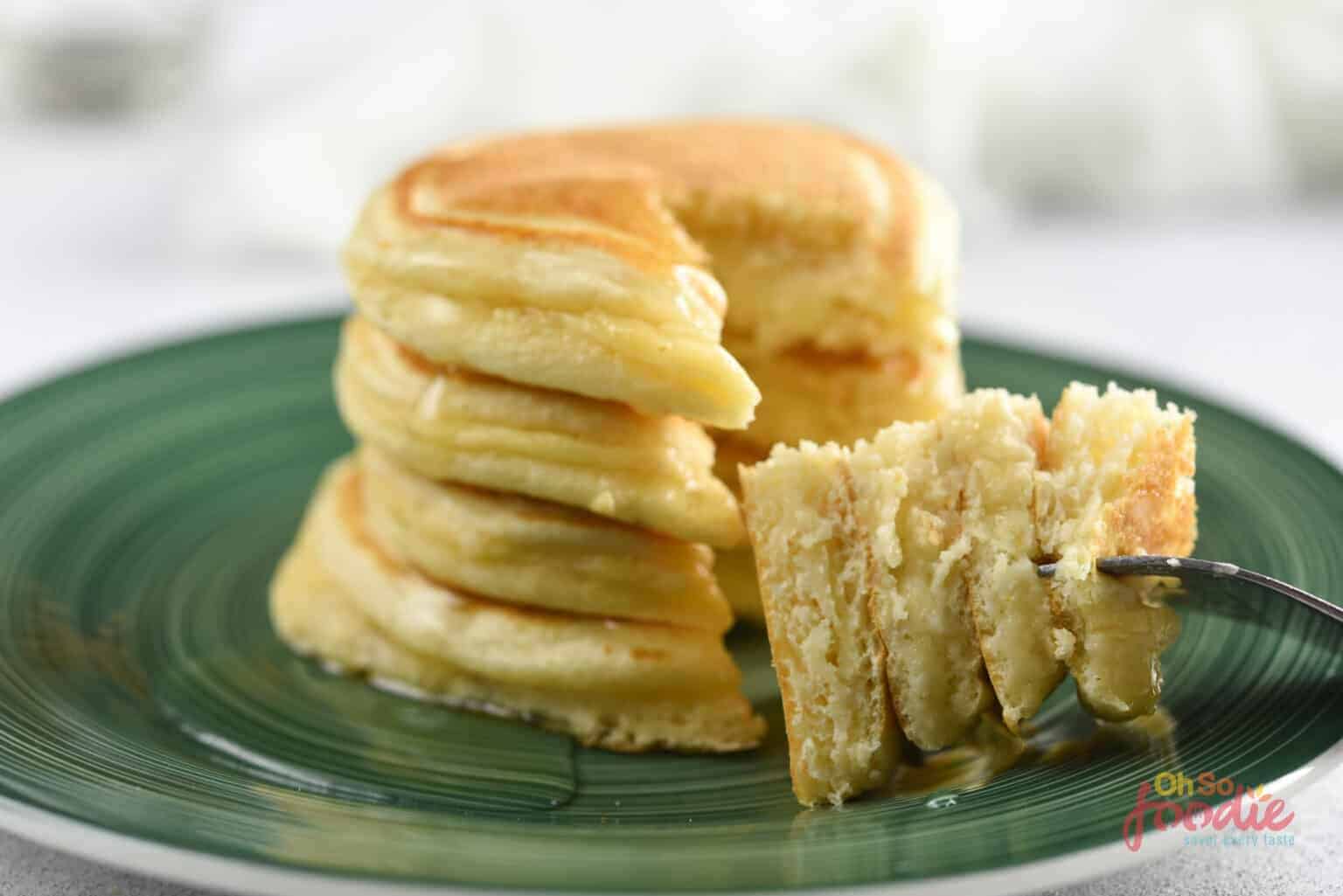 These 3 ingredient almond flour pancakes are made with almond flour, cream cheese and eggs. These pancakes are super easy and perfect for when you have limited ingredients, but you still want some pancakes.
5 ingredient keto almond flour pancakes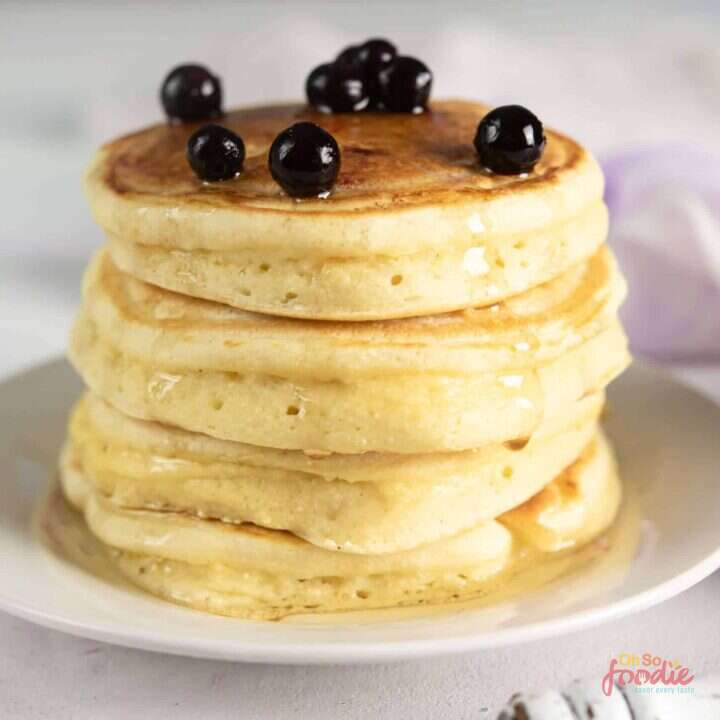 Made with only 5 ingredients, these fluffy pancakes are low carb, gluten free and super easy. They're great for serving as a quick breakfast for both you and your family too! These keto almond flour pancakes with 5 ingredients only has 2.6 grams of carbs per serving.
Fluffy keto almond flour pancakes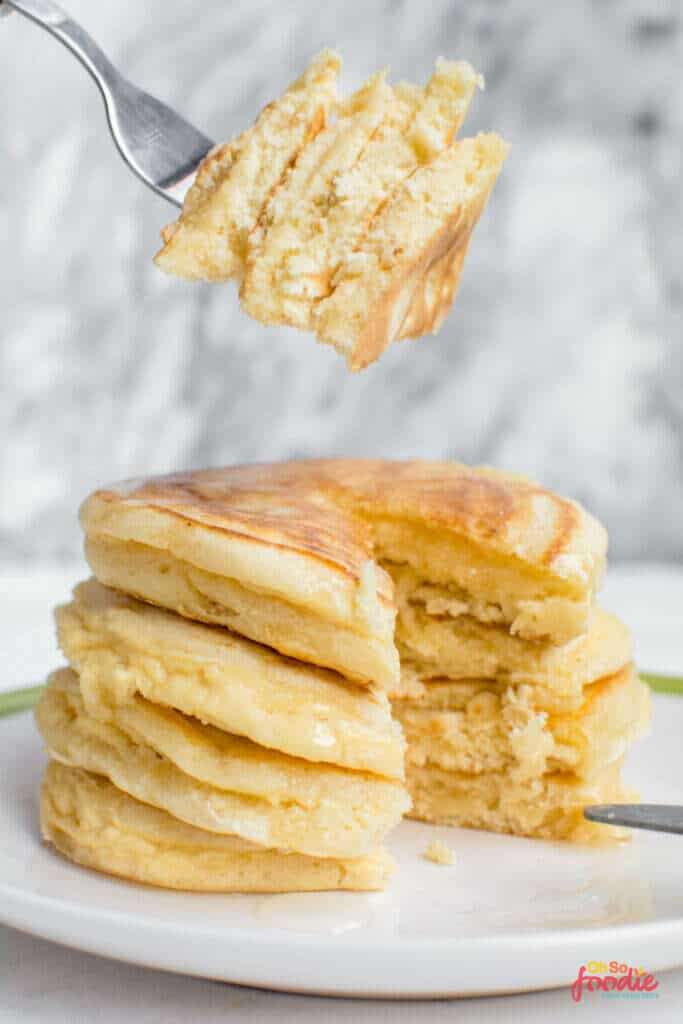 These almond flour keto pancakes are great if you're looking for an easy recipe made with simple ingredients. These pancakes are another go to in my home that everyone enjoys.
Keto strawberry pancakes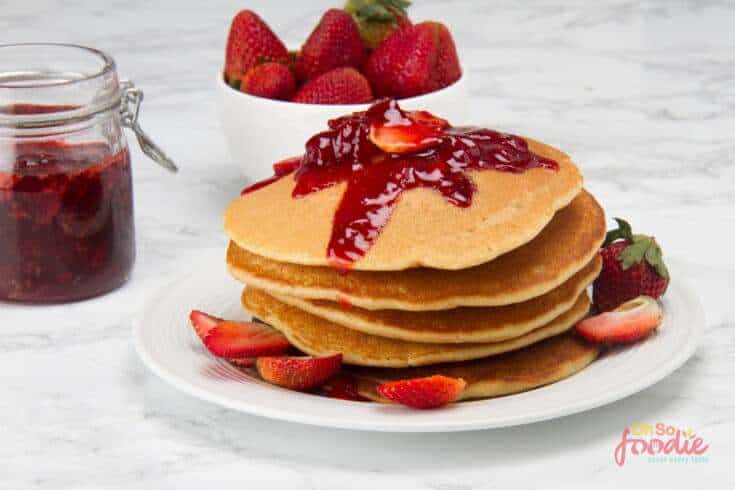 When you want some pancakes that aren't bland and boring, these low carb strawberry pancakes are a great choice. Made with almond flour and served with the most amazing strawberry syrup, these pancakes are worth every bite and contain 6.2 net carb per serving.
Keto blueberry pancakes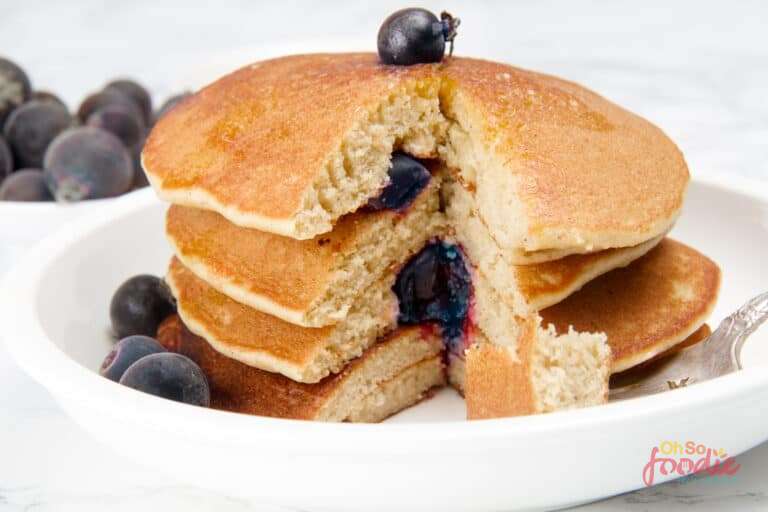 If you love blueberries, then you'll really enjoy these gluten free blueberry pancakes. They're perfect for a quick breakfast or snack.
Keto cream cheese pancakes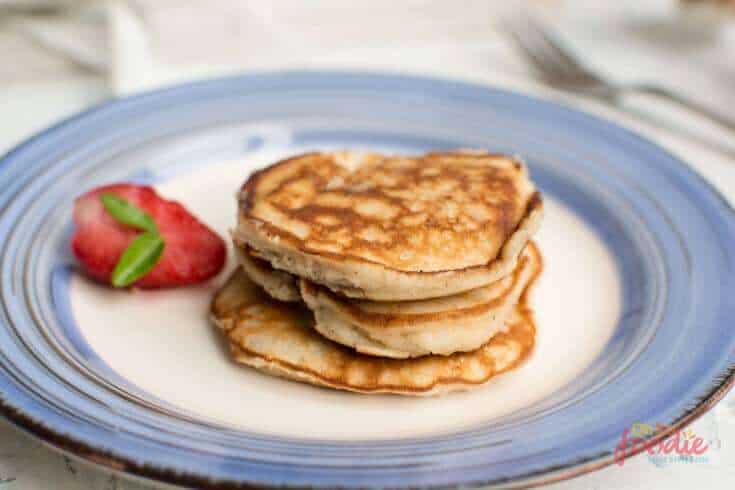 Pancakes made with cream cheese anyone? These cream cheese pancakes are very low in carbs as they're made with absolutely no gluten free flours and only 0.8 grams of carbs per serving!
Keto almond flour and coconut flour pancakes
I also like low carb pancakes with a mixture of almond flour and coconut flour. These are some of my favorites that I'm sure you'll enjoy as well.
Fluffy low carb pancakes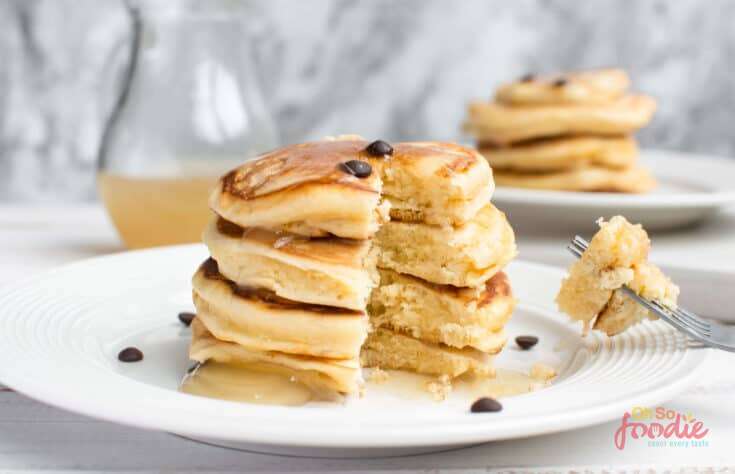 These fluffy keto pancakes are made with both almond and coconut flour and taste so good! I make these all the time as they;'e n of my favorite keto friendly pancake recipes to make. And the best part is that my family loves these pancakes too!
Keto sheet pan pancakes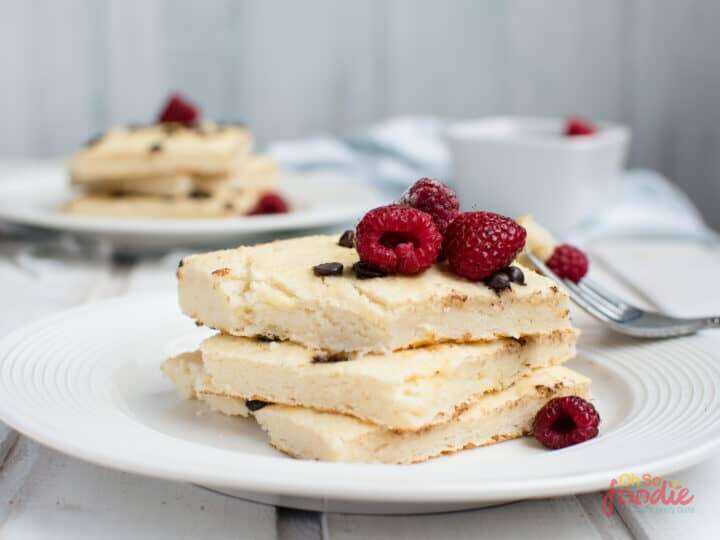 These pancakes are the most convenient pancakes ever! Made in a sheet pan and in the oven, these delicious low carb sheet pan pancakes are a great way to feed the entire family without slaving over a stove all morning!
Keto sourdough pancakes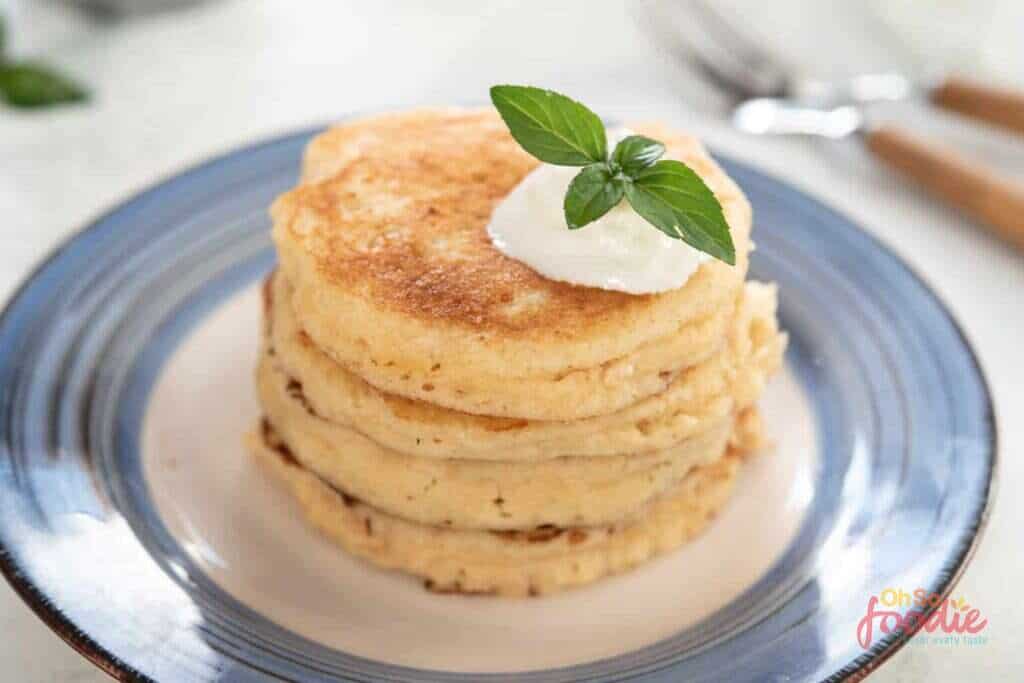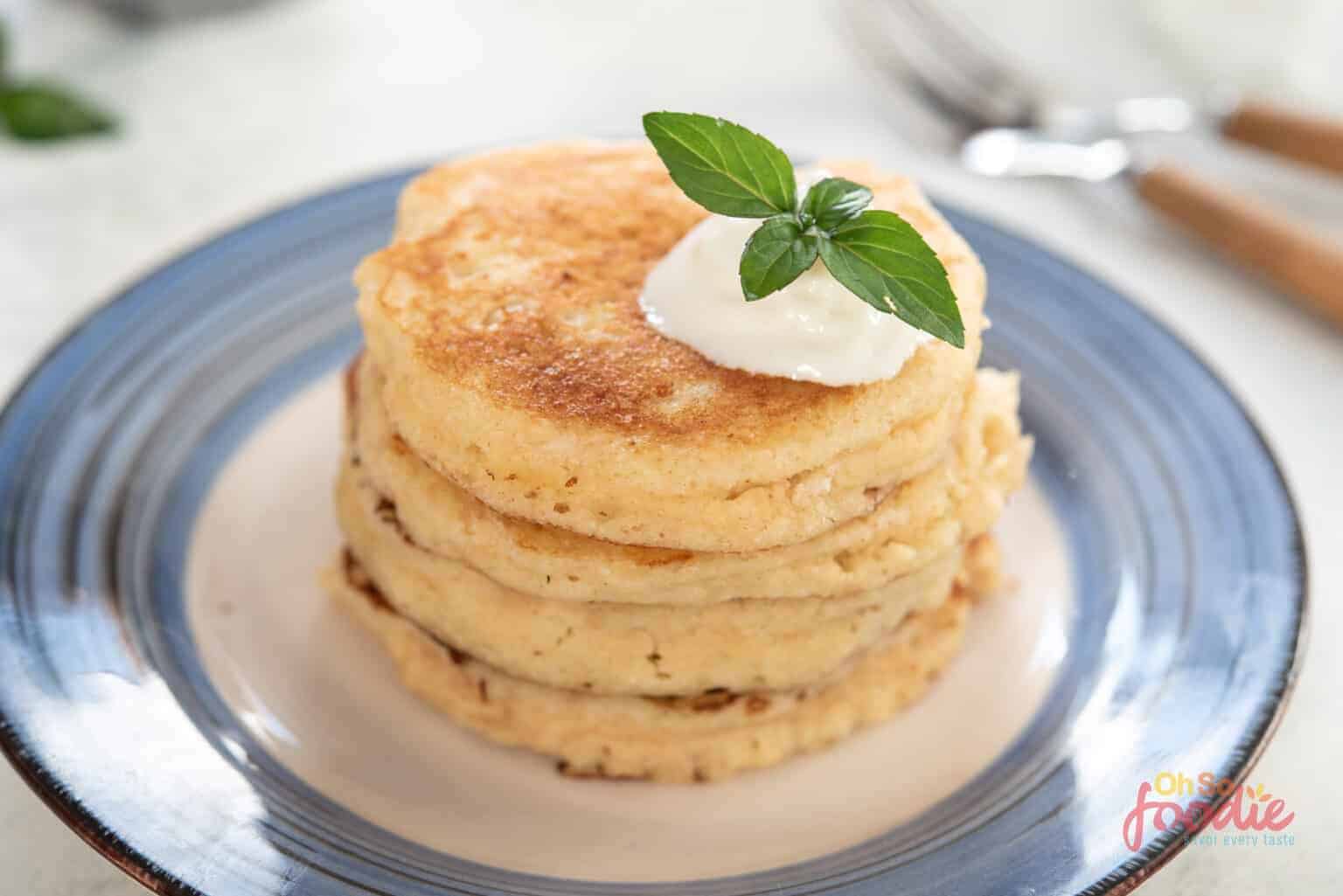 These sourdough pancakes are made with both almond flour and coconut flour and only has 1.6 grams net carbs per serving. It's the perfect kind of pancakes to make when you're looking for a more unique recipe.
Final thoughts
When it comes to making keto low carb pancakes, there are so many great options as is shown here. All these pancake recipes are super easy to make and low in carbs and will make the perfect keto breakfast ideas for just about any taste bud! And, you can serve them with these yummy keto pancake topping ideas for even more flavor!