This crispy keto fried chicken thighs recipe is easy to make, tastes like heaven and most importantly, keto diet friendly. These are made with an awesome keto breading made of coconut flour and ground almonds for a rich flavor you'll want to enjoy often.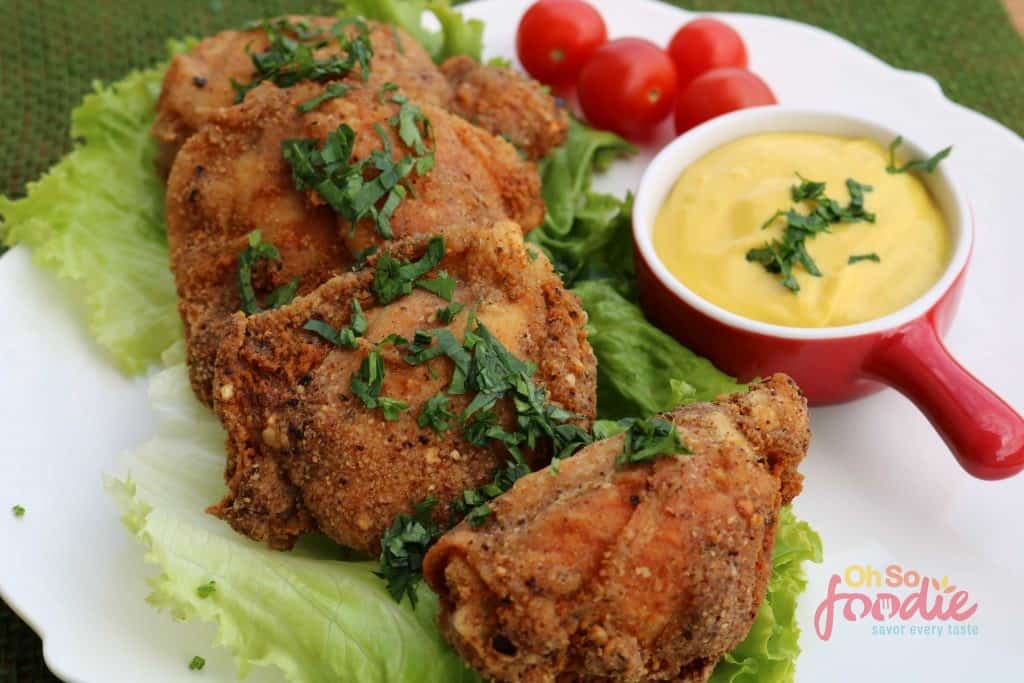 If you've been wanting a great low carb fried chicken recipe, then this is the recipe you need. Before we get into the recipe
Can you eat fried chicken on the keto diet?
One question that is often asked with regards to this lifestyle is this: Is fried chicken keto friendly? The answer to this question is a resounding yes! As with almost everything else on this diet, there are adjustments that will have to be made in order to make keto friendly fried chicken. However, it can be done and this recipe is proof of it!
What about a good low carb breading?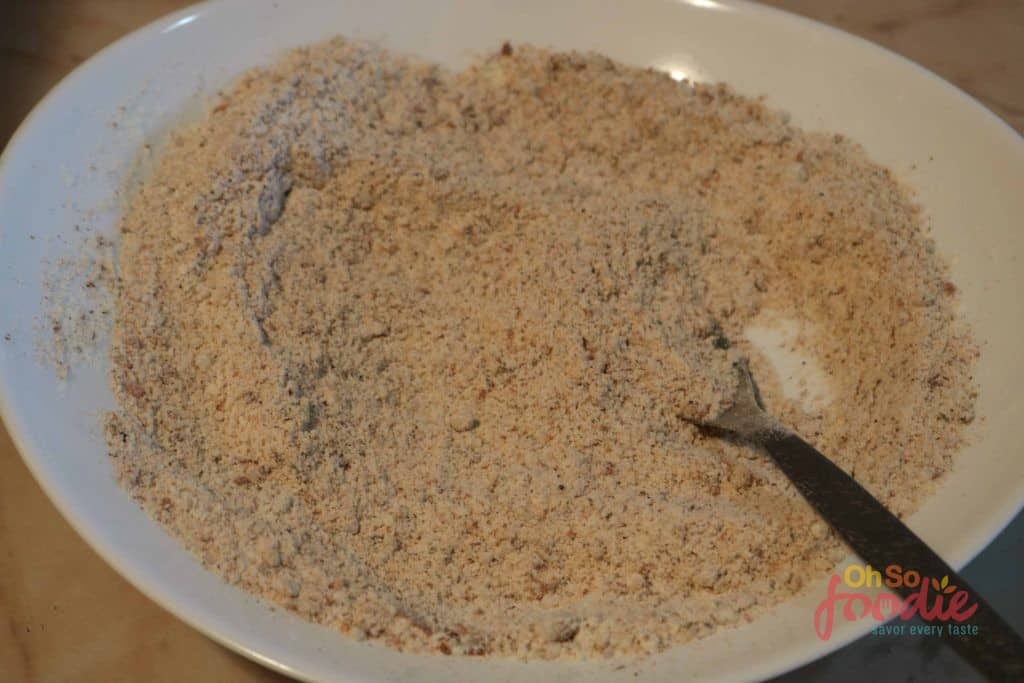 There are many things you can use to make a keto friendly breading for your fried chicken recipe. Some people use almond flour, coconut flour, crushed pork rinds, ground almonds, and so much more.
You can use just about anything that is low in carbs to make a wonderful low carb breading.
For this recipe, we used a combination of coconut flour, ground almonds, salt, pepper, paprika and oregano to make a tasty breading. These ingredients are used to make this recipe taste its best.
Coconut flour: This flour is not only low in carbs and high in fiber. It is also a very absorbent and makes the perfect addition to this breading.

Ground almonds: Many people prepare this recipe with almond flour. If you have this one hand, this is great to use. The ground almonds are also great as they add a richer flavor to the recipe.

Salt & pepper: To add flavor to this recipe.

Paprika: This will help add a nice orange color to the fried chicken

Chili flakes: Chili flakes or red pepper flakes will a a nice hint of smokiness and bring out the flavor of other ingredients in this recipe.

Oregano: Dried oregano goes well with meats and will also help bring out the flavors of the recipe.

Can you cook this keto fried chicken recipe without a deep fryer
Most people do not own a deep fryer. Therefore, this recipe is adopted to cater to people who do not. The fried chicken recipe is made in a frying pan and tastes just as good as it would if it was deep fried.
Yes, a deep fryer would make cooking this recipe easier, however, even using a pan to cook your chicken, you can have yourself a delicious batch of fried chicken everyone will really enjoy.
Why use chicken thighs in this recipe?
To be honest, the cut of chicken you use it all up to you. However, for me, I really enjoy chicken thighs as I find that they're the most flavorful and juiciest cut of chicken. It's as easy to cook as a chicken breast with one bug difference. It will not dry out.
For this recipe, the chicken thighs were used with their bones, however, you can use boneless chicken though if your prefer. it can make the process of frying easier.
With this easy keto recipe, you can enjoy a yummy meal that is fit for the keto diet along with these crispy zucchini fries. You can have these for lunch or dinner and enjoy your own keto version of KFC!
Related: Crispy Baked Low Carb Keto Zucchini Fries
How to make keto fried chicken thighs
Because we love recipes that are simple to make, we've made this recipe quite easy. Therefore, you can have these done and ready to serve in just a few steps.
Now, that we've shared all the tips for this recipe above, let's begin cooking:
First, begin by gathering all of your ingredients in one place and preheating your oil.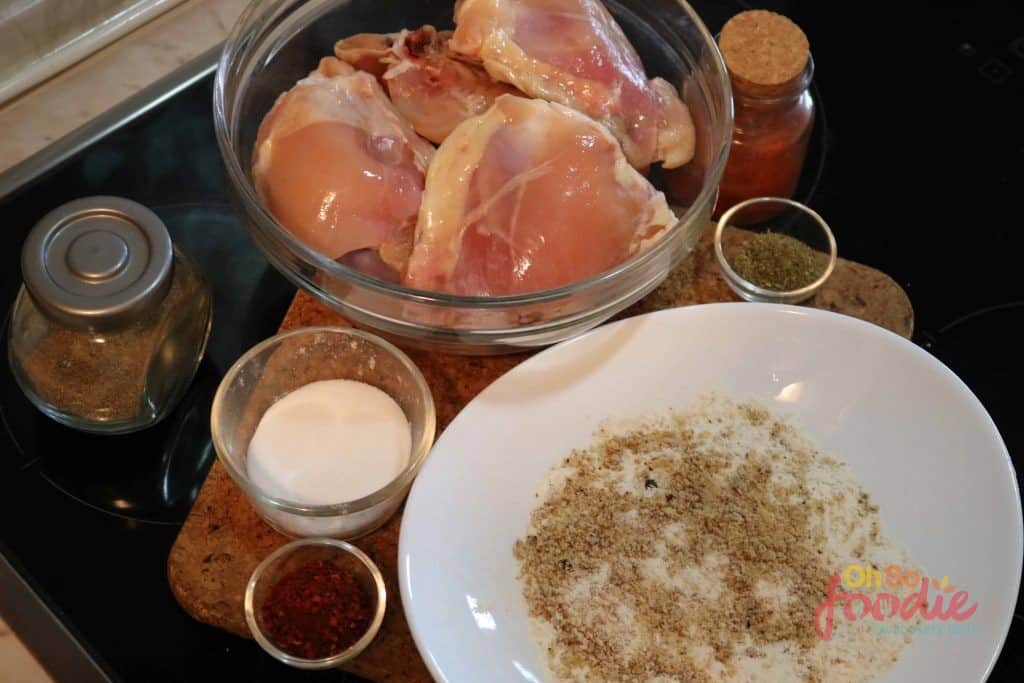 Then, in a large bowl, combine coconut flour and ground almonds. Next, add in salt and pepper to taste, chili flakes and dried oregano.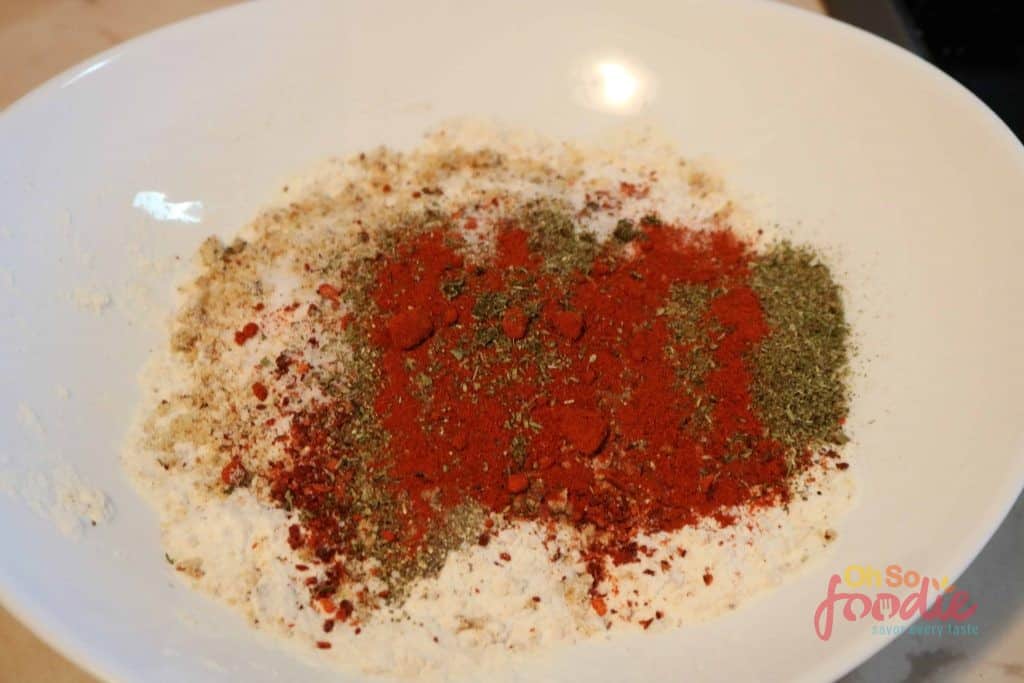 Your mixture should look something like this: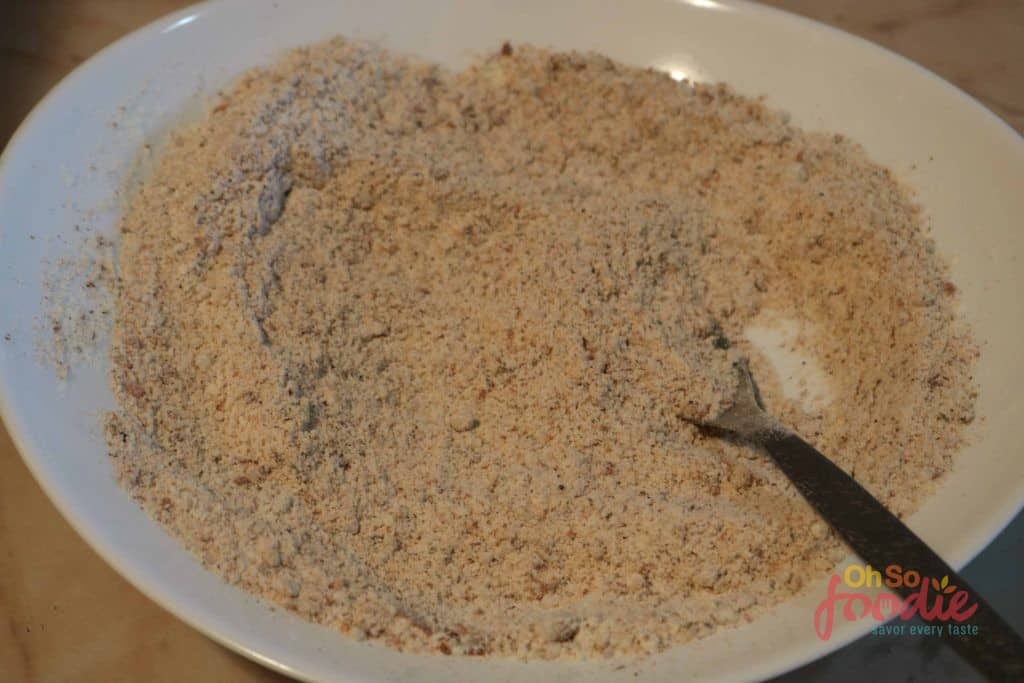 Coat each piece of chicken in this mixture completely. Make sure you coat both sides. It should look like this once done: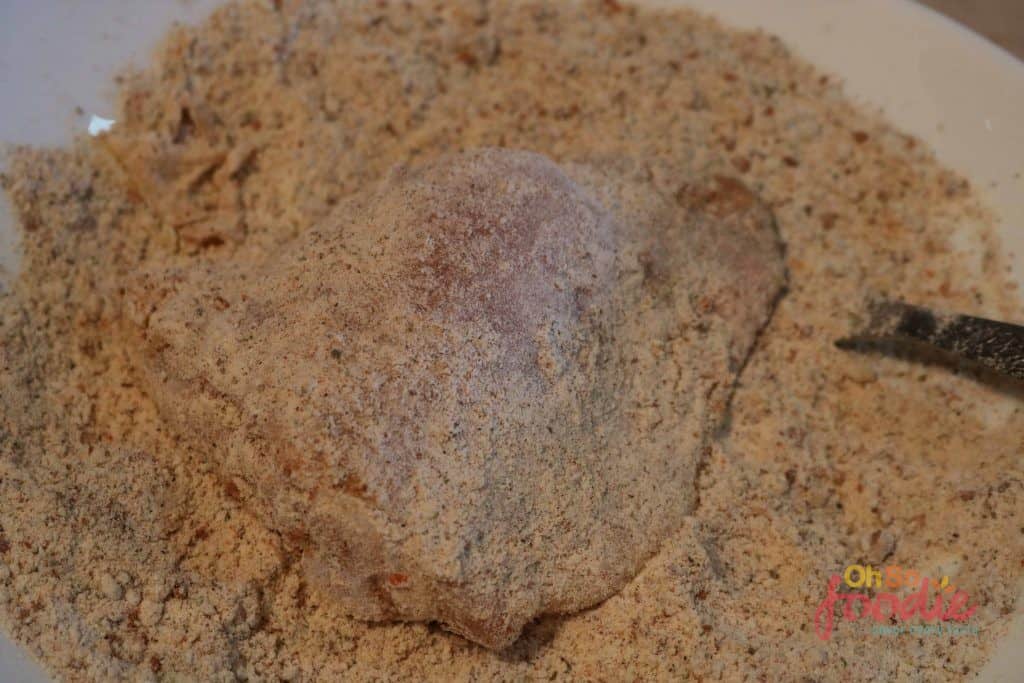 Next, add your coated chicken in your preheated oil on medium heat.
Note: The more pieces of chicken you have in the preheated oil, the colder your oil will get. Therefore, depending on the size of your frying pan, keep this in mind. For this recipe, 1-2 pieces were added in at a time for the best results.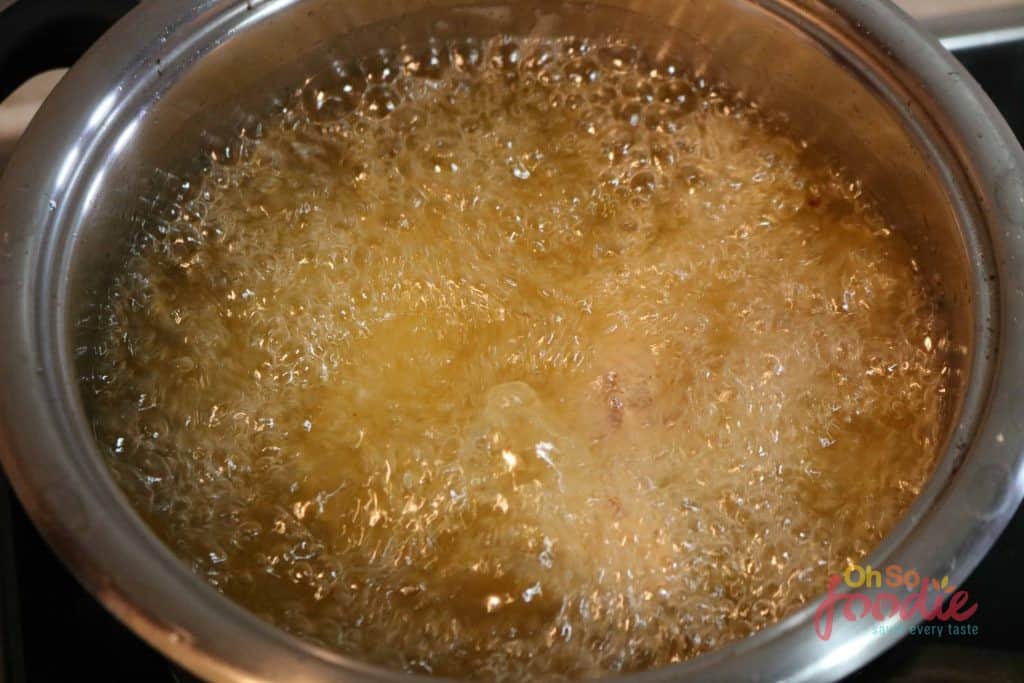 Fry for about 10 minutes until golden brown.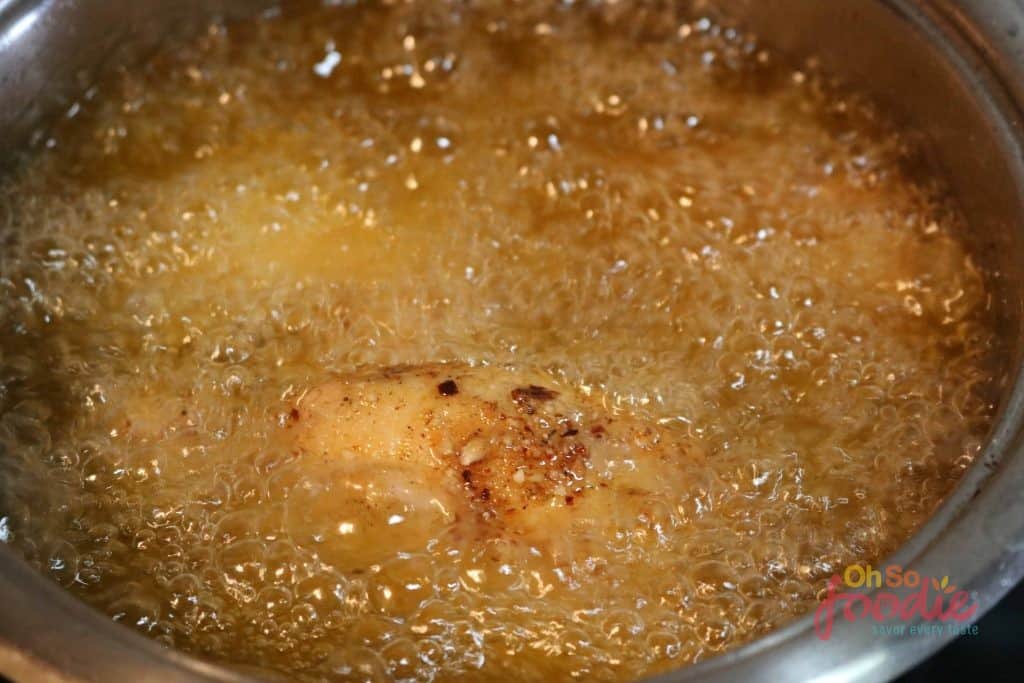 Once done, the fried chicken should look like this. Crispy, golden brown and fried to perfection!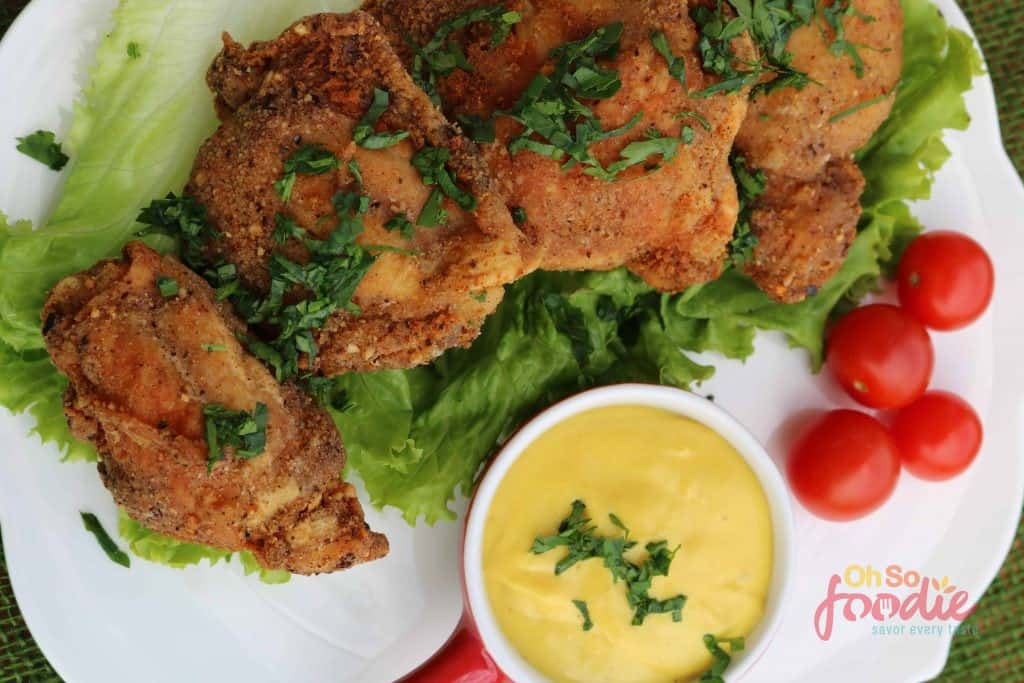 Serve with lettuce, a few cherry tomatoes and your favorite keto sauce and some delicious zucchini fries or some low carb jicama fries for a satisfying meal.

More keto chicken recipes: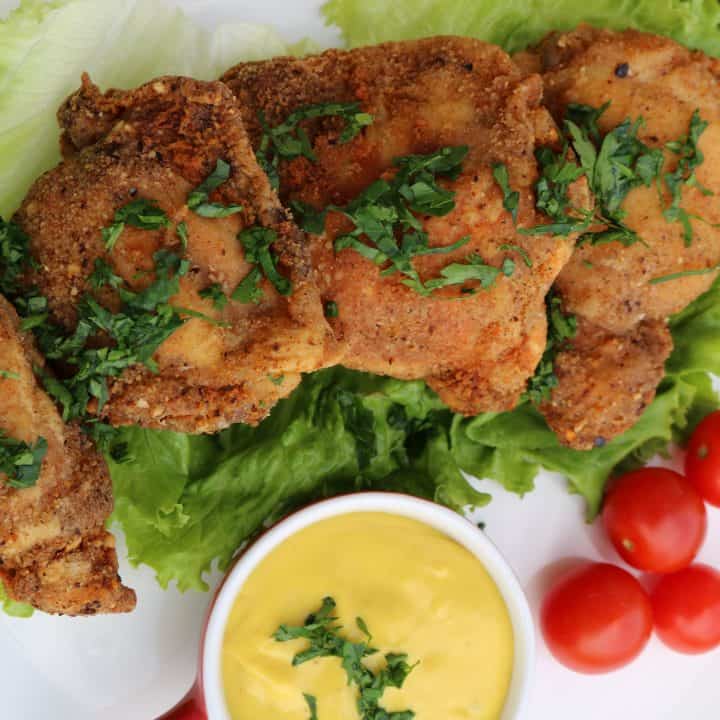 Keto Fried Chicken Thighs Recipes
This crispy keto fried chicken thighs recipe is easy to make, tastes like heaven and most importantly, keto diet friendly.
Ingredients
½ cup coconut flour
½ cup ground almonds
salt and pepper to taste
1 teaspoon chili flakes
1 teaspoon paprika
1 teaspoon dried oregano
1 lb chicken thighs
Coconut oil for frying
Instructions
In a large bowl combine coconut flour and ground almonds.
Add in salt and pepper to taste, chili flakes, paprika and dried oregano.
Coat each chicken thigh in the mixture and fry the chicken thighs in preheated oil on medium heat.
Fry them for about 10 minutes or until golden brown.
Serve with a keto friendly side and enjoy!
Nutrition Information:
Yield:

6
Serving Size:

1 chicken thigh
Amount Per Serving:
Calories:

231
Total Fat:

10.6g
Saturated Fat:

2.5g
Cholesterol:

67mg
Sodium:

65mg
Carbohydrates:

8.7g
Fiber:

5.2g
Sugar:

0.4g
Protein:

25g