Last Updated on September 21, 2023 by Toya
If you're wondering how to start a food blog with Bigscoots, this easy-to-follow, in-depth post can guide you through the setup process step by step so that you can have your new food blog up and running in no time!
How I started food blogging
In May 2019 I took a big leap of faith and started my food blog on a whim. I believed I could get it to be successful and start earning some money within a year, but I wasn't sure how it would actually turn out.
In fact, I was so nervous about putting it out there but I dug deep, found the courage, and did it anyway. At the time, I told no one in my family except my partner about the blog. Years later, this food blog has helped me make some really good extra money while sharing recipes I love!
Before I show you the steps to start a new food blog, I want to share a few tips with you:
1. Traffic is a key to success. Therefore, I always suggest spending your first few months focusing on proven traffic drivers like Pinterest and SEO.
2. Monetise your blog from the very beginning. Those first few dollars are bigger motivators than you think.
3. Do not believe people who would lead you to think that blogging doesn't take some time and effort. When I started my first blog back in 2017, I convinced myself (after hearing others say so) that I would have my blog set up in a day and start making $1000+ in my first month as a blogger. 
Do not get me wrong, this does happen in some rare cases. However, it generally takes about 1 week to a month to get fully set up. And, some people make their first $1000 by month six, while it takes other people a whole year to make their first $1000.
Having said this, making $1000+ from a food blog is very doable. And if I can do it, so can you.
So, if you're ready to learn how to start your own food blog here are the easy steps to follow.
How to Start a Food Blog With Bigscoots in 7 Easy Steps
Step 1: Choose a reliable WordPress Host
Step 2: Pick a Blog Name/ Domain Name
Step 3: Install WordPress
Step 4: Familiarize Yourself  With Your New Blog's WordPress Dashboard
Step 5: Customize Your Food Blog
Step 6: Publish Content
Step 7: Promote Your Blog
Why you should follow my tips if you're interested in learning how to start a successful food blog.
I've been blogging since May 2019 on this food blog. I'm not an expert in food blogging or even the most successful food blogger. However, the resources and strategies I've used and recommended have helped me to take my blog from $0.00 and 121 page views in month one to $4506.30 and 252450 page views exactly 1 year later (check May 2020 income report to see this).
Here is a breakdown of how my blog progressed in its first year along with the tips and tricks I implemented to keep growing this food blog:
I'm so glad I started my food blog when I did because I've earned a combined total of over $250,000 from this food blog since I started it. The best part is, it cost me less than $150 to actually start it.
I have no special abilities or knowledge about blogging other than what I teach myself online every day. Therefore, I am convinced that if I can earn money from my food blog, anyone can do it too!
Also, starting a food blog in 2023 is super easy due to helpful guides like this one. 
If you're ready to start, here are my detailed instructions and some advice on how to start a food blog in 7 easy steps with Bigscoots.
Step 1: Choose a reliable WordPress-optimized host for your blog
My Top Pick
Managed WordPress - BigScoots
I've been using Bigscoots Managed WordPress Optimized Hosting for at least 4 years and I absolutely love it!
They have amazing customer service 24/7 so I never have to figure things out on my own. I have little to no technical problems with my food blog, my blog is also super fast and Bigscoots is always so happy to help with anything I need!
This removes so many of the headaches that I used to have with my first hosting service when I first started my food blog!
If you're interested in using the service, use promo code OHSOFOODIE25 to get 25% off your first month of Bigscoots Managed WordPress Hosting!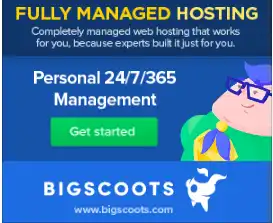 We earn a commission if you make a purchase, at no additional cost to you.

There are many web hosting companies out there, but I recommend Bigscoots WordPress Optimized Hosting. I think Bigcoots hosting is the best web hosting for food blogs. Here are some of the reasons why:
Starting your blog with Bigscoots will ensure that your blog is self-hosted on wordpress.org which will go a long way toward helping you earn money on your blog.

Bigscoots is super EASY to use and set up.

Their service is very trustworthy and highly recommended in the blogging community.

They have awesome 24/7 customer service and offer technical support as well.

WordPress through Bigscoots is FREE.

You will appear more professional to readers, companies, and brands if you are self-hosted on Bigscoots rather than on Blogspot.

Bigscoots keeps free backups of your blog for 30 days. So, if you ever make a mistake, you can easily restore a backup of your site to get rid of that mistake.

You can start your food blog with Bigscoots for less than $60, but you have the potential to earn thousands of dollars from this small investment.
I have included a 25% discount code that I personally negotiated with Bigscoots so you can get a massive 25% off your first month of Managed WordPress hosting. Use Bigscoots promo code OHSOFOODIE25 at checkout to take advantage of this promotion while it lasts.

Lastly, if you're not happy with their service (which I highly doubt) they offer a 45-day money-back guarantee.
If you're ready to start, use this link and discount code OHSOFOODIE25 to get started.
Follow the steps outlined below to get Bigscoots WordPress-optimized hosting so you can start your own food blog and start earning some money.
When you click my link above, you will be taken to this page. Next, you will click on Choose The Plan.
Select one of the plans. I currently use and recommend the Starter Plan. It's cheaper and has all the functionality you need in the beginning. 
After you click Starter Plan, you will be redirected to the page shown in the screenshot below:
Scroll down on this page and select or fill out everything that applies. 
Do not forget to use the promotional code OHSOFOODIE25 to save 25% off your first month of hosting.
Then, fill out your Client Information. And save your email and password for later use.
Then check that you have agreed to Bigscoots Terms of Service and click on Order.
If you follow the steps above, then you've just ordered Managed WordPress hosting for your new food blog!
Now you need a domain name.
Step 2: Pick a blog name and purchase a matching domain
The next step is to pick a blog name also called a domain name.
A domain name is a web address that helps people find you on the internet. My domain name is ohsofoodie.com for example. 

When picking a blog name/domain name here are some best practices.
Pick a memorable domain name that is descriptive, but try to keep it short (if possible), and easy to spell.

Do not use punctuation marks like hyphens and do not use numbers. They're harder for people to remember.

Opt for a ".com" domain if possible as this is the standard for most blogs. However, if you really love your blog name and the ".com" suffix isn't available, feel free to use either ".net" or ".co".

If you can't brainstorm a blog name that you like, you can also consider using your full name. For example, Sarahmason.com.
Once you have a few blog names in mind, head over to your new Bigscoots portal to check if it is available.
You can click on this link to see if your preferred blog name is available right now.
Or, follow these steps shown in the screenshot to purchase a new domain name.
Type in the domain name you want to purchase. If it is available, select the .com version of the domain and add it to the cart.
Finally, check that you've read the terms of service and then select checkout.
If you followed the steps, then congratulations. You have just gotten WordPress hosting and a new domain name to start your recipe blog!
Step 3: Access Your WPO Portal and Install WordPress
Bigscoots is very hands-on as I mentioned above. They're the most hands-on WordPress hosting company I've used so far.
I've personally spoken to customer support at Bigscoots so this step is easier for you. Bigscoots has assured me that after you purchase the Managed hosting plan and your domain name, you can pop into Bigscoots live chat and they will walk you through everything else you need to do step-by-step!

This is great if you feel nervous or intimidated about installing WordPress yourself 
What you can expect Bigscoots to guide you through: 
Installing WordPress

Helping you create your WordPress Login

Guiding you through installing your blog's theme

Making all DNS adjustments to get you up and running

And more if needed…
And, if at any time you need more assistance, you can reach out to them via live chat or via a support ticket and they will respond within minutes! They're the best! 
Step 4: Familiarize yourself with your blog's WordPress Admin area.
WordPress.org has a handy WordPress dashboard overview to help you understand the basics of the dashboard. Check it out here.
Step 5: Customize your WordPress food  blog
Click here for a helpful guide that walks you through the process of customizing your new blog. Not everything in the guide is relevant to you right now, but you can focus on the sections like:
How to add plugins — Plugins add extra functionality to a WordPress food blog. The plugins I recommend for food bloggers are Create by Mediavine, Grow by Mediavine, Contact Form 7, Akismet, Short Pixel Image Optimizer, Code Snippets, and Rank Math SEO.

How to install a free theme — A theme helps with the appearance of your food blog. There are many beautiful free themes for food bloggers to choose from in the WordPress repository. I use GeneratePress, but there are pre-made themes like Yummy Bites, Spicy Recipe, and Blossom Recipe that are great too.

How to add favicons, site logos, site titles, and more.
Other important customizations:
Some of these things will sound a bit confusing, but as you spend time on your blog, they will become like second nature to you. It took me a few months to really understand the dashboard of my blog, but the learning curve was honestly not that hard.
Step 6: Publish Content
When you start out, I recommend that you try to post at least 6 — 10 recipe posts every month for the first year. If you do this, you will have approximately 72 — 120 published posts by your one-year mark.
If you want to know how many recipes to start a food blog, I recommend launching the blog with 10 or more recipes or published posts. Populate your food blog with these 10 recipes/posts before you start any form of promotion.
Then continue to publish 6 -10 posts every month until you have at least 100 published posts.
How to write a recipe on a food blog
Make a great recipe and take photos (step-by-step/process shots are recommended). Get loads of free information about food photography from The Bite Shot's youtube channel.

Add a new post in WordPress then start writing. I usually include a great title, an introduction, a general overview of the recipe, an ingredient list, tips and tricks, instructions to make the recipe, storage information, recipe variations, and a recipe card. You can check out any of the recipes on my blog to see the structure I generally try to follow.
Step 7: Promote your blog
My food blog has been profitable for 54 out of its 60 months of existence. This is not just pure luck. From the very beginning, I've promoted this food blog heavily.
In fact, I've calculated that 60% of the time I spent working on the blog, has been spent on learning how to market/promote the blog effectively as well as on implementing the strategies I've learned. 
As such I was able to grow my blog from 121 page views in month 1 to 252,450 page views exactly one year later.
Food blogs are a big deal on Pinterest since many Pinterest users love to use that platform to find and save yummy-looking recipes. This platform can be a goldmine for you as a food blogger. Pinterest is the platform I used to get all the initial traffic to my blog. 
PINTERESTING STRATEGIES
Learn all the tips and strategies you need to know to get thousands of monthly page views to your blog from a free traffic source like Pinterest.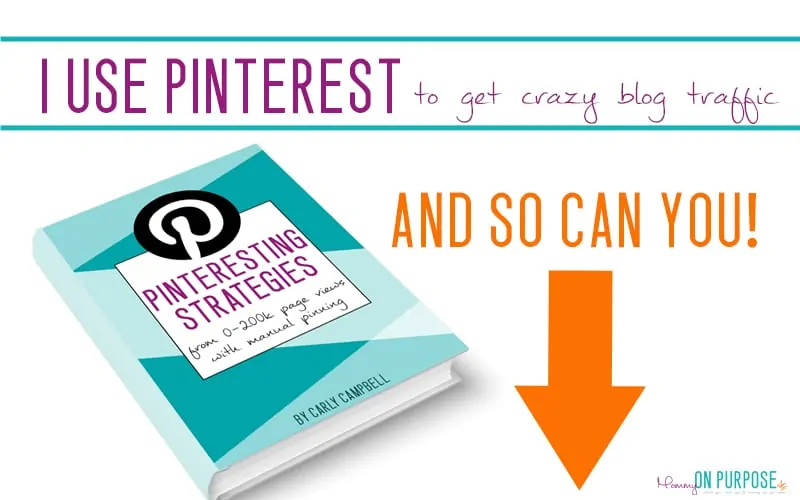 We earn a commission if you make a purchase, at no additional cost to you.

Search Engine Optimization (aka SEO) is another gold mine for food bloggers. If you can publish recipe posts that land on the first page of Google for high-traffic search terms, you can get loads of free traffic to your blog.

We earn a commission if you make a purchase, at no additional cost to you.

Frequently Asked Questions About Food Blogging
How much can you earn with a food blog?
There is no limit to how much you can earn with a food blog. Some people make no money at all while some make millions. However, the average successful food blogger who's been blogging for 1.5 to 2+ years makes about $40,000 per year. I've been food blogging for 4 years and I personally make anywhere from $36,000 — $75,000 every year and I do not blog full-time.
How do food bloggers earn?
There are many ways a food blogger can earn money. The most popular ways to earn money as a food blogger include advertisements, affiliate marketing, ebook sales, e-course sales, and sponsorships.
Is food blogging easy?
Nope. The concept of food blogging is very straightforward. Start a blog, publish content, and make money from ads, affiliate marketing, online store sales, sponsorships, etc. However, you first need to learn how to market your food blog/content effectively to get visitors/traffic. And for most people, this is something they just don't know how to do in the beginning. This can set them back by years. This is why I always recommend learning how to market your food blog for free on Pinterest and SEO. This will make it so that you're way ahead of 90% of people who start blogging at the same time you do.
Is it too late to be a food blogger?
It isn't too late to be a food blogger. Every single day people are starting and growing successful food blogs. 
Are food blogs profitable?
Not every food blog is profitable. However, if you follow the right steps to grow a food blog, then it is possible to make a profit early on. Personally, my food blog started to be profitable by month six although the profits were small. I really started to see some real profits in month 9.
How much does it cost to start a food blog?
Starting a food blog is pretty affordable. You only need to purchase hosting and a domain name. Everything else is an elective purchase. As such, it can cost you as little as $60 to start a food blog. 
Do you need to go to cooking school to start a food blog?
No. As long as you're confident in your ability to make good recipes, then you do not need to go to cooking school at all. Also, not all food blogs share recipes. Some food blogs only post restaurant or food reviews or cooking/food information.
I want to start a food blog but can't create my own recipes
If you cant create your own recipes but want to start a food blog, then you have the option to start a food review blog, start a food blog with mainly cooking information like my substitute food blog here, or hire out recipe creation on sites like Upwork.
If you have the money to spare, you can hire your recipe development from freelancers on Upwork. I use Upwork for quite a few freelance projects, and I have occasionally used them to make some of my recipes when I just couldn't find the time. They charge anywhere between $65 and $300 per recipe. 
Final thoughts on starting a food blog on WordPress
Food blogging can be life-changing. While you have to compete with many of other food bloggers for the reader's attention and time, it is very doable. And if I can do it I promise you that you can too.
Therefore, if you're thinking of starting a food blog in 2023, I always try to stress how important I think it is to start with the right knowledge. This is why I recommend proven courses taught by experienced bloggers like Pinteresting Strategies by Carly Campbell, Stupid Simple SEO by Mike, and Making Sense of Affiliate Marketing by Michelle Schroeder-Gardner. 
Starting with these courses, or at least getting them early on can get you wayyyy ahead of the learning curve.
Instead of spending an entire year doing the wrong things, you will be able to quickly learn the essential skills you need to see real success so much quicker. By doing this, you are way ahead of more than 90% of the people who start blogging at the same time as you do.
A fun piece of data
According to Siteefy,
As per our calculations, approximately 175 new websites are created every minute! So around 252,000 new websites are created every day worldwide.
If you start a food blog today and use the e-courses I recommended here, you'll likely be ahead of the other 226,000 people who chose to start their blogs today!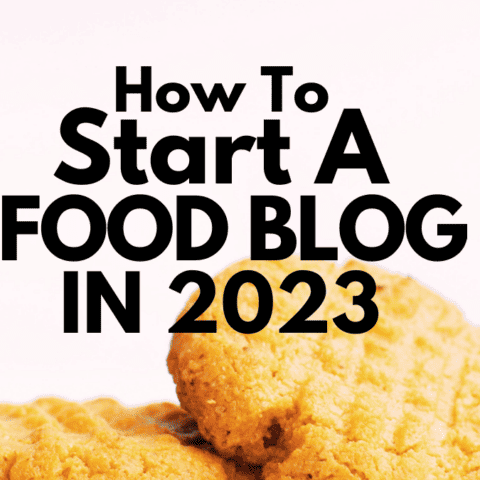 How To Start A Food Blog With Bigscoots
Want to learn how to start a food blog with Bigscoots in 2023? This easy guide on starting a food blog is all you will need. It walks you step by step through everything you need to know to become a successful food blogger.
Materials
WordPress Host
Domain Name
WordPress Installation
Wordpress Theme
Instructions
Choose a WordPress Host (I recommend Bigscoots)
Pick a Blog Name/ Domain Name
Install WordPress
Familiarize Yourself With Your New Blog's WordPress Dashboard
Customize Your Food Blog
Publish Content
Promote Your Blog