Last Updated on July 27, 2023 by Toya
My recipe blog is officially one year old! Today, I'm sharing my food blog income report for May 2020, outlining how much traffic the blog receive, how much money I made, and the sources that money came from.
If you're looking for tips to grow traffic to your food blog quickly, I have some awesome tips to share with you below!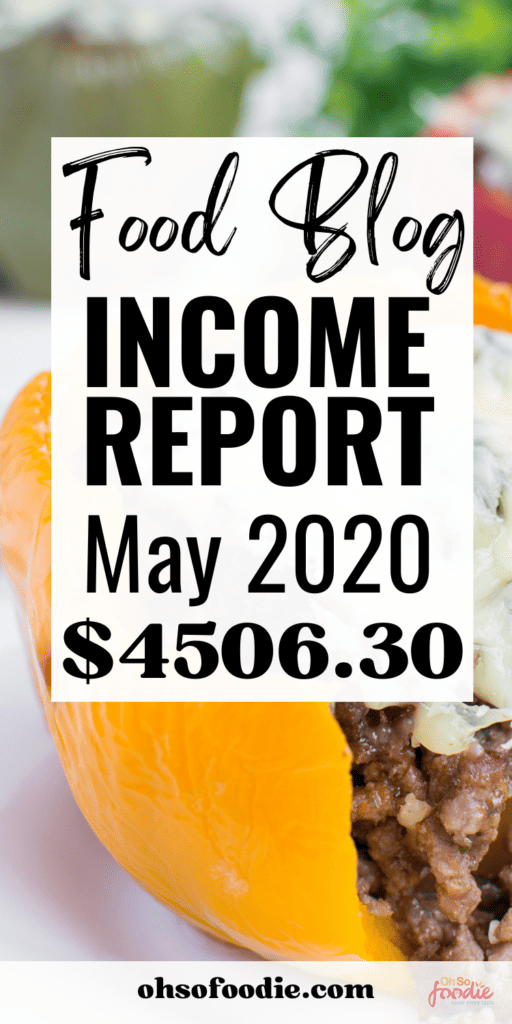 This past year has been an amazing journey of learning, growing, and of course, working through a few setbacks on this food blog.
I keep sharing the blog's progress, but I cannot stress enough how important Pinterest has been to my food blog's success.
How I continue to get hundreds of thousands of page views every month.
I am very active on Pinterest. I spend 4 productive hours working on my blog every day. Of those 4 hours, close to two hours is spent focused on Pinterest daily. I use this time to create new eye-catching pins with text overlay. I join group boards, I spend time learning the various strategies in this Pinterest e-course and I study the Pinterest platform to learn for myself what's working for other food bloggers.

Before writing my content, I pay attention to what's popular on Pinterest. I try to publish at least 1 popular recipe in my niche.

I also like to focus on what's not yet published in my niche.
Food blog highlights for May 2020
This month was even better than last in terms of income and traffic.
You can check out my previous income and traffic reports here if you want to catch up:
Now let's get on to how the month of May went!
The blogging goals I set for May 2020
GOAL #1: Maintain 180,000+ page views


This month my page views soared to 252,450!
GOAL #2: Earn $3000+ from the blog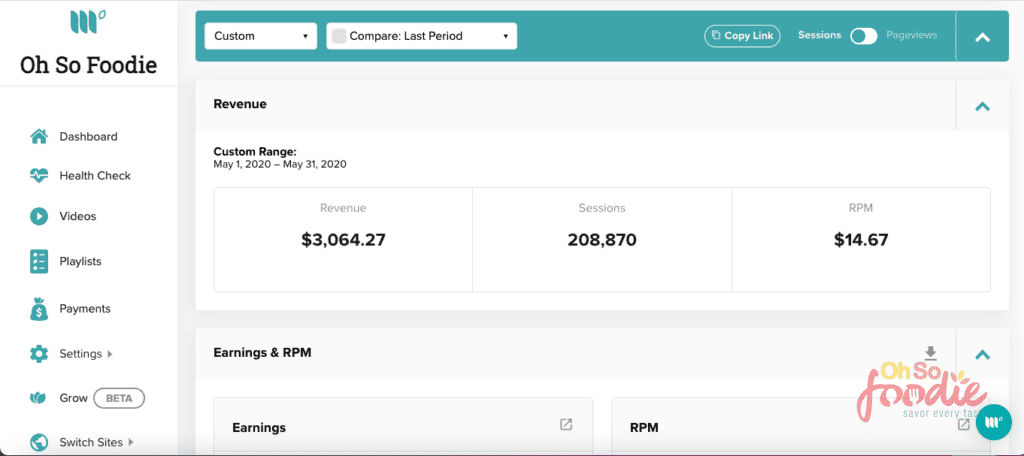 Here is my earnings breakdown:
INCOME
Mediavine Ads: $3,064.27
Amazon associates: $251.80
Other affiliates: $1190.23
TOTAL INCOME: $4506.30
EXPENSES
Bigscoots web hosting: $98.95 – I used Siteground web hosting when the blog was first started last year. However, I decided to switch over to a more premium web hosting service since my traffic and income have grown so much. Bigscoots has EXCELLENT hands-on customer service which I need when dealing with a blog with so many monthly visitors. If you're interested in using Bigscoots, you can click here to see the hosting plan I use.
Tailwind: $15.00
Canva: $12.95
Groceries: $68.94
Short pixel image optimizer – $4.99
TOTAL EXPENSES: $200.83
Net Income: $4305.47
GOAL #3: Publish 10 new recipes.
I only found the time to publish 6 recipes in May.
GOAL #4: Get 20,000 sessions from SEO

I was only able to get 16,837 sessions from the search engines last month. Still pretty good for 1 year in, but I'm going to be putting some more effort into SEO next month.
Takeaways from May 2020
PINTEREST
Over 95% of my traffic for May 2020 came from Pinterest. It is not by magic. I spend at least 2 hours daily working on Pinterest (making pins, studying this Pinterest course, publishing pins, scheduling pins, and studying what is working for other food bloggers like myself through observation)
If you want to learn the exact steps I followed to set up my Pinterest account and how I market my food blog on Pinterest for free, I recommend that you check out the Pinning Strategies taught in this course.
I've used the lessons in this course to take my blog from 0 – 250, 000+ monthly views in just 1 year! Don't miss out on the opportunity for you to get free traffic yourself! You can get Pinteresting Strategies to start learning awesome tips for growing your traffic here.
Blog Goals For June 2020!
Maintain page views at 250,000 or more

Earn $5000+ from the blog

Publish 10 new recipes.

Get 20,000 sessions from SEO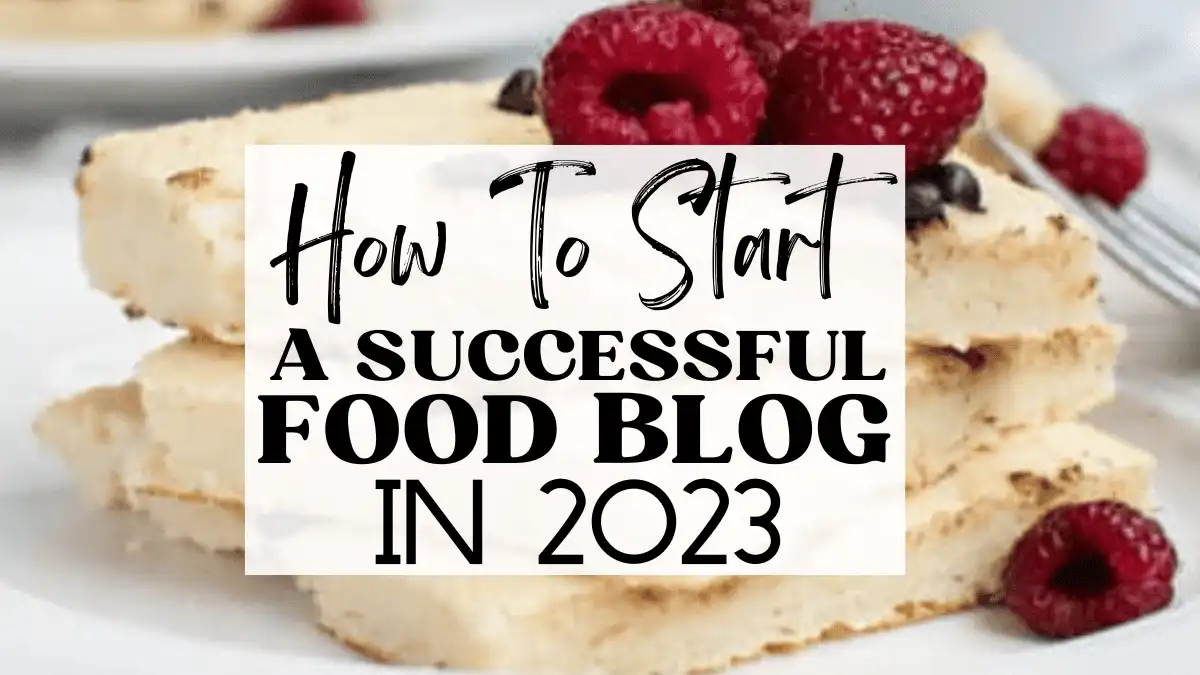 How To Start A Food Blog With Bigscoots In 2023
I've earned more than $250,000 from my food blog which I work on part-time. If you want to learn how to start your own food blog, plus a few tips and resources I highly recommend, then you can click this link to learn how to become a food blogger right now!
We earn a commission if you make a purchase, at no additional cost to you.

Here are the reasons why I think you should give it a try:
I sometimes go months without posting or touching my blog and still earn between $2000-$3500 every single month! This has been ongoing ever since the blog had its first $1000+ month in January 2020. You can check out my income reports here.

The barrier to entry doesn't exist because starting a food blog only requires you to pay for hosting, buy groceries, cook, take photos, and learn how to market on a social media platform or Search engines. You can do all of those things from anywhere in the world and there is no cap on how much you can earn.

Food blogging can be fun.

Blogging is awesome. No matter what day it is, or whether it's the weekend, a holiday, or if you're sick or demotivated and can't show up to work on your blog, etc, as long as you're on an ad network, and you're receiving traffic, you will make money. This makes blogging so reliable and constant.
Learning Materials I Highly Recommend
Learn how Michelle went from $0.00 to $50,000 with affiliate marketing and blogging. Get her exclusive tips so you can start making affiliate marketing work for you too!

Buy Now

We earn a commission if you make a purchase, at no additional cost to you.

Learn all the tips and strategies you need to know to get thousands of monthly page views to your blog from a free traffic source like Pinterest.

Buy Now

We earn a commission if you make a purchase, at no additional cost to you.

Learn how to get thousands of page views to your blog for FREE with these amazing SEO strategies

Buy Now

We earn a commission if you make a purchase, at no additional cost to you.