Last Updated on May 28, 2023 by Toya
This is my November 2019 food blog income report for my 7th month as a food blogger.
In the month of November, I got another slight bump in traffic which makes me hopeful that traffic will start increasing again!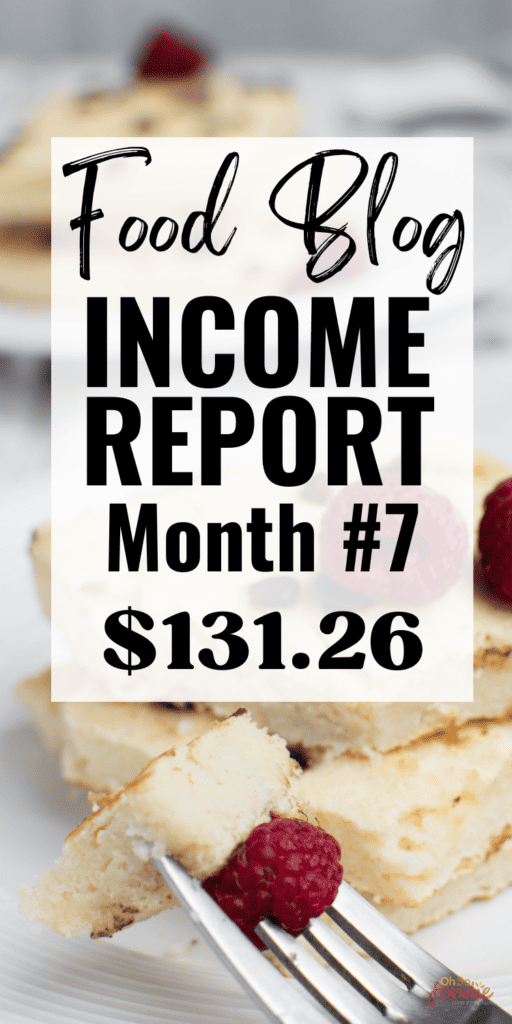 In this income and traffic report, I share the blog's progress as well as other important things that happened during the month of November.
As I always do, I have a short blurb below explaining why Im sharing income reports.
Why I'm sharing the journey of my food blog via my income & traffic reports.
There are three main reasons why I'm doing this:
I want to help inspire newer food bloggers with my results. I hope that I can make this blog successful, so I can show anyone who's starting out or wants to start a food blog that you're able to take a food blog from zero to profitable with dedication and a willingness to learn.

I want to document this journey for myself as well. I hope that by documenting my journey I can stay consistent with this food blog.

I want to share the strategies I'm learning and implementing with new bloggers.
If you'd like to start a food blog, I created a detailed, step-by-step guide on starting a food blog in 30 minutes or less. If you use my link, you can receive an 80% discount and start blogging today for just $3.95!
Why I think it's important to share those reports
The first blog I started (It was not in the food blogging niche) failed miserably. I failed because I didn't know what I was doing. Also, I never knew there was such a thing as a 'blogging community' where you could learn the best strategies to be a successful blogger.
Therefore, I was stuck paying for web hosting and publishing content that got zero visitors and I just gave up after a few months. To me, it made no sense to continue.
I suspect that many people who start blogging follow this same exact path. There is the initial excitement of starting a blog, but after some months of getting no one to visit your blog and making zero dollars (if one of your motivations is to monetize your blog) I can totally see why.
I wish I hadn't quit back then. This is another major reason why I'm sharing these. I enjoy food blogging and so I want people who wish to start a food blog to see how I do it. I want to share the tips I'm using to help me grow. Hopefully, you can use these same tips yourself and start and grow your own food blog someday!
If you want to see my progress, check out my various reports below:
Food blog income report for month 7
This month I saw a small increase in both income and traffic. I'm very grateful since my traffic has been stagnant for the past few months.
Income for the 7th month
My goal for November was to make $100.00 or more from this blog. I did accomplish this goal.
Ads: $0.00 – I still haven't joined an ad network since I'm waiting for 25,000 sessions (an equivalent of 35,000 pageviews) per month to join a premium ad network like Mediavine.
Amazon associates: $86.26
Other affiliates: $48.00
Total income: $131.26
Blog Expenses
Web hosting: $0.00 (I paid for Siteground for a full year upfront back in May. You can check Siteground web hosting out if you need affordable hosting to start a blog)
Canva: $12.95
Groceries: $33.21
Total expenses: $46.16
I made a profit of $85.13 in November!
Traffic
This is the traffic for my seventh month of food blogging.

How I'm able to get free traffic to my food blog every day:
I've been using the strategies in Carly Campbell's Pinterest e-Course to grow my Pinterest traffic for the past 7 months.
You can check the course out yourself and I highly recommend this as she's super knowledgeable about Pinterest Marketing for bloggers.
If you don't want to get the course just yet, here are some of the things I do every month in order to get free traffic from Pinterest to my food blog:
I create eye-catching Pinterest graphics on Canva with text overlay.

I publish multiple properly keyworded pins linking to my recipes every day – at least 10.

I share some popular pins from other food bloggers on Pinterest – I aim for about 3 daily.
Number of posts published in September 2019
I was only able to publish 8 posts in November. My goal was 5 so I more than accomplished this goal.
Food blog goals for December 2019
I didn't achieve all of the goals I set last month, so I'll keep the same goals for next month. They are to:
Get 11,000 page views

Make $150.00 from the blog

Publish 8 new recipes
Will I achieve my goals in December? Come back next month to see the progress of my new food blog.
Have you started a food blog yourself? Let me know how it's going for you in the comments below.