Last Updated on May 26, 2023 by Toya
This is my October 2019 food blog income report for my sixth month as a food blogger.
I only saw a very small bump in traffic, but I was able to double my new food blog's income!
In this income and traffic report, I share the blog's progress as well as other important things that happened during the month of October.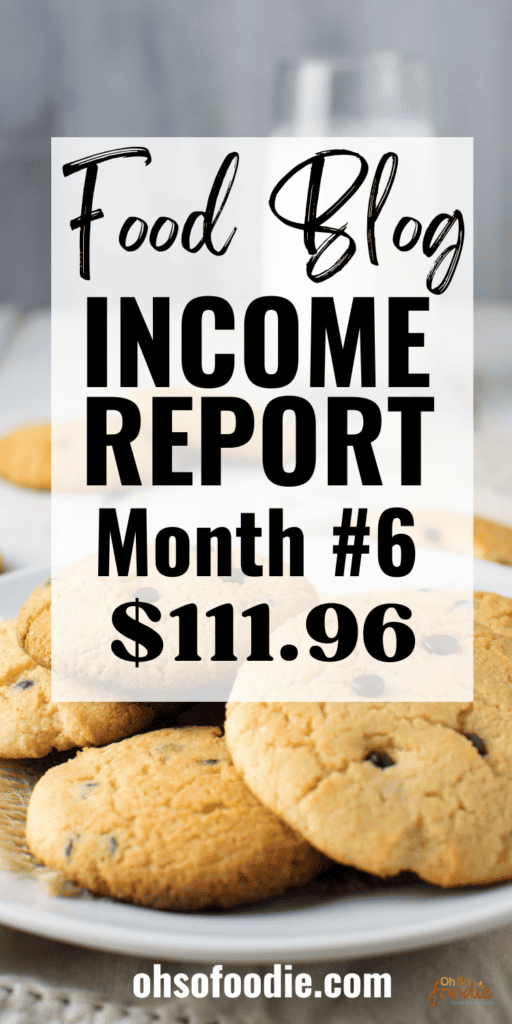 As I always do, I'll explain why I'm sharing my food blog's income reports each month below:
Why I'm sharing the journey of my food blog so publicly
If you've ever wondered how food bloggers make money or if food blogs can be profitable, then you'll understand why I'm doing this.
There are so many people who want to start a food blog, but don't know whether it's something work doing. Therefore, I'm sharing my journey so people who are interested can see how I take my food blog from $0.00 to…however much I make.
I personally belive that with the right knowledge, anyone can make a food blog profitable.
So, my aim is to show you that if I can do it, so can you!
My main goal for this food blog is to make it profitable by joining Mediavine ads and making at least $1000 per month in profit. I've set the big goal of doing this within a year! So stick around to see how I do.
Hopefully, I succeed and my journey inspires you to start your own food blog too.
If you'd like to start a food blog today, I've created a simple step-by-step guide on starting a food blog from scratch. Use my link, to receive an 80% discount and start your journey as a food blogger for just $3.95 per month!
Why I think it's important to share those reports
I think that most people who start blogging quit before really giving it a chance. Many people who choose to start a blog don't seem to see much progress in terms of traffic and income in the first few months. And it's very hard to keep investing time and money into anything if you don't see results.
Also, most people who share income reports do so when their blog has become more successful rather than from the very beginning when there are crickets
There is absolutely nothing wrong with that at all. I love reading income reports from people who have made it. But my hope is that my food blog income reports can help inspire the average person who sees that they can start from zero and make their food blog profitable!
To see the progress of my food blog so far, check out my:
Food blog income report for month 6
My traffic stayed pretty much the same as September save for a small increase of about 300 age views.
For a few moments last month, I let negative thoughts take over and I started to wonder if my blog peaked back at month 3 in terms of traffic.
I kept up with my strategy though, even though I had no viral pins in the month of October.
If I've learned one thing from all the blogging information I've consumed it is that consistency is one of the keys to blogging success. Therefore, I will keep working on my blog even when I think there is no real progress being made.
Income for the 6th month
My goal was to earn $75.00 from the blog in October, and I'm happy to report that I did surpass that! Here's a breakdown of the earnings from my food blog in the month of October.
Ads: $0.00 – I'm still holding out for 35,000 monthly page views and Mediavine ads.
Amazon associates: $105.46
Other affiliates: $6.50
Total income: $111.96
How I earn money from a food blog:
I place Amazon affiliate links throughout my website, but especially within my recipe posts. That way if a reader wants to make a specific recipe, I have recommendations for the ingredients I use which they can purchase from Amazon. Once they've clicked my affiliate link, I make a small commission from Amazon purchases they make within the next 24 hours.
I also joined a meal planning affiliate program in October and earned a small commission from 3 sales.
Blog Expenses
Web hosting: $0.00 (I paid for Siteground for a full year upfront back in May. You can check Siteground web hosting out if you need affordable hosting to start a blog)
Canva: $12.95
Groceries: $23.13
Total expenses: $36.08
I actually made a profit of $75.88 in October!
Traffic
This is the traffic for my sixth month of food blogging. I stayed around the same as last month. I'm not too happy about the lack of growth.

Still, I'm getting free traffic from Pinterest every day so I'm grateful.
How I'm able to get free traffic to my food blog every day:
I used the tips in Carly Campbell's Pinterest e-Course to grow my Pinterest traffic.
You can check out the course yourself and I highly recommend this as she's super knowledgeable about Pinterest Marketing for bloggers.
If you want to see the strategies I'm using to get free blog traffic from Pinterest I highly suggest using the strategies in this e-course to help you learn and get started with Pinterest.
Or you can follow some of my simple tips below:
I created eye-catching Pinterest graphics on Canva with text overlay. However, in October I made fewer pins than usual.

I continued to publish multiple properly keyworded pins linking to my recipes every day

I shared some popular pins from other food bloggers on Pinterest – I still aimed for 3.
Number of posts published in September 2019
I was only able to publish 3 posts in October! I'm not too happy about this number. So I'll try to publish more next month.
Food blog goals for November 2019
Get 10,000 page views or more. I really want to see the number of page views go up next month to reassure myself that it is still worth it.

I want to keep my monthly earning at $100.00 or more.

I want to publish more content. I've been slacking on that front.
Will I achieve these food blog goals in November? Come back next month to see how the food blog is progressing.
Have you started a food blog yourself? Let me know how it's going for you in the comments below.