Last Updated on May 25, 2023 by Toya
This is my September 2019 food blog income report for my fifth month as a food blogger.
Again, this month did not go as I had hoped, but I'm still pushing through.
In this income and traffic report, I share the blog's progress as well as other important things that happened during the month of September.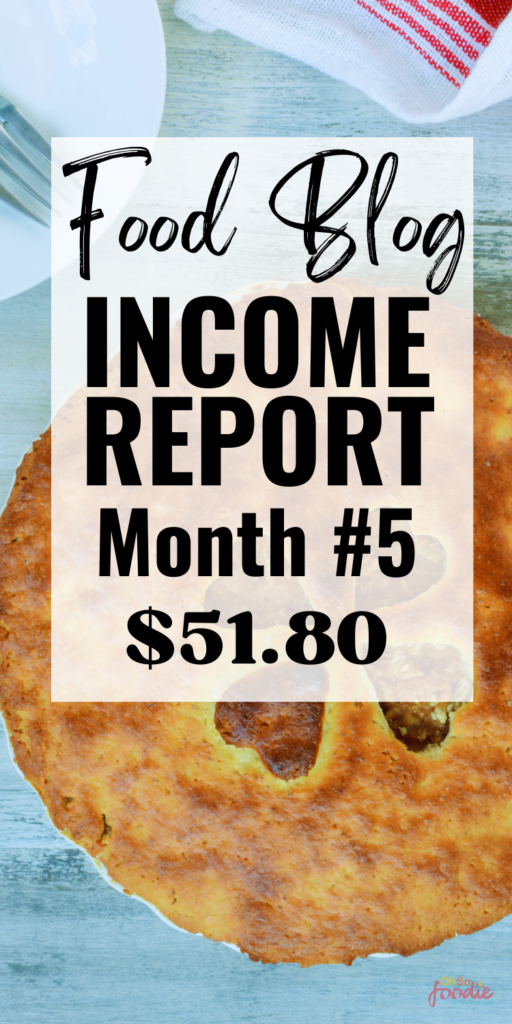 As I always do, I'll explain why I'm sharing my food blog's income reports each month below:
Why I'm sharing the journey of my food blog via my income & traffic reports.
Many people often wonder if food blogs are profitable or how much money can you make on a food blog. Obviously, not all of them are, but with the right strategies and information, you can make any food blog…or any blog for that matter successful and profitable.
Therefore, I'm sharing my journey so anyone who wishes to can see the progress of the food blog right from the start. My goal is to make this food blog profitable and to make at least $1000 from it via Mediavine ads within 1 year.
I think consistency and hard work can help me achieve this goal in that time frame. If you want to see this journey, come back here at the beginning of every month to see if I've managed to make my food blog profitable.
Hopefully, my journey inspires you to start your own food blog too. Because if I can do it, believe me, you can too. Especially if you have a willingness to learn new things!
So, if you're someone who would like to start, I created a detailed, step-by-step guide on how to start a food blog in 30 minutes or less. If you use my link, you can receive an 80% discount and start blogging today for just $3.95!
Why I think it's important to share those reports
I suspect that many people who start blogging quit before really giving it a chance because they don't seem to see much progress in terms of traffic and income in the first few months of blogging. Therefore, blogging seems useless and it is very easy to quit something that isn't 'working'.
Also, many people don't see bloggers 'like themselves' who aren't making much money and getting much traffic as yet. After all, most income and traffic reports seem to be from bloggers making $5000 to $100,000 per month.
There is absolutely nothing wrong with that at all. But I hope my income reports can help inspire the average person to see that they can start from nothing and make their food blog profitable!
To see the progress of the blog thus far, check out:
Food blog income and traffic report for month # 5
This month my traffic decreased again. I'm still grateful to be receiving close to 10,000 pageviews a month on a 5-month-old blog though so I'll keep working until traffic increases again.
Like in all the previous months, I've focused heavily on making pins and sharing them on Pinterest for free traffic. This continues to work for my blog even though there seems to be a slowdown in the number of people who visit my blog monthly.
The slowdown is mainly from my viral pin dying out.
Pinterest is a great source of free traffic for food bloggers (or any other blogger ). So if you're interested in getting traffic to your food blog for free, I highly suggest using the strategies in this e-course to help you learn and get started with Pinterest.
Income for the 5th month
My goal was to earn $45.00 from the blog in September, and I did surpass that. Here's what happened:
Ads: $0.00 – I won't be joining Ezoic or Google Adsense. I prefer to wait until I'm getting 25,000 monthly sessions (roughly 35,000 page views monthly) so I can apply for Mediavine instead. They're a great ad network for food bloggers.
Amazon associates: $51.80
Total income: $51.80
How I earn money from the blog:
I simply link to ingredients and products on Amazon within my recipe posts. Anytime someone clicks on one of my affiliate links and purchases something from Amazon, I get paid a small commission at no cost to them.
This month I was able to increase my income because I went back in and added more affiliate links to posts that were getting traffic.
Blog Expenses
Web hosting: $0.00 (I paid for Siteground for a full year upfront back in May. You can check Siteground web hosting out if you need affordable hosting to start a blog)
Canva: $12.95
Groceries: $51.09
Total expenses: $64.04
This, my food blog operated at a loss of $12.24 in the month of September.
Food blog traffic in Month 5

This is the traffic for my fifth month of food blogging! As you can see, I got 8484 page views in September 2019.
One of my pins went semi-viral for two days. But generally, my traffic was lower in the month of September.
I'm still continuing with my strategy of making new pins and sharing them on my personal Pinterest board and Pinterest group boards every day.
How I'm able to get free traffic to my food blog every day:
I used the strategies in Carly Campbell's Pinterest e-Course to grow my Pinterest traffic.
You can check out the course yourself and I highly recommend this as she's super knowledgeable about Pinterest Marketing for bloggers.
Or you can follow some of my simple tips below:
I continued to create eye-catching Pinterest graphics on Canva with text overlay. I'm looking at what's working for other bloggers and trying to implement some of their pin styles.

I published multiple properly keyworded pins linking to my recipes every day – I've increased my daily pins. So instead of 10 pins, I've started sharing 15 per day now.

I'm sharing popular pins from other food bloggers on Pinterest – I still aim for 3 of those.

I'm always trying to join popular niche-specific group boards on Pinterest to increase my reach.
Number of posts published in September 2019
I was only able to publish 7 posts in September! While I didn't quite meet my goal, I'm quite happy that I published more than in the last few months.
Food blog goals for October 2019
Get 13,000 page views by the last day of September.

Make $75.00 from the blog.

Publish 10 blog posts/recipes.
Will I achieve these food blog goals at the end of October? Stick around to find out what happens. Also, share your own blogging wins with me in the comments below!