Last Updated on September 8, 2023 by Toya
This is my June 2023 income report where I'm sharing how my blog performed in the last 30 days. This income and traffic report will include how much money I made blogging in June 2023, how much traffic I received, important events that happened during that month, and finally, my goals for the upcoming month.
If you want to see how the blog fared in its first year, you can check out my previous food blog income reports here. 
Also, feel check out the previous income and traffic report for May 2023 here as well as the income report for August 2023 here.
Overview of the last 30 days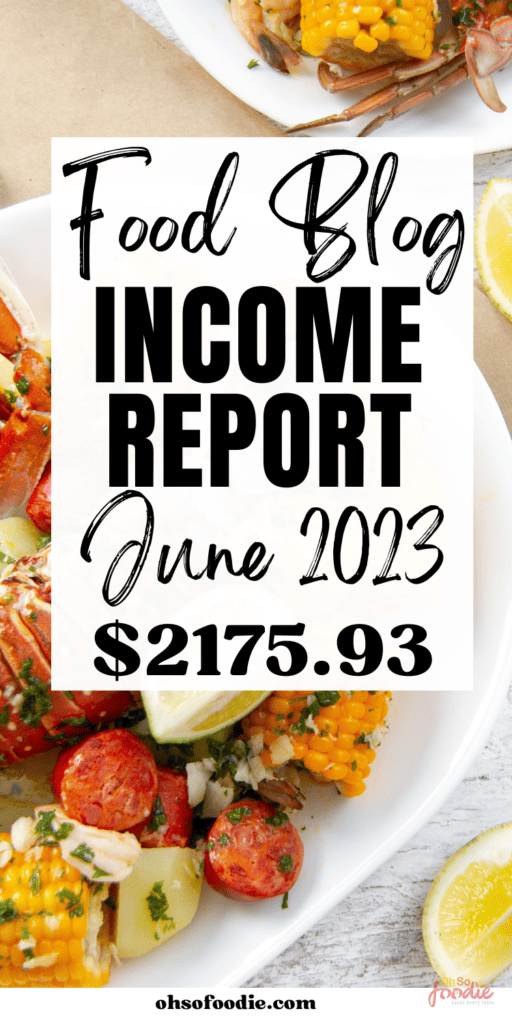 This month I did quite a bit of work on my blog. I seem to have gotten a new boost of motivation and I want to work on the blog now! This is a welcome change from the past few months when I had almost zero desire to work on my blog! Everything felt like a chore then whereas now, I'm looking forward to getting up and getting to work most days!
With the exception of maybe 6 days (not including weekends), I tried to spend 3-4 hours working on the blog every single day!
All the things I did for the blog in June 2023
I continued to study and implement the tips and tricks taught in the Pinteresting Strategies E-course. I've been making pins nonstop since May 4th, 2023 Lol!
It has started to pay off though. Which I'm very excited about. 
P.S. My Pinterest traffic is still pretty low compared to when I first started blogging back in 2019. This is a direct result of my avoiding Pinterest and not actively posting on that platform for close to 2 whole years.
However, I did manage to double my Pinterest traffic. (see food blog traffic report below)
Like last month, I made over 150 new pins for Pinterest. Some were published immediately and others have been scheduled via Pinterest's native scheduler for the upcoming 30 days.
Food Blog traffic report
Overall, my traffic got a little bump in June.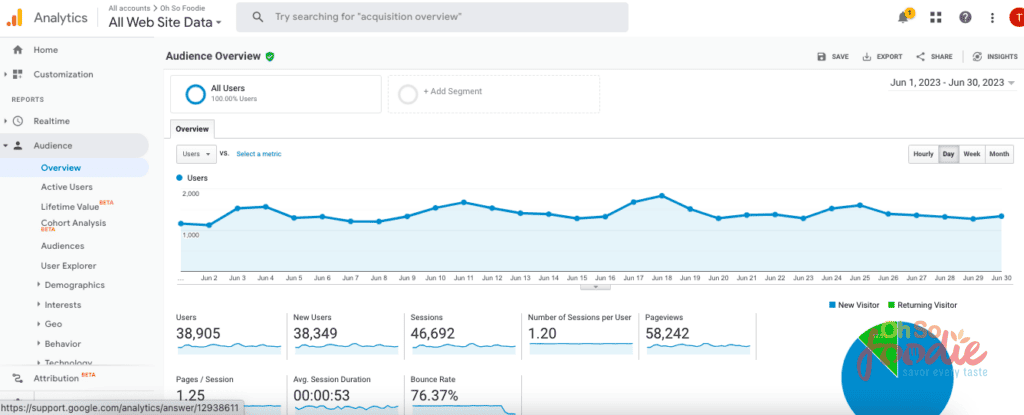 I explained last month that I may have been caught in a Google update and lost some rankings. Or, maybe I lost the traffic due to a significant change I made (and quickly reversed) in April 2023 – I explained in more detail in my May 2023 income report if you want to check that out.
Many bloggers will tell you that making big changes to a blog/website is always a risky move. Sometimes you get a huge bump in traffic and other times, you can lose all or most of your ranking keywords once Google has caught up to those changes. 
Either way, once I reversed the changes I started to gain some of my keywords back. At first, they came back very slowly as can be seen in this Ahrefs report below – This is a weekly report of how many keywords I rank for, lost, and gained in a given week from a trusted keyword tool called Ahrefs.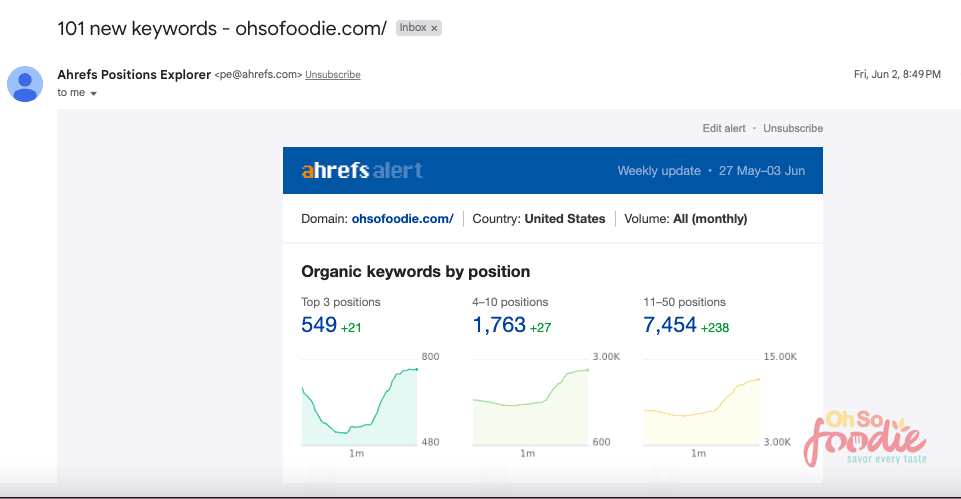 However, for the last two weeks of June, I've started gaining the keywords I had previously lost more quickly: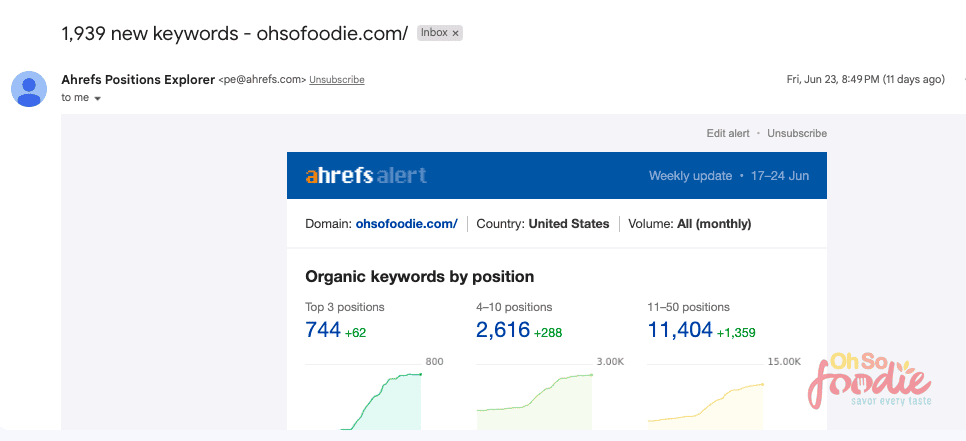 This gives me hope that my Google traffic will get back to its pre-April 2023 numbers again. Hopefully sooner rather than later. 
Food blog income report
This is my Mediavine income report for June 2023.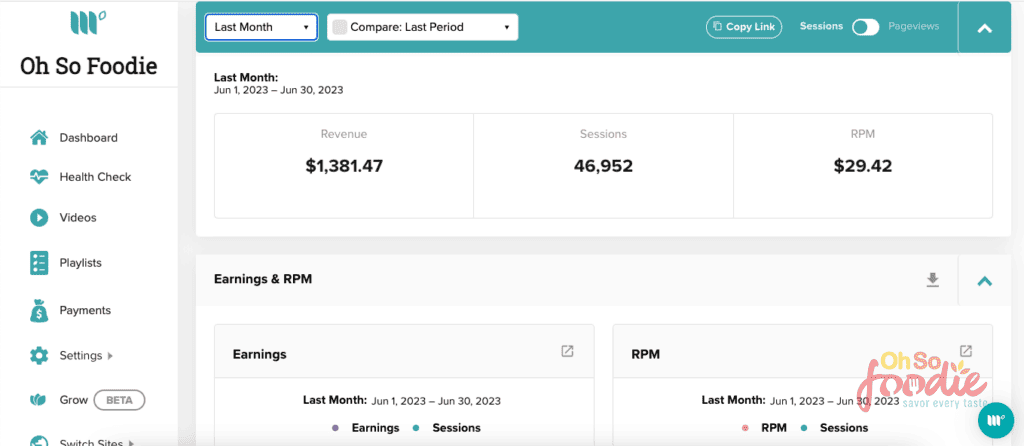 Overall, income was up from last month, but down from pre-April 2023 numbers. 
I explained this in my May 2023 income and traffic report. Essentially, I have less traffic now which means that I am making less than $2500 from this food blog.
I should note that before May 2023, my blog had never earned less than $2500 in a given month before. Not since February 2020.
I'm not happy about the loss in income, but I know that if I keep working, I can get it back plus some.
Here's a breakdown of my income for June 2023
Food blog income
Mediavine ads —$1381.47
Amazon associates — $100.18
Maxbounty — $79.61
Printables store — $51.97
Other affiliates — $562.70
Total income: $2175.93
Food blog expenses
Bigscooots hosting — $49.95
Shopify —$25.00
Canva — $12.95
Short pixel image optimizer — $4.99
Site backup — $10.00
Groceries — $105.21
Google Workspace — $6.75
Lasso — $39.00
Adobe Lightroom — $9.99
Total expenses — $263.84
Net income: $1912.10
Goals For June 2023 – Did I achieve them?
1. Publish 15 – 20 new SEO-optimized articles – both recipes and blog posts.
I made 13 recipes in June, but I only had time to publish 9 of them. 
2. Grow traffic by 10 – 15%
I was able to grow my traffic by a little more than 15% in June. I went from 50,513 page views in May 2023 to 58,242 page views in June 2023! Yay!!!! I really like to see this uptick.
Most of the traffic growth was due to some of my lost keywords coming back. So it wasn't due to any of the work that I had put into the blog in June. Also, I got a little bump from Pinterest compared to last month. 
Some of the pins I posted last month are starting to gain a bit of traction on Pinterest. 
And I'm so excited that Pinterest is looking up again. I went from having 83,000 monthly impressions on Pinterest in May to 120,000 monthly impressions by the end of June!
This is a far cry from where I was back in 2020 and most of 2021 when I had 5 million impressions on Pinterest. However, my impressions are slowly inching back up which makes me confident that I'll get back to receiving millions of monthly impressions on Pinterest if I just keep working on the platform.
3. Add Amazon associate affiliate links (and any other affiliate links) in relevant posts with Lasso (an Amazon display and management plugin) that I want to explore.
I still didn't get around to adding as many Lasso displays as I wanted. I only got around to adding a few affiliate links to 2 posts.
Recap of June 2023
It doesn't sound like a lot, but this month I worked more hours than I have in a long time. I did not get around to doing all the things I wanted to get done, but I'm feeling very positive about how things are progressing.
Goals for July
Publish 10 – 15 articles

Add lasso displays and links to 10 articles

Increase traffic by 25%

Earn $2500+ from the blog

Double Pinterest traffic

Complete and publish a food blogging lead magnet
Come back next month to see if I accomplish any of my goals!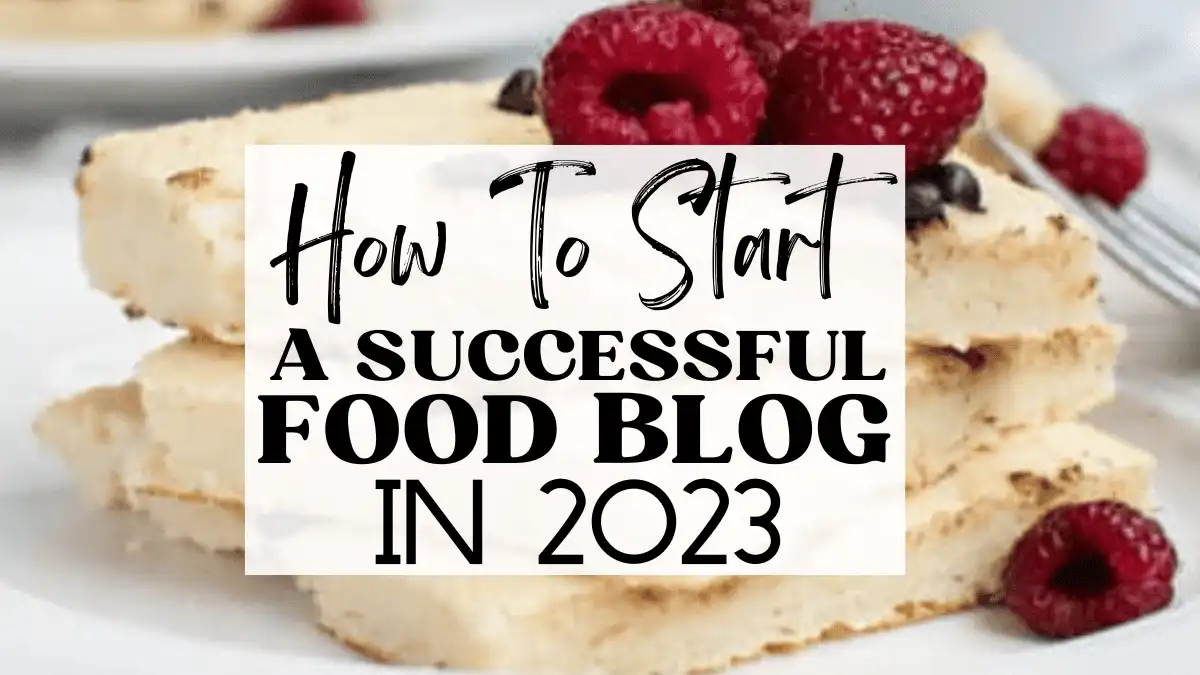 How To Start A Food Blog With Bigscoots In 2023
I've earned more than $250,000 from my food blog which I work on part-time. If you want to learn how to start your own food blog, plus a few tips and resources I highly recommend, then you can click this link to learn how to become a food blogger right now!
We earn a commission if you make a purchase, at no additional cost to you.

Here are some reasons why I think you should give food blogging a try:
I sometimes go months without posting or touching my blog and still earn between $2000-$3500 every single month! This has been ongoing ever since the blog had its first $1000+ month in January 2020. You can check out my income reports here.

You can start a food blog for less than $50 right now! I invested just $150 back in 2019 when I started and have made over $250,000 from this food blog so far!

The barrier to entry doesn't exist because starting a food blog only requires you to pay for hosting, buy groceries, cook, take photos, and learn how to market on a social media platform or Search engines. You can do all of those things from anywhere in the world and there is no cap on how much you can earn.

Food blogging can be fun. 

Blogging is awesome. No matter what day it is, or whether it's the weekend, a holiday, or if you're sick or demotivated and can't show up to work on your blog, etc, as long as you're on an ad network, and you're receiving traffic, you will make money. This makes blogging so reliable and constant.
Learning Resources I Highly Recommend 
Learn how Michelle went from $0.00 to $50,000 with affiliate marketing and blogging. Get her exclusive tips so you can start making affiliate marketing work for you too!

Buy Now

We earn a commission if you make a purchase, at no additional cost to you.

Learn all the tips and strategies you need to know to get thousands of monthly page views to your blog from a free traffic source like Pinterest.

Buy Now

We earn a commission if you make a purchase, at no additional cost to you.

Learn how to get thousands of page views to your blog for FREE with these amazing SEO strategies

Buy Now

We earn a commission if you make a purchase, at no additional cost to you.