Last Updated on July 27, 2023 by Toya
This is my May 2023 income report where I'm sharing how my blog did in the last 30 days. This income report will include how much money I made blogging in May 2023, how much traffic I received, anything else worth noting that happened during that month, and finally, my goals for the upcoming month.
This food blog officially turned 4 years old on May 22 2023 and I got a new perspective on what I want to do with it.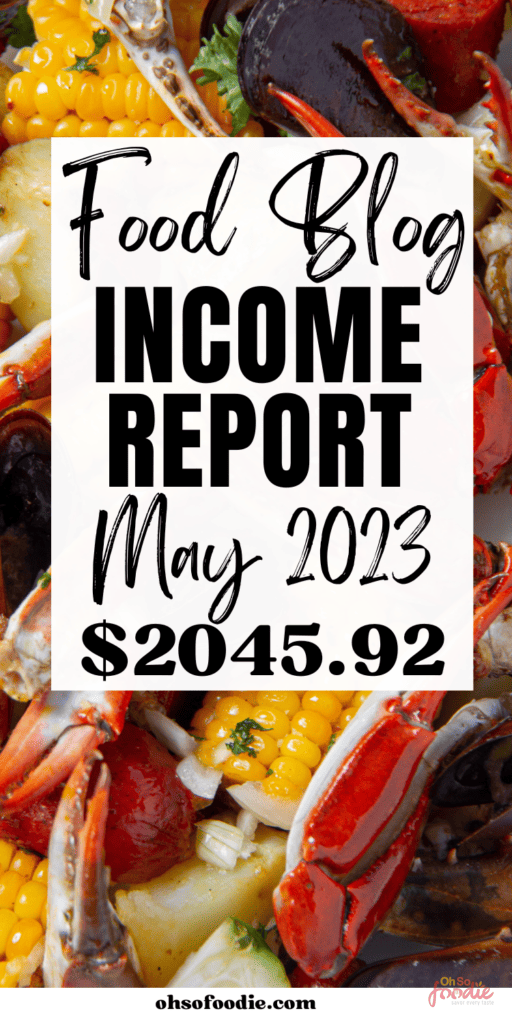 If you want to see how the blog started off, you can check out my previous food blog income reports here.
Overview of the last 30 days
The past year has been weird for me. I'm not sure if I'm still in the c*vid rut. However, in the past year and a half, I've not been doing a lot of meaningful work on the blog.
Don't get me wrong, I have not neglected my blog per se. I still do the odd blogging tasks and publish posts on a semi-regular basis. However, I certainly have not been giving the blog the attention it needs and deserves over the past year and a half at least.
I even considered selling the blog a few months back because I was just so unmotivated to keep working on it.
But, somehow early in May I got a renewed vigor to start putting some real work into the blog once again…maybe this change was due to the blog's 4th anniversary looming??
Since I made that decision on May 4th, I've started to feel a bit of excitement about blogging again.
Whereas I previously spent a few hours here and there when I felt like it, this past month, I spent a good 4 hours every single day working on the blog, strategizing how to get it where I want it to be…and you may have guessed it, making and publishing tons of pins.
All the things I did for the blog in May 2023
I finally dusted off my Pinteresting Strategies E-course and started reacquainting myself with Pinterest. The course is very comprehensive, so I mainly focused on a few sections including how to properly market a blog on Pinterest in 2023.
Pinterest has changed a lot from back then in 2019, 2020, and 2021 when I used to get hundreds of thousands of page views every month. Therefore, I need to unlearn some things that used to work but no longer do, and embrace the new strategies that are currently working for other bloggers who've kept using the platform.
I also spent time trying to formulate a solid strategy for marketing my old-ish food blog. I'll keep you updated on how things go.
I made a ton of new pins this month. I completely forgot how much work it takes to design eye-catching pins. I think I made an average of 180 pins in May in total. I published some directly onto Pinterest and scheduled the rest with the Pinterest native scheduler.
I did not publish a lot of content this month. I only got around to publishing 8 posts in May 2023.
Traffic

My traffic was pretty low this month.
I either got caught up in a Google update and lost rankings or…and this is very very likely … this was my own fault for changing my site structure and the appearance of my blog on April 12th, 2023.
A quick little story
In April, I attempted to fix the appearance of my blog by implementing Silos. This a term you'll recognize if you focus on implementing SEO strategies as taught in this course. I was aware that I was taking a risk when I did this – many bloggers in the Mediavine Blogging Group have recounted losing rankings after making major updates to their websites.
However, the excitement of having the blog look 'better' and finally getting my blog organized got the best of me and I did it anyways.
I actually made the decision to work on the silos and change the structure of the blog toward the end of March, but after lots of research, I was pretty nervous and put it off until April.
On April 2nd, I forced myself to get over the nervousness and I started working on changing the blog's structure.
I spent roughly 10 days working on those silos. Then on April 12th I officially pushed the updates onto the site itself.
About 2 ½ weeks after doing this, I began to lose tons of ranking keywords from Google.
For the past year and a half, most of my traffic has been from ranking keywords in Google since I stopped using Pinterest back in late 2021. As a result, losing keywords had a very huge impact on my traffic.
Overall I lost about 35% of my traffic in that time period.
Finally, on the evening of May 5th, I bit the bullet and had my web host guide me through restoring a saved backup of my site from before April 12th. The blog is now back to its original 'ugly' appearance once again.
Exactly 2 weeks later, on May 26th my keywords, which had previously gotten de-ranked, have started to slowly come back and are starting to rank at the top of Google again.
As a result, there was a slight increase in my SEO traffic in the last week of May. Fingers crossed it keeps going up.
Traffic for May 2023
Income
This is my Mediavine income report for May 2023.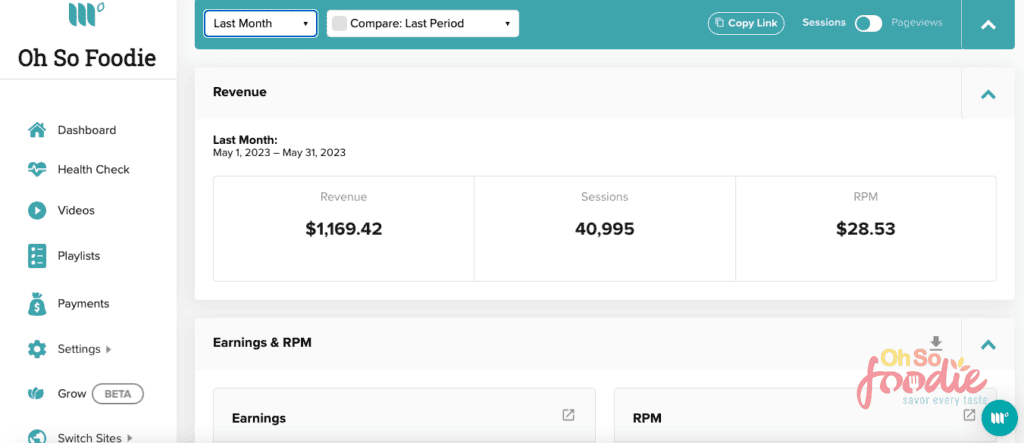 Since my traffic was lower in May, I also ended up making less money from the blog than I usually make. This was a bummer for me. For the past 4 years, I've made $2500+ from this food blog every single month without fail.
This is the lowest amount of income I've earned from this blog since it made its first $1000 back in January 2020 – See the income reports linked above if you want to see my blog's progress in my first year as a food blogger.
Nonetheless, I will continue to work on my blog and get it back to the numbers I like to see soon.
Here's a breakdown of my income for May 2023
Food blog income
Mediavine ads —$1169.42
Amazon associates — $80.98
Maxbounty — $35.10
Printables store — $76.92
Other affiliates — $683.50
Total income: $2045.92
Food blog expenses
Bigscooots hosting — $49.95
Shopify —$19.95
Canva — $12.95
Short pixel image optimizer — $4.99
Site backup — $10.00
Groceries — $138.32
Google Workspace — $11.15
Lasso — $39.00
Adobe Lightroom — $9.99
Total expenses – $296.30
Net income: $1749.62
Here are my goals for the blog for the next month
Publish 15 – 20 new SEO-optimized articles – both recipes and blog posts.
Create and publish 150 – 180 new pins throughout the month.
Grow traffic by 10 – 15%
Add Amazon associates links (and any other affiliate links) in relevant posts on the blog. I recently purchased Lasso (an Amazon display and management plugin) that I want to explore. Lasso helps you manage your affiliate links easily, but it also helps you to display your affiliate links in a more eye-catching way
Example of an Amazon affiliate link being displayed via the Lasso plugin:
See how the affiliate link stands out? I want 90% of my affiliate links to look like this in the next few months.
I haven't had much time to tinker with Lasso to add relevant affiliate links that stand out more to many of my posts, but I want to spend some time adding those affiliate links to at least 60 of my top posts/recipes in June.
Enjoyed this income report? Come back next month to see how the blog is faring!
Read my June 2023 income report here.
Want to start a food blog for income?
Starting a food blog can be super easy if you follow my setup guide.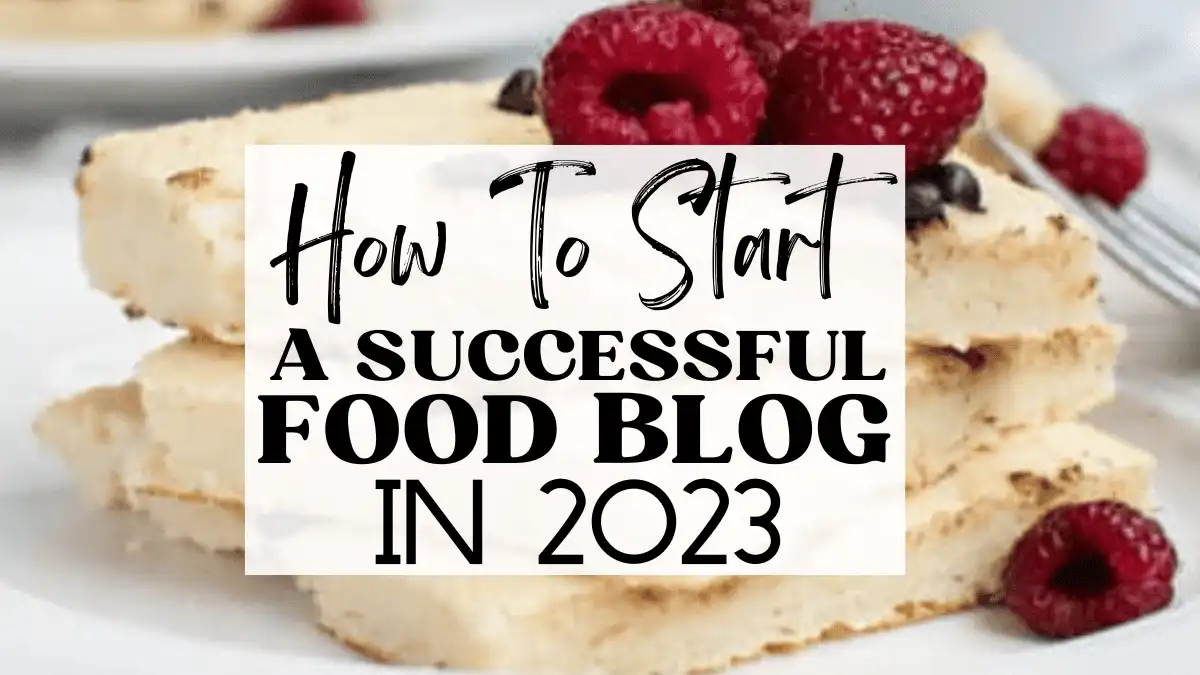 How To Start A Food Blog With Bigscoots In 2023
I've earned more than $250,000 from my food blog which I work on part-time. If you want to learn how to start your own food blog, plus a few tips and resources I highly recommend, then you can click this link to learn how to become a food blogger right now!
We earn a commission if you make a purchase, at no additional cost to you.

Here are the reasons why I think you should give it a try:
I sometimes go months without posting or touching my blog and still earn between $2000-$3500 every single month! This has been ongoing ever since the blog had its first $1000+ month in January 2020. You can check out my income reports here.

The barrier to entry doesn't exist because starting a food blog only requires you to pay for hosting, buy groceries, cook, take photos, and learn how to market on a social media platform or Search engines. You can do all of those things from anywhere in the world and there is no cap on how much you can earn.

Food blogging can be fun.

Blogging is awesome. No matter what day it is, or whether it's the weekend, a holiday, or if you're sick or demotivated and can't show up to work on your blog, etc, as long as you're on an ad network, and you're receiving traffic, you will make money. This makes blogging so reliable and constant.
Learning Resources I Highly Recommend
Learn how Michelle went from $0.00 to $50,000 with affiliate marketing and blogging. Get her exclusive tips so you can start making affiliate marketing work for you too!

Buy Now

We earn a commission if you make a purchase, at no additional cost to you.

Learn all the tips and strategies you need to know to get thousands of monthly page views to your blog from a free traffic source like Pinterest.

Buy Now

We earn a commission if you make a purchase, at no additional cost to you.

Learn how to get thousands of page views to your blog for FREE with these amazing SEO strategies

Buy Now

We earn a commission if you make a purchase, at no additional cost to you.