Last Updated on September 19, 2023 by Toya
Ready to make a delicious seafood boil recipe? Then you need some amazing seafood boil sauce recipes to go with it! Check out my six delectable seafood boil sauces that will take your seafood boil to the next level! The best part is that, these take only a few minutes to make!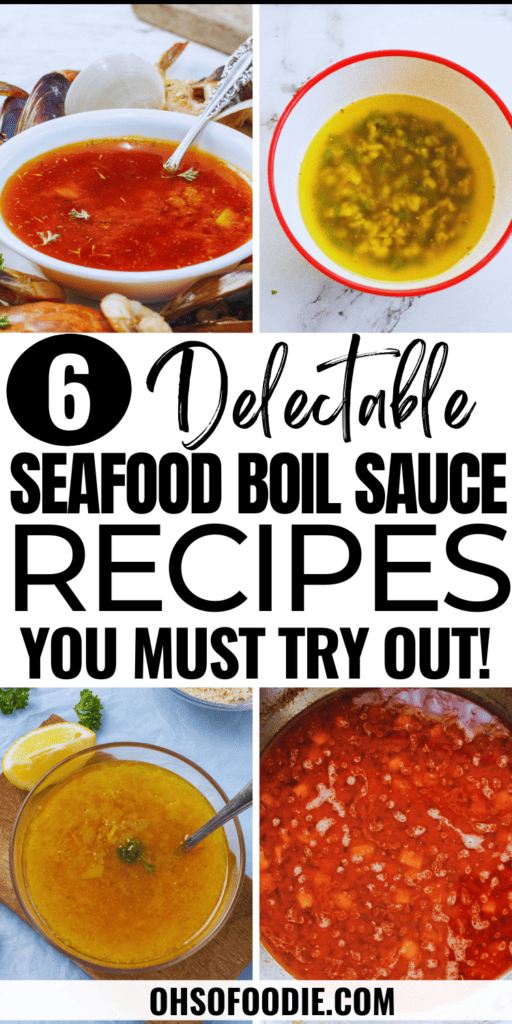 What is a seafood boil sauce?
A seafood boil sauce is a flavorful condiment typically made from ingredients like spices, herbs, salt and pepper, citrus, butter, broth, and hot sauce. This flavorful medley is used to enhance the taste of homemade seafood boil recipes like this easy oven cooked seafood boil. A seafood boil is either cooked into this sauce or it is made and poured over the already-cooked seafood boil. Some people even like using their seafood boil sauce as a dipping sauce served alongside a seafood boil feast. What's more, this sauce is very versatile and can be made into just about anything you desire. These are typically some of the most common ingredients you can use to make a seafood boil sauce:
Spices: Common spices used in seafood boil sauces include paprika, cayenne pepper, black pepper, white pepper, garlic powder, onion powder, and Old Bay seasoning. These spices give the sauce its signature complex flavor.

Herbs: Some recipes may include herbs like thyme, oregano, or bay leaves to add depth to the flavor profile of a seafood sauce. I absolutely love using bay leaves in seafood recipes so you'll likely find some bay leaves in my own recipes!
Garlic and onions: You won't find many seafood boil sauce recipes without minced garlic and chopped onions. These ingredients add extra flavor while also adding a bit of texture to the sauce.

Salt: Salt is essential for seasoning and bringing out the flavors in any seafood boil sauce.

Citrus: Lemon or lime juice and zest will provide a refreshing, citrusy brightness to this type of sauce.

Liquid: Liquid ingredients can include beer, chicken or shellfish broth, or water. Some recipes even call for a mixture of beer and water. I tend to enjoy using seafood, chicken or beef broth, or water when making seafood boil sauces. These liquids help loosen up the sauce while adding extra flavor.

Butter: Butter adds richness and a creamy texture to the sauce. You won't find too many recipes for a seafood boil sauce without butter out there!

Hot Sauce: For an extra kick of heat, hot sauces like Tabasco or Louisiana hot sauce may be added.

Optional Ingredients: Some seafood boil sauce recipes may include additional elements like Worcestershire sauce, Cajun or Creole seasoning blends, Cajun seasoning, seafood boil seasoning blends, crab boil seasoning blends, or even shrimp seasoning blends to boost the taste of the sauce. You may even use sugar or honey to balance the flavors of this sauce.

To make the most awesome seafood boil sauce, you typically combine a few of these ingredients in a large pot, bring them to a boil, and then simmer to allow the flavors to meld together. The sauce is then used to season the seafood boil or as a dipping sauce for seafood boils.
Ready to make your own? Here are 6 awesome options worth trying:
6 great seafood boil sauce
Seafood boil sauce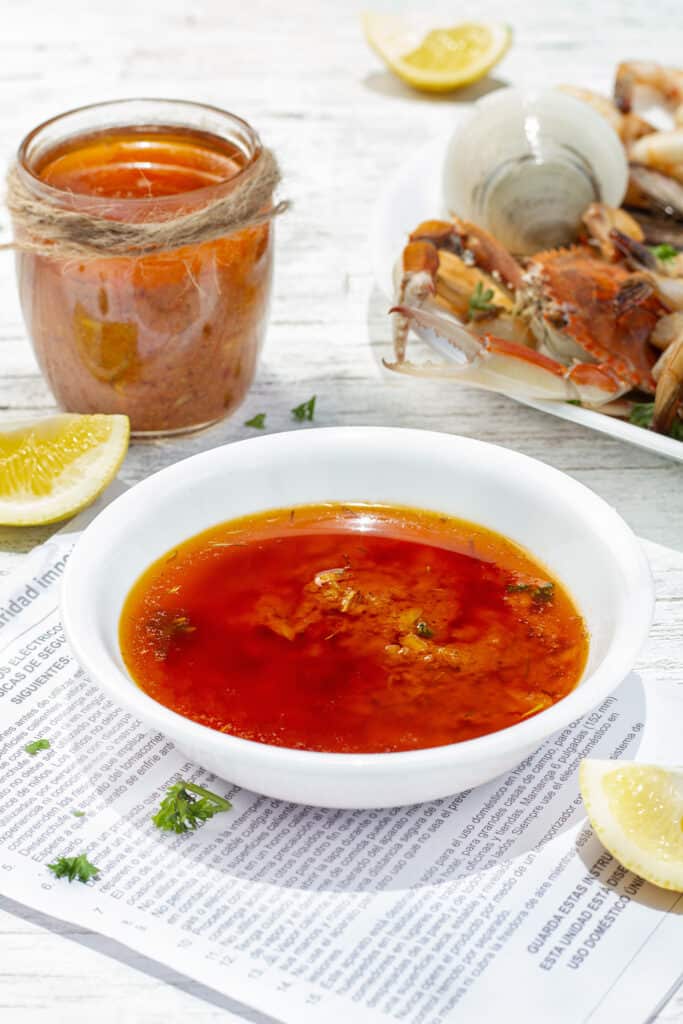 Discover the simple recipe for the most delightful seafood boil sauce. This sauce is an ideal complement to any seafood boil recipe and will take your dish to the next level. With easy to find ingredients like butter, fresh garlic, onions, paprika, ginger, thyme and lemon juice, this red sauce is so good and has a preparation time of less than 10 minutes! It is sure to become your seafood boil recipes ultimate go-to!
Want to try it out? Check out the recipe for this red seafood boil sauce here.
Crab boil sauce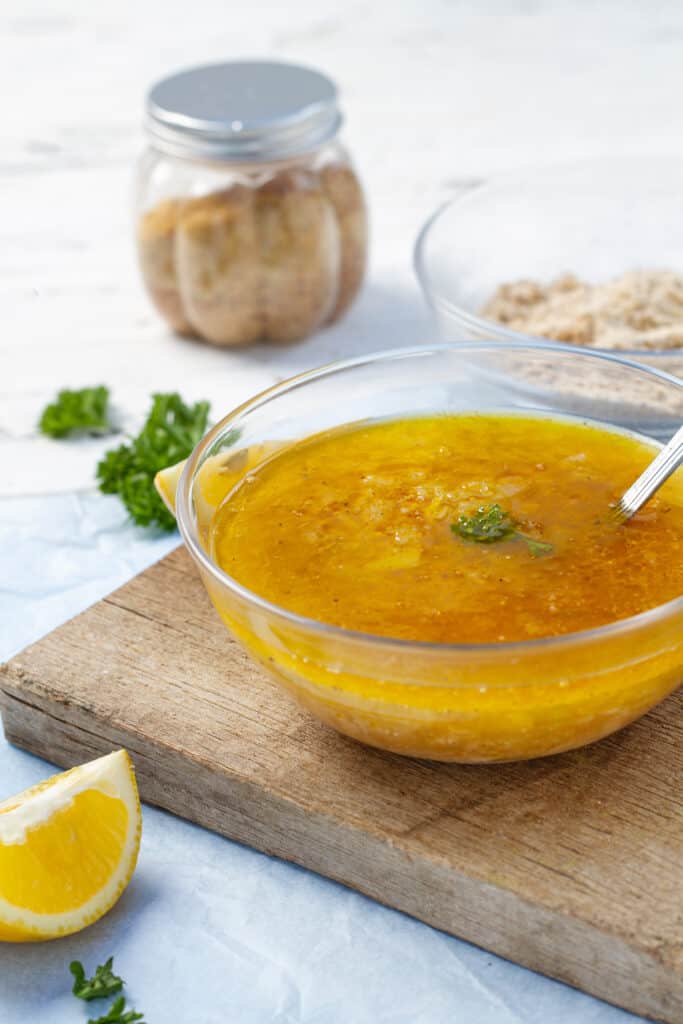 For all those enthusiasts of crab boils, here's a recipe for you! This crab boil sauce serves as the ideal enhancement for any crab boil masterpiece, delivering a burst of enticing flavors that will undoubtedly leave your taste buds craving more. This sauce is super easy to make and needs just 6 ingredients, including a homemade seafood seasoning blend, butter, fish broth, diced onion, fresh garlic, and fresh parsley, and 10 minutes!
Want to try out this simple yet flavorful crab boil sauce, check out the recipe linked here!
Garlic butter sauce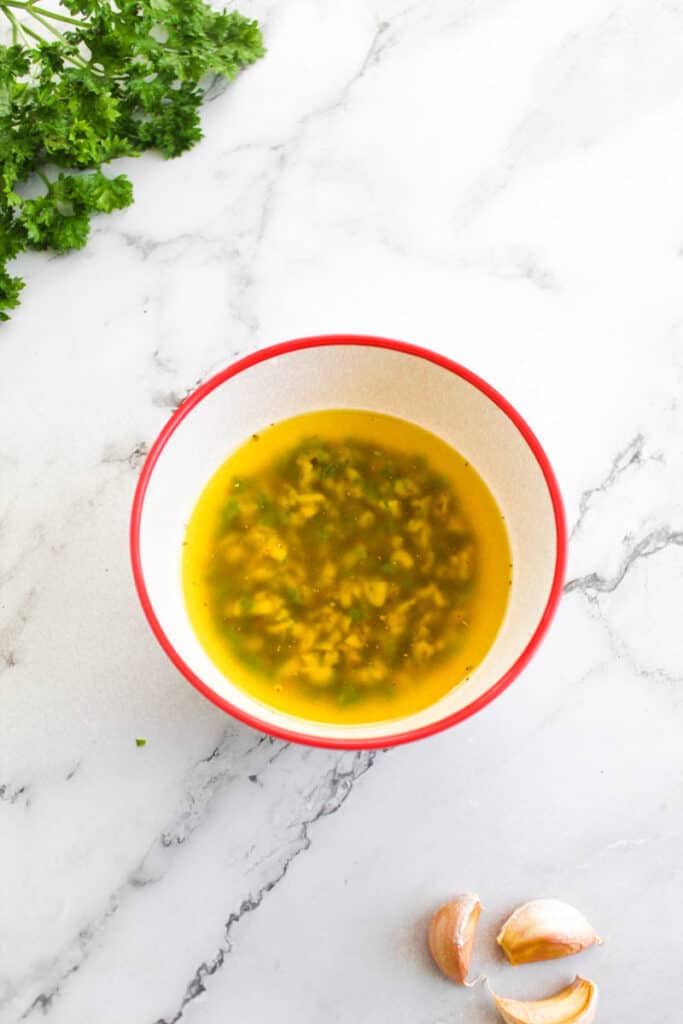 A garlic butter sauce is a luscious and indulgent condiment made by blending rich, creamy butter with aromatic garlic. This sauce, with those bold, fragrant notes of garlic, is the perfect accompaniment to pasta dishes, vegetables, or grilled meats. It is also the best sauce to serve with any seafood recipe, including a hearty seafood boil dish. You can find the recipe for this hearty garlic butter sauce here. And you can also take a look at how I serve this garlic butter sauce alongside this fiery Cajun seafood boil recipe.
Cajun butter sauce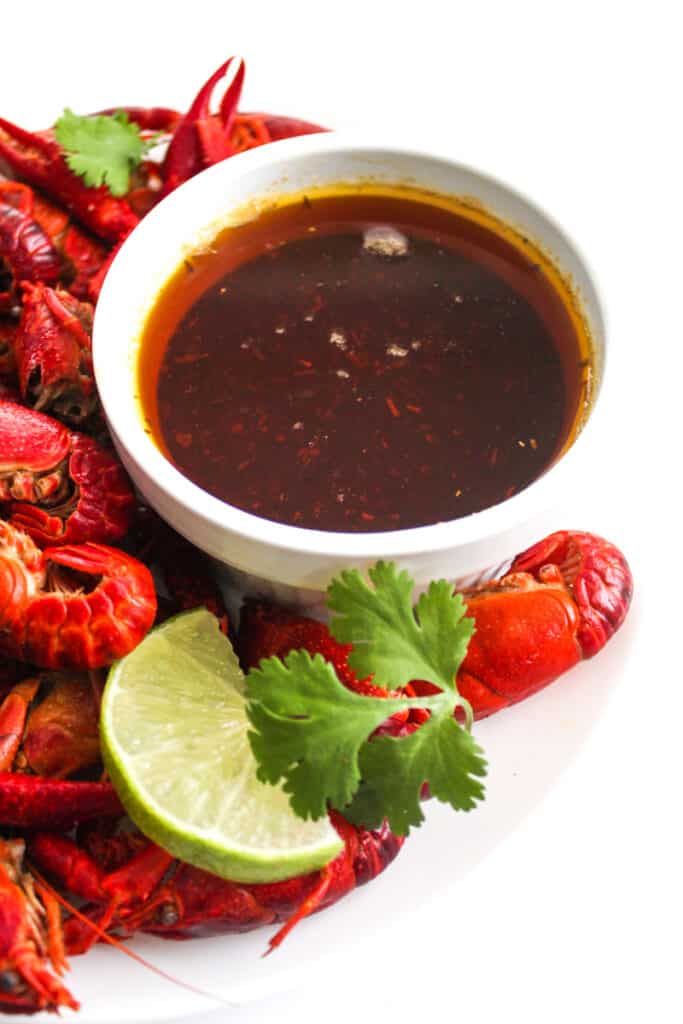 A Cajun butter sauce is a fiery concoction that combines the creamy richness of butter with the robust and spicy flavors of Cajun seasoning. This sauce packs a punch with its bold blend of herbs, spices, and a touch of heat. It is perfect for drizzling over seafood, grilled meats, or pasta. However, if you've yet to try it drizzled over a seafood boil recipe or as an accompanying dipping sauce for a seafood boil, then you've been missing out!
You can check out the recipe for my simple fiery Cajun butter sauce here if you want to give it a try!
Buttery Shrimp boil sauce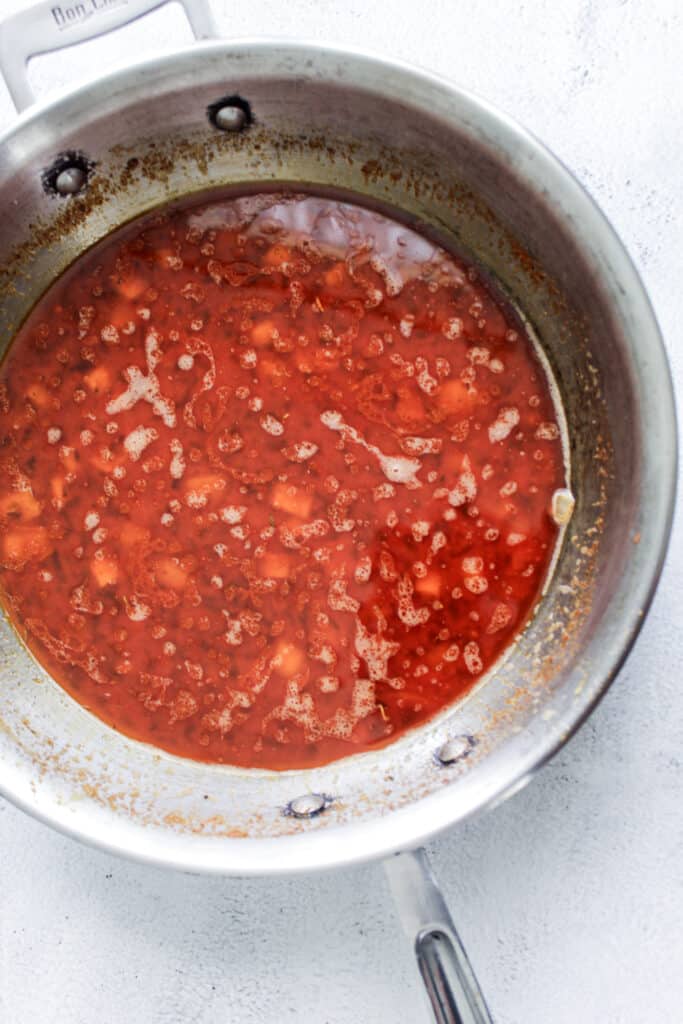 This sauce is the perfect buttery sauce for any shrimp boil recipe This sauce is made with a handful of ingredients, including my flavorsome shrimp seasoning, butter, broth, garlic, old bay, and hot sauce. It is the perfect accompaniment for any shrimp or seafood boil recipe, like this hearty one pot shrimp boil recipe!
Want to learn how to make it? Then check out this simple shrimp boil sauce recipe here.
Bloves Smackalicious sauce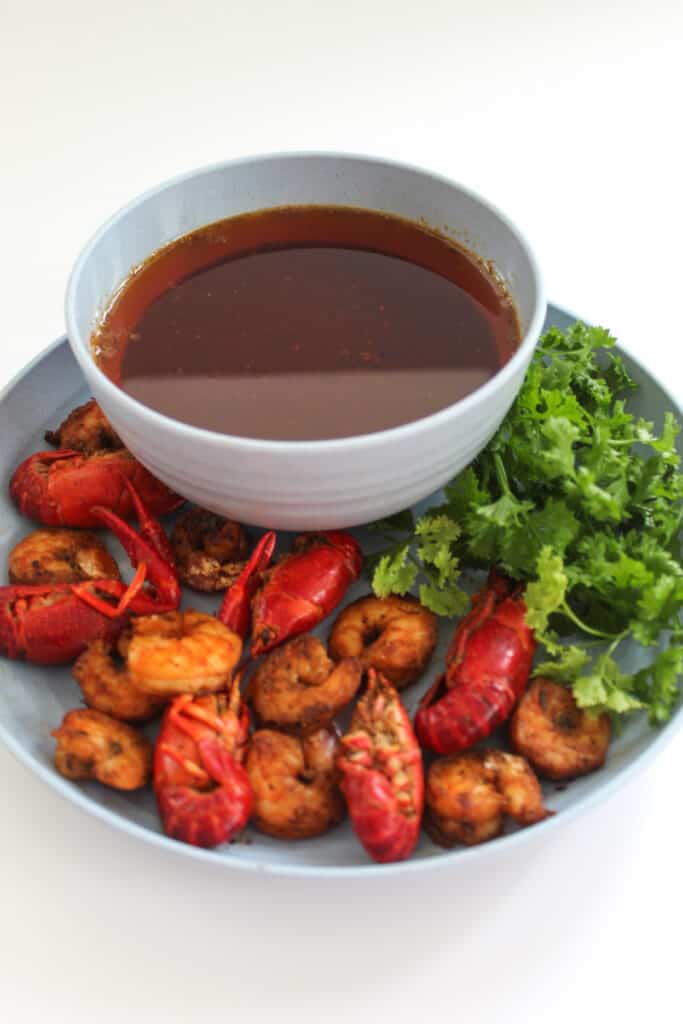 Ever heard of the famous Bloves sauce? Try out this simple homemade recipe. It works for all types of seafood boils, including crawfish boils, shrimp boils, crab boils, and more!
Other uses of seafood boil sauces
As mentioned above, a seafood boil sauce is a versatile condiment that can be used in various ways to enhance the flavor of any seafood dish. However, there are some other great uses for a seafood boil sauce too. So, if you try one of the recipes listed above and have extra, here's how you can use it up:
Marinade:

Seafood boil sauce can be used as a marinade for seafood before grilling, baking, or pan-searing. Marinating the seafood in the sauce imparts its flavors, adding depth and complexity to the dish.

Dipping Sauce: Seafood boil sauce can be served as a dipping sauce alongside boiled or grilled seafood. It's an excellent accompaniment for shrimp, crab legs, lobster, and crawfish.
Brushing Sauce: When grilling or broiling seafood, you can brush it with seafood boil sauce as it cooks to create a flavorful glaze.
Sauce for Pasta or Rice: Seafood boil sauce can be incorporated into pasta dishes or served over rice.
Flavoring Soups and Stews: You can use any of these sauces to flavor seafood soups and stews.
Every seafood boil sauce recipe is unique. This list contains six buttery, garlicky sauces that are perfect and will give you variety when you make your next seafood boil recipe!