Last Updated on July 27, 2023 by Toya
This is my December 2022 food blog income report. In this post, I explain how I make money from food blogging and all other important blogging events that took place in the last 30 days.
The main aim of doing this is to show you a peek into what food blogging entails and a sense of how food bloggers earn money from a blog.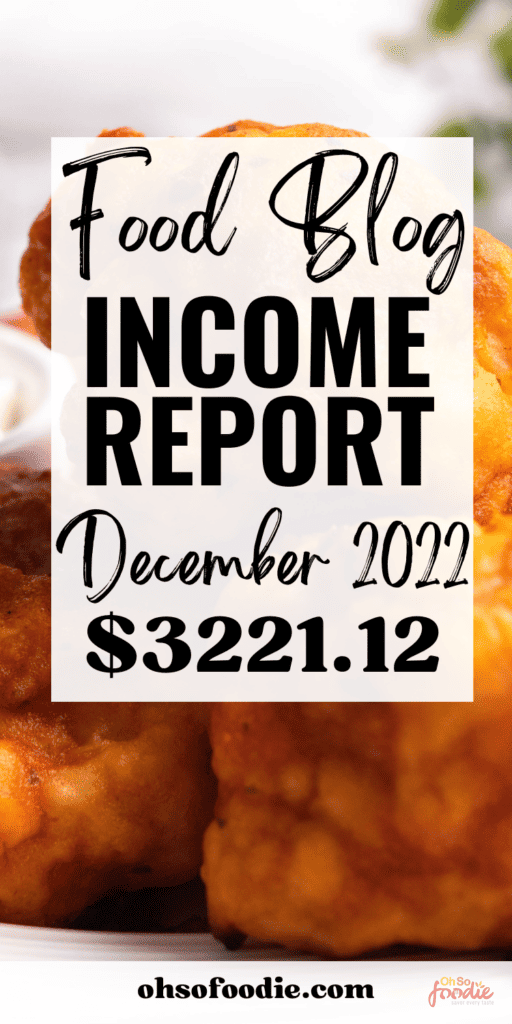 Why I'm Going to Share My Income & Traffic Reports
When I created this food blog, I wasn't sure it was going to work. I have the habit of starting blogs, getting them to earn some money, then neglecting them when the first thing goes wrong. As a result, I have started multiple blogs in the past 7 years!
This is the blog I've stuck with the longest, but very recently something happened that made me want to quit. I love food blogging though. And I really want to stick to this blog and make it really big one day. At least that is the goal. Although I've yet to really put in the work that can get me there as of late.
Besides keeping myself accountable, I want other people to see that it is possible to make money from food blogging. So, if you're someone who loves reading these as motivation to start your own food blog, I've got you!
If that is what interests you, but you've been afraid to take the leap, hopefully, my monthly income reports will help you get past that fear.
If you feel inclined, check out my blog income reports for the very first year:
Overview of this food blog
This blog is four and a half years old and I've been publishing content on ohsofoodie.com since May of 2019.
In the beginning, I was super excited about it and I jump in head first. Check out my income reports above to see what I mean.
My highest traffic source for this blog ever has been Pinterest, however, since April 2021, I abandoned Pinterest marketing for the blog (and thus the blog's monthly traffic has suffered.)
Why Did I stop using Pinterest? Basically, there was a Pinterest reshuffle and my traffic started to decline — many other bloggers had that same experience at the time. When this happened, I thought it wise to take a break from Pinterest and focus more on SEO.

We earn a commission if you make a purchase, at no additional cost to you.

The intention was to assess what Pinterest was doing and get back on it a few months later after I had built SEO traffic to a certain number. That was two years ago and I still haven't been able to carve out the time — or get up the motivation to work on Pinterest again.
As a result, every single month my Pinterest traffic dwindles a bit more.
Therefore, I have been focusing mainly on SEO for the past year.
Traffic and income report for Oh So Foodie in December 2022
In December, I did not set any goals for the blog. I haven't actually set any real goals for this blog since 2021. But, here is what I accomplished:
Blog Income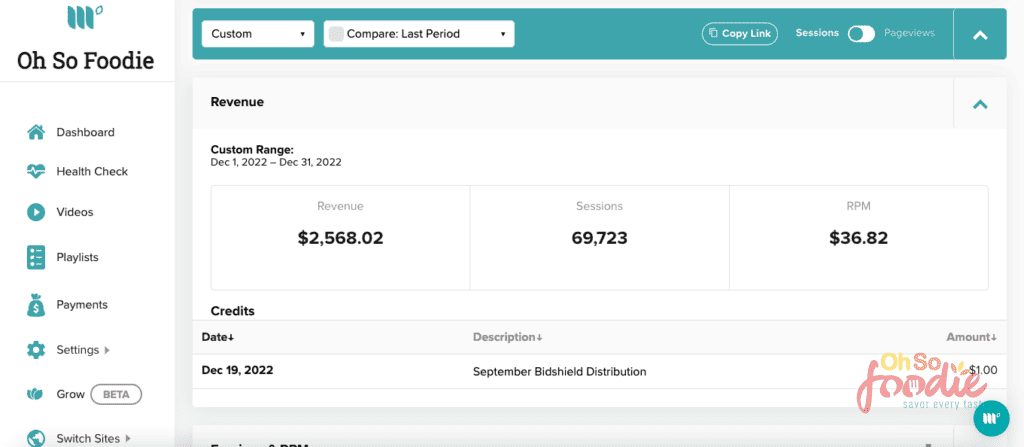 Average RPM for December 2022 — $36.82
Mediavine ads — $2568.02
Amazon associates — $106.20
Printable shop sales — $48.69
Other affiliates — $498.21
Total income: $3221.12
Blog Expenses
Web hosting: $49.95 (I use and highly recommend Bigscoots web hosting currently. They're hands down the best web hosting company ever. However, when I started blogging I used Siteground WordPress hosting because it was cheaper and more affordable then. I always recommend new bloggers start with Siteground since it is more manageable. If you want to start a food blog, click this link to start with Siteground or try my step-by-step guide to starting a successful food blog with Bigscoots.
Site Backup — $10.00
Canva — $12.95
Groceries — $56.07
Adobe Lightroom — $9.99
Short pixel image optimizer — $4.99
Shopify — $19.95
Total expenses: $163.90
Net income — $3057.22
Traffic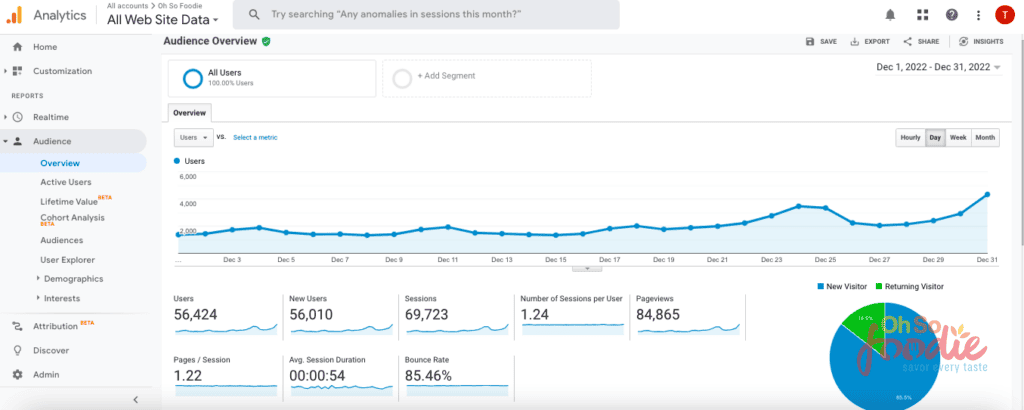 In December 2022, I received 84,900 page views on my food blog. Most of my traffic currently comes from Google searches.
Number of posts published
I published zero posts in December.
However, I updated 4 posts to make them better and more relevant.
Food blogging goals for the coming month
In January of every year, RPMs drop significantly. Mediavine explains why RPMs change during different times of the year here if you'd like to read about it more.
But basically, advertisers spend most of their ad budget in November and December since most people are shopping more throughout those months for major holidays like Christmas. RPMs are really high then.
However, come January, advertisers have a smaller budget since most people are spending less money then and that means most bloggers have a lower RPM (i.e. revenue per 1000 ad impressions) and generally make less money during this time of the year.
Therefore, even though my traffic is usually the highest during January (due to 75% of my content being keto recipes) I'm expecting my income to be slightly lower.
Thus, my goals for next month are:
To increase my traffic by 10% — 20%.

Earn $2800.00 for the month

Publish at least 10 blog posts.
My blog has ebbed and flowed throughout the years but still, it always earns me some great side income every month.
Want to start a food blog for income?
Here's why I think you should.
I sometimes go months without posting or touching my blog and still earn between $2000-$3500 every single month! This has been ongoing ever since the blog had its first $1000+ month in January 2020.
The barrier to entry doesn't exist because it just requires you to pay for hosting, buy groceries, cook, take photos, and learn how to market on a social media platform or Search engines. You can do all those things from anywhere in the world and there is no cap on how much you can earn.
Food blogging can be fun.
Blogging is the best because no matter what day it is, whether it's the weekend, a holiday, or if you're sick and can't show up to work on your blog you still make money. Once you're with a good ad network, and you're receiving traffic, you will make money. This makes a working blog quite reliable.
Learn how Michelle went from $0.00 to $50,000 with affiliate marketing and blogging. Get her exclusive tips so you can start making affiliate marketing work for you too!

Buy Now

We earn a commission if you make a purchase, at no additional cost to you.

Learn all the tips and strategies you need to know to get thousands of monthly page views to your blog from a free traffic source like Pinterest.

Buy Now

We earn a commission if you make a purchase, at no additional cost to you.

Learn how to get thousands of page views to your blog for FREE with these amazing SEO strategies

Buy Now

We earn a commission if you make a purchase, at no additional cost to you.