Last Updated on July 26, 2023 by Toya
This seafood boil ingredients list will make it easy for you to make any seafood boil recipe you've ever imagined.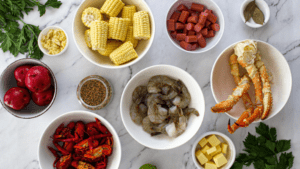 Are you thinking of making a seafood boil recipe? Don't know the list of seafood boil ingredients you will need? Keep reading to see exactly what you need to cook a boil recipe from scratch!
What is seafood boil?
A seafood boil is a one-pot seafood dish with vegetables, seafood, eggs, sausages, and even eggs added. It is very popular among muck-bangers, in the South and during the Spring season since it's a meal best served outdoors. However, people enjoy eating seafood boils throughout the year.
If you're about to make a seafood boil recipe and you're looking for the best ingredients for a seafood boil, then this post is for you. It outlines every single ingredient that can or should be used for this type of recipe.
This post is perfect for people who love to freestyle their meals rather than follow a step-by-step recipe.
But, if you want to follow a recipe, feel free to check out our cajun seafood boil, seafood boil in a bag recipe, easy seafood boil recipe, or our seafood boil made with eggs here.
What goes in a seafood boil?
As stated, a seafood boil is usually made with your favorite seafood, potatoes, smoked sausages, corn, onions, garlic, butter, and seasonings that complement seafood well. Check out all this simple seafood boil list below.
Seafood boil ingredients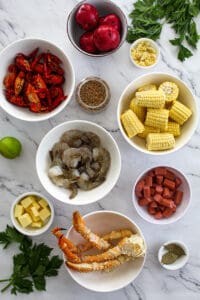 All seafood boil recipes are unique or can be made unique according to your personal tastes and preferences. As such, each seafood boil ingredient listed here is just a suggestion.
Shrimp – For a seafood boil recipe try to find the biggest shrimp available. Usually, that will be the 16-20 count jumbo shrimp.
The larger the shrimp, the better since their size will make them easier to grab, dip into a sauce and eat in this dish. Also, many people like to use peeled shrimp, but unpeeled shrimp is just fine if you don't mind peeling them as you eat.
Lobster tails – You'll need some lobster tails for a seafood boil, usually 4-6 depending on the number of people you plan to serve.
Most people use Maine lobster tails since those are more succulent and have an amazing flavor and texture. However, other varieties work well too.
Crab legs – Crab legs are a great addition to any seafood boil. Usually, 1 pound of Dungeness crab legs are used, but other varieties like king crab legs, snow crab legs, and blue crab legs.
Whole crabs – Whole crabs are another ingredient that can be used in a seafood boil.
Mussels – Mussels make another great addition to a boil. The best type is rope-grown, farm-raised mussels, but any other type will do.
Clams – If you have access to clams, they're an amazing shellfish option for seafood boils too.
Scallops – Scallops are another great shellfish to add to a boil.
Fresh corn – Fresh corn on the cob is the best option. It's firmer and juicer and adds a lovely, fresh touch to a boil recipe.
Potatoes – Yukon gold potatoes are the most popular, but also red potatoes work too.
Sausages – The most popular type of sausage used in a boil is Andouille sausage. Andouille sausages are smoky, spicy, and seasoned well with a Cajun creole blend, so you can use these only if you're going for that type of flavor. Otherwise, feel free to use something milder like kielbasa or Chorizo.
Eggs – Some people love adding boiled eggs to their seafood boil. While it is not a necessity, it is a nice touch if you feel like adding it in.
Water – You will need about 14 cups of water, placed in a large pot to cook your boil recipe.
Beer – Beer is optional, but it is sometimes used to enhance the flavor of a seafood boil dish.
Seafood broth – Used to flavor seafood boil sauce.
Chicken stock/Seafood stock – Used to flavor the seafood boil sauce as well.
Bay leaves – Used to add that unique flavor to seafood. It is usually placed in a large pot of boiling water to infuse its flavor before the various seafood is cooked in that pot of boiling water.
Garlic cloves – Garlic cloves are usually used to make a seafood boil sauce which is either poured over the seafood feast or used as a dipping sauce. Minced garlic is fine as well.
Onions – Onions are also used to add flavor and body to seafood sauces that are then poured over the food or used as a sauce for dipping.
Butter – Butter is the base of many seafood sauces and a large quantity is usually required. Many recipes use 2-4 sticks of butter.
Seasoning – A good seasoning mix worth using is this seasoning for seafood boil , this flavorful seafood seasoning or any other store-bought seafood seasoning you prefer like Zatarain's. I even sometimes use my homemade crab boil seasoning blend and this cajun seafood boil seasoning in some of my seafood boil recipes.
However, you can also make your own seafood seasoning blend by combining salt, garlic, onion powder, black pepper, paprika, and old bay seasoning. This seasoning mixture can be used to flavor the water used to cook the various types of seafood.
Or, it is used to add flavor to the sauce which is later poured over the seafood or used to dip the seafood.
Lemons – Fresh lemons are usually cut in halves or quarters and then added to the seafood boil feast for garnish. Other times the juice of lemons is squeezed into the water used to cook the seafood or squeezed into the seafood sauce.
Chopped parsley – Use mainly to garnish your boil recipe as the last step.
Final thoughts about this seafood ingredients list
These are all the typical items you'll find on a seafood ingredients list. If you're making a seafood boil recipe like say this tasty seafood boil with lobster tails, you can of course skip a few of the items listed above. After all, every seafood boil recipe is unique.
So, there you have it! All the ingredients you will need to cook a seafood boil recipe. Keep this handy seafood boil list for shopping or reference and happy cooking! Also, if you need some more ideas for mouthwatering boil recipes worth trying, check out 9 of my best seafood boil recipes here!