Last Updated on August 10, 2023 by Toya
Are you making a seafood boil recipe? Trying to figure out the best types of sausage for seafood boil? Keep reading to see all the amazing options available.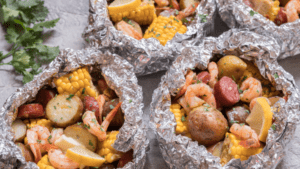 If you're interested in making a seafood boil, you must have noticed that one common ingredient in seafood boils is sausages. But you may not always like, or have the type of sausage mentioned in a recipe available to you. So, therefore, finding good sausage options is a must and this post will help you find suitable options that you may already have at home or can buy from your grocery stores or even on Amazon.
But before we get to it, let's deal with a few housekeeping matters.
Why are sausages used in seafood boil?
This question comes up quite often and it is a good question. After all, how does an ingredient like sausage find itself in a dish called 'seafood boil'?
Well, sausages, particularly smoked are used for quite a few reasons including:
Used because it adds a nice smoked, spicy flavor to the dish.

Great for adding an extra type of meat for dipping
How to cook sausage for a seafood boil
Most sausages are already cooked, therefore a little heating up is all they require before being added to a boil recipe.
When added to a boil recipe, sausages are usually chopped into 1 or 2-inch pieces then either boiled in the same way the seafood is boiled/cooked, grilled for a few minutes on each side, or pan-fried with some oil until slightly crispy. 
Then they're added to the seafood boil to be tossed and coated with a seafood sauce or used to dip into a bowl of seafood boil dipping sauce like the rest of the food.
Best types of sausage for seafood boil
Andouille sausage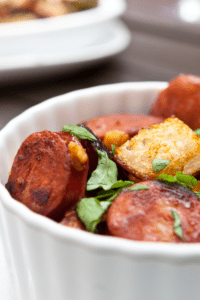 Andouille sausage is the most popular type of sausage used in seafood boil and I dare say the best sausage for seafood boil according to people who enjoy a little kick. 
Andouille is a smoked pork sausage seasoned with creole spice for a spicy kick. This sausage is usually chopped into 1 to 2 inch pieces and cooked in oil then added to a boil recipe. You can get Andouille sausage at most local grocery stores or you can grab some Andouille sausage on Amazon at a reasonable price. 
Kielbasa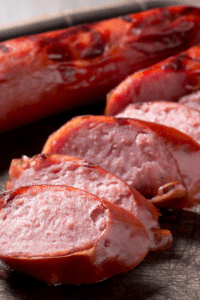 Kielbasa sausages are another great addition to your seafood boil recipe. This is the type of sausage for people who enjoy milder food. 
Kielbasa sausage is Polish sausage made from good quality cuts of meat that have been well seasoned, and smoked and is available as either beef Kielbasa sausages or turkey Kielbasa sausages. Indeed it is my favorite type of smoked sausage for seafood boil. can buy some Kielbasa sausages online at an affordable price.
Chorizo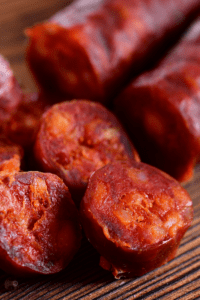 Chorizo is a Spanish or Mexican style of sausage links made with pork or chicken. It is seasoned well with seasonings like paprika and garlic. 
Chorizo sausages are usually fully cooked and smoked for a nice smoky flavor. They're a great addition to seafood boils. 
Italian Sausage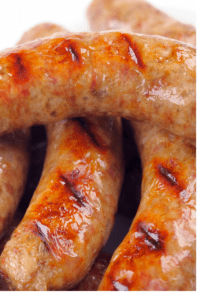 While not as popular as Andouille sausages or even Kielbasa, Italian sausages can also be used in sea food boil recipes. 
Italian sausages are usually seasoned using Italian spices and are quite affordable. You can use either mild or hot Italian sausage based on your preference. 
Bratwurst sausage links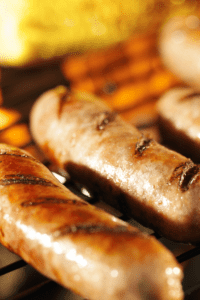 Bratwurst sausage links are another type of sausage for seafood boils. Bratwurst sausages are German sausages that are typically made with pork, or sometimes veal or beef.
This type of sausage is great for grilling or slicing into recipes like seafood boil.
Vienna Sausage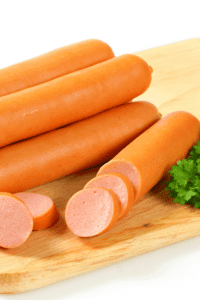 You won't find Vienna sausages featured in a lot of seafood boil recipes, but, it does make a good addition if this is what you have available. 
Chicken Sausage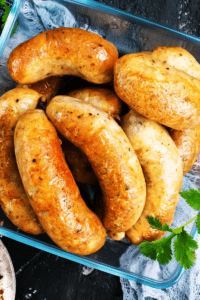 Another good sausage to place in a boil recipe is chicken sausage. You can have either mild or hot chicken sausages. They work because they're delicious of course, but also because they slice well and will fit nicely into any boil recipe.
Vegan sausages options for seafood boil
For people who don't eat chicken, beef, or pork and want the best vegan sausages for a seafood boil, this section is for you.
Beyond Meat Sausage
This is a good option worth trying out if you want a plant based sausage option. It is made from plant proteins and it does not slice meat sausages. 
Therefore it is best to slice these sausages when they're frozen as the hardness will make slicing so much easier. Also, cook them until crispy so the edges crisp up nicely. 
Field Roast Vegetarian Grain Meat Sausages
These fully cooked plant based sausages are also worth adding to a boil recipe if you're not using meat. 
These sausages do have a zesty flavor which is very typical when it comes to sausages for seafood boils. However, it slices really well and makes a delicious, highly flavor vegan alternative for meat sausages in seafood boil dishes.
To recap, these are the best sausages for a seafood boil:
Andouille

Kielbasa

Chorizo 

Italian sausage

Bratwurst sausage links

Vienna sausage

Chicken sausage

Beyond meat sausage

Field roast vegetarian grain meat sausages
While most of the people who make seafood boils use andouille or kielbasa sausages for their dish, there are quite a few other good sausage ideas that can add amazing flavors to a boil. This list outlines all of these in one place. So, whether you're making a seafood boil recipe in a bag, a vegan seafood boil, or even a keto seafood boil, there is a sausage choice for you here!
As a bonus, I'll share some other ways the sausages on this list can be used to cook seafood.
More ways to use this list of seafood boil sausages

 
For a crab boil
You can use any type of sausage on this list to make a crab boil recipe. I personally find that the best sausage for crab boil is Keilbasa.
For a shrimp boil
Want to know what the best sausage for shrimp boil is? My personal choice is Andouille. However, all the other types of sausages on the list will work in a mouthwatering shrimp boil recipe. 
Ready to make a delicious seafood boil recipe? Check out 9 of my favorite seafood boil recipes here!