Last Updated on August 9, 2022 by Toya
Is buffalo sauce keto? How many carbs are in buffalo sauce anyway? Learn the answer to these questions here. Also get access to our best keto buffalo recipes that are super easy to make!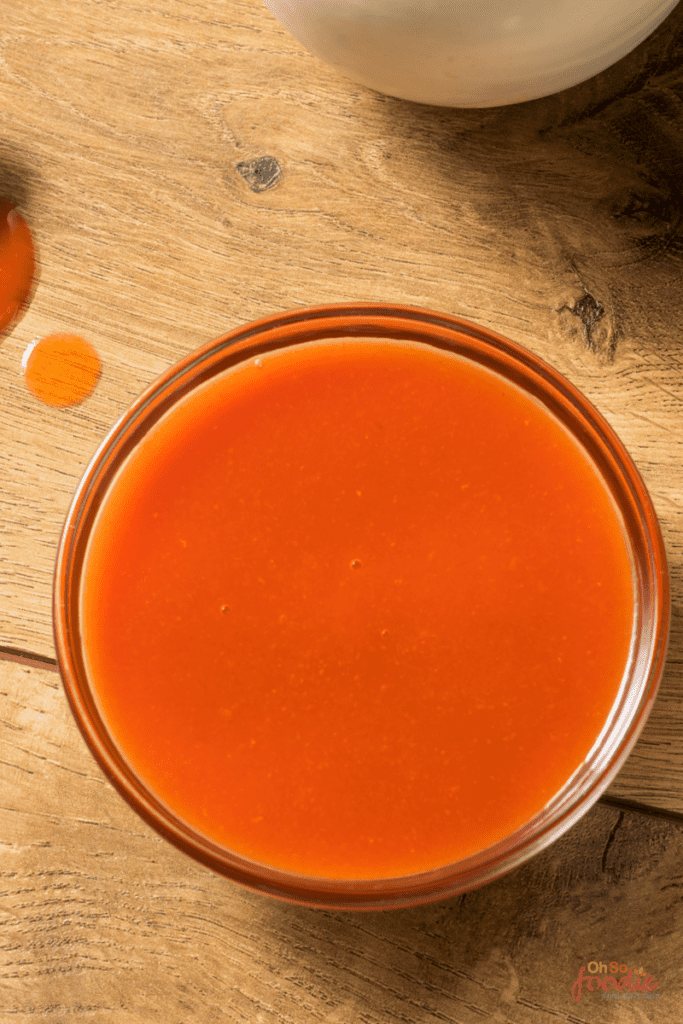 Buffalo sauce on keto
Buffalo sauce can be used in so many delicious recipes, but, if you've started keto, you may be wondering if you're able to enjoy buffalo recipes without getting kicked out of ketosis.
The answer is yes and no. Confusing right? Let's try to explain this to you below.
This means that while you can enjoy buffalo sauce recipes, you have to be very mindful of the particular buffalo sauce being used to make the recipe.
Some buffalos sauce recipes are made with honey, ketchup, brown sugar and other such high carb ingredients. These are not okay to use on keto. For example, honey contains 16.1 grams of carbs per tablespoon, all of which are sugar. One tablespoon of honey included in a buffalo sauce recipe can almost max out your entire daily carb allowance.
On the other hand, if the buffalo sauce recipe is made using keto friendly ingredients alone, then you can have it on keto.
Buffalo Sauce FAQs
Is buffalo sauce high in carbs?
Not all buffalo sauces are high in carbs. Some buffalo sauce recipes are made to comply with low carb and keto lifestyles. While some are made with a few high carb ingredients. You just have to be aware of the ingredients that were used to make the buffalo sauce and ensure that all these ingredients are keto compliant.
How many carbs are in buffalo sauce?
Most buffalo sauce recipes have less than 4 grams of carbs per serving as these recipes are generally made with low carb ingredients. Our homemade keto buffalo sauce recipe has only 1.7 grams of net carbs per serving.
Is there any sugar in buffalo sauce?
Buffalo sauce which includes honey, brown sugar or ketchup typically has sugar. These are not keto friendly and should be avoided if you're doing keto.
Is Buffalo Sauce keto?
Yes! Buffalo sauce can be keto. This all depends on the exact ingredients used to make the sauce. For example, a Buffalo sauce made with butter, franks red hot sauce, garlic powder, paprika, salt and ground black pepper is 100% keto friendly.
Keto buffalo recipes
Here are some easy keto recipes you can try out. They're all made using a simple low carb buffalo sauce recipe that anyone can make at home:
Best keto friendly store bought hot sauces for making buffalo sauce:
These are my favorite hot sauce picks for making keto buffalo sauce:
Franks hot sauce – 0 grams carbs

Keto Dave's gourmet hot sauce – 0 grams carbs

Louisiana hot sauce (The original) – 0 grams carbs

Tabasco original red sauce – 0 grams carbs

Huey fong sambal oelek chili paste – 0 grams carbs
Buffalo sauce nutrition facts
Calories: 417

Total fat: 46 g

Saturated fat: 29 g

Cholesterol: 122 mg

Sodium: 632 mg

Total carbs: 2.4 g

Dietary fibre: 0.7 g

Sugar: 0.2 g

Protein: 1 g
More keto friendly sauces
Keto bbq sauce

Keto Chick Fil A sauce

Keto ketchup

Keto yum yum sauce

Keto enchilada sauce
You can easily make just about any buffalo recipe by simply using a delicious low carb buffalo sauce recipe. Keto friendly buffalo sauces are super easy to make, with just a handful or ingredients so you never have to worry about giving up your buffalo recipes again!