Last Updated on November 18, 2023 by Toya
This is my October 2023 income and traffic report for my food blog. I try to share income reports each month to keep myself accountable and to help motivate others on their blogging journeys.
I'll be honest, though. This month, I did not want to write this one, and this income report may not inspire anyone. In fact, this income and traffic report could be one of the most demoralizing income reports I've written thus far. But I want to be transparent, so here goes.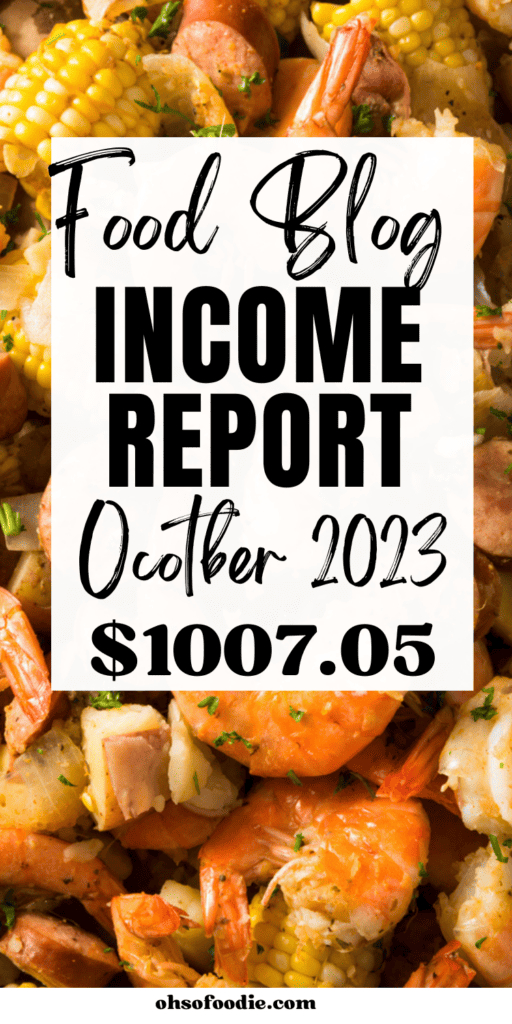 I got hit by the recent Google update in September 2023 and lost more than 50% of my Google search traffic. If you haven't seen how devastating this latest Google Core Update has been to many bloggers, then you can check out Twitter, Facebook blogging groups, and even YouTube for updates about this. Also, you're solucky!!
If you've been hit by this latest list of Google updates too, I just want to say I feel you and I understand.
Many bloggers are thinking of throwing in the towel after this hit. It seems like a large number of bloggers have lost between 20% and 90% of their traffic overnight.
For the people who get most of their traffic from Google searches, this has been a real blow. I personally lost 50% of my ad income due to this update.
I'm still putting in the work on my blog, but many bloggers who depended on Google for traffic are scared and are either thinking of selling their blogs or trying to find other ways of earning money to supplement this loss.
Despite this hit, I plan to keep working on my blog with a massive effort on Pinterest.
Why?
Because Pinterest is working really, really well for many bloggers right now. And also because Google has core updates every year. Sometimes they will have a positive impact on traffic, and at other times (like now), these updates will have a negative impact on traffic. It is the way Google works.
Having said this, I'm taking a break from Google right now because I'm not sure what they want or expect from bloggers at the moment. I cannot wrap my mind around google at the moment.
Also, the updates keep rolling out so I'm thinking of waiting until next year (January 2024) to tackle anything Google-related, such as post updates based on new guidelines, etc.
For now, most of my time is being spent on Pinterest.
Pinterest Pinterest and More Pinterest please
If you have read my May 2023 income report (and you should read it), I explained how and why I started using Pinterest again after neglecting the platform and its potential for about 2 years. At the time, I thought it was a great idea to try to drive more traffic to my blog from that social platform and balance the scales some more. At the time, I was worried that too many of my eggs were in one basket, and I hoped to achieve a fifty-fifty split of Google and Pinterest traffic in the short term.
Since then, I've been able to grow my Pinterest traffic from 1054 sessions monthly to 5415 sessions in October 2023, and it continues to grow in November! (November is looking like a record month so far too!).
This positive growth (although still small) is what's giving me the hope and motivation to keep working on my blog through this difficult time.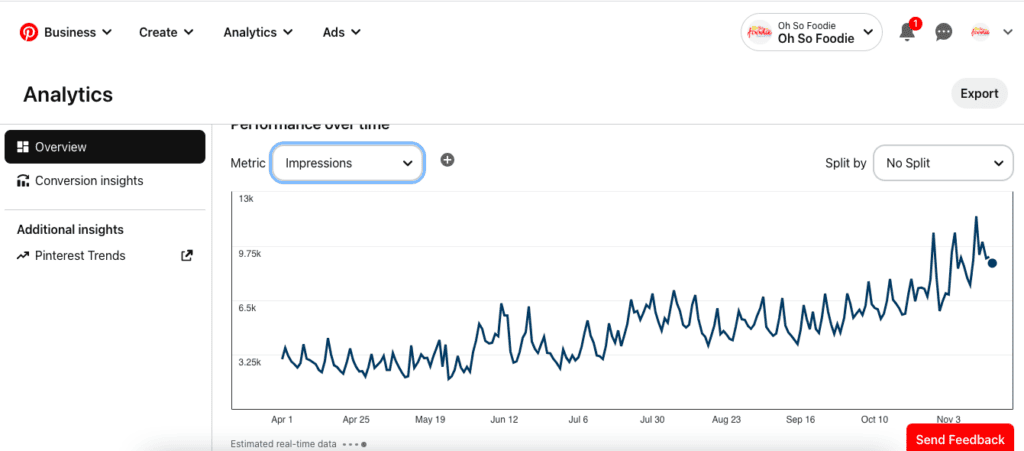 If you're interested in growing your Pinterest traffic, I highly recommend getting Carly's Pinteresting Strategies Course. I used the tips and tricks in this course back in 2019, 2020, and 2021 to grow my blog's traffic.
PINTERESTING STRATEGIES
Learn all the tips and strategies you need to know to get thousands of monthly page views to your blog from a free traffic source like Pinterest.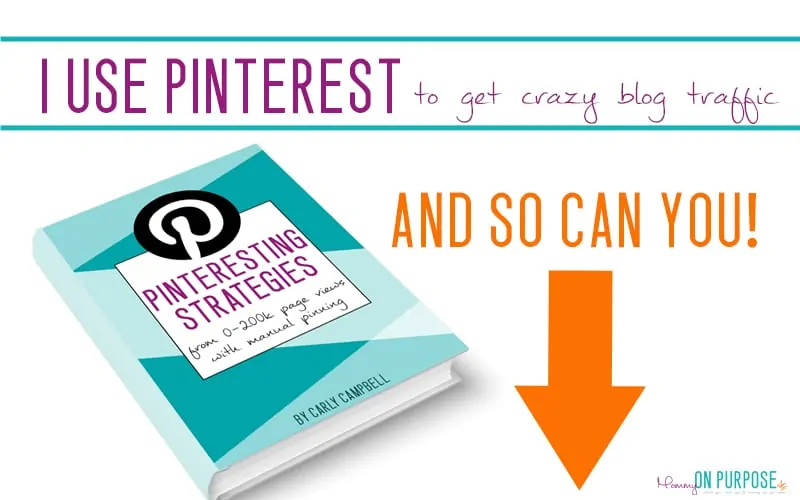 We earn a commission if you make a purchase, at no additional cost to you.

I've started using it again these past 6 ½ months, and I've seen 500% growth in that time. Plus, the RPMs from Pinterest are way higher than those from Google, which is exciting.
P.S. RPM is the amount of money you earn for every thousand sessions you receive.

Carly is currently running a 20% Black Friday sale. If you're hurting from the latest Google update or just looking to diversify your traffic, I highly recommend this course. Use code BF2023 to receive the discount before it ends!
Now, let's get on to the actual numbers.
The Income Breakdown For October: $1007.05

Mediavine ads: $739.17
Amazon Associates: $54.76
Other affiliates: $212.56
Total: $1007.05
Income has decreased significantly compared to my last published income report, where I earned a total of $2338.07 compared to the total of $1007.05 I earned in October.
My ad income for October 2023 was only $739.17, which is down a little more than 50% from August 2023 (which was $1,530.60)
Affiliate income is also down significantly, from $627.90 in August to $212 in October. Down about 70%.
Even Amazon's earnings saw a decrease too. From $86 in August to $53 in October.
I foresee my numbers staying around this lowish range for about a few months, provided there are no more Google updates that may affect my traffic negatively.
Or, I may just get lucky and get a couple of viral pins to help balance out my traffic. A girl can hope, right?
Now for the expense
They were:
Canva: $12.95
Bigscoots hosting: $49.95
Short-pixel image optimizer: $4.99
Groceries: $42.60
Google Workspace: $7.00
Adobe Lightroom: $9.99
Total: $122.49
In October, my expenses stayed more or less the same minus a few expenses that I cut out.
Overall traffic stats
Before the Google update affected my blog on September 19, 2023, close to 80% of my overall traffic was from Google. As such, when the Google Core update happened, I lost about half of that.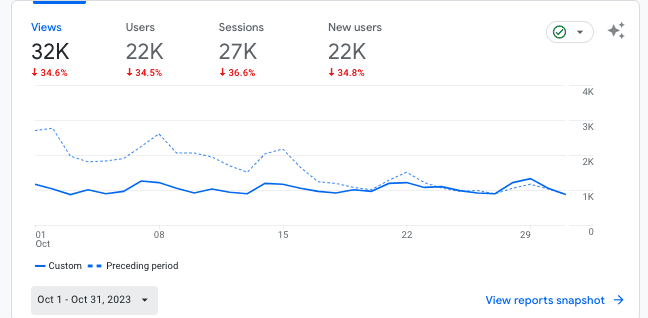 Pinterest progress
As mentioned above, Pinterest continues to grow. This is the progress that happened in October.

The RPMs for Pinterest are so good at the moment that I was able to earn $212 with just 5415 sessions!
Blog goals
My goals aren't very lofty this month. Here's what I want to accomplish in November.
Publish 20 articles.
Create and publish 240 pins on Pinterest. Over the past month, I've increased the number of pins I publish to Pinterest each day. I used to do 3–5 each day. Now I am aiming for 6–10 each day. I've seen an increase in my traffic due to this. Although it's taking me quite some time to make all these pin images.
Interlink more of my content.
Earn $1200 on my food blog in November 2023.
This income report proves that there are ups and downs in blogging. I must admit, I do not enjoy the downs, but I STILL believe that I can get my blog back to earning $5000+ per month, and so I will dedicate the time to doing just that!
Thinking of starting a food blog? You can start now and still make it work. There are thousands of bloggers who are still making a killing with their blogs by growing their traffic from Pinterest or other sources other than Google. I won't let this Google update put a damper on my dreams, and neither should you.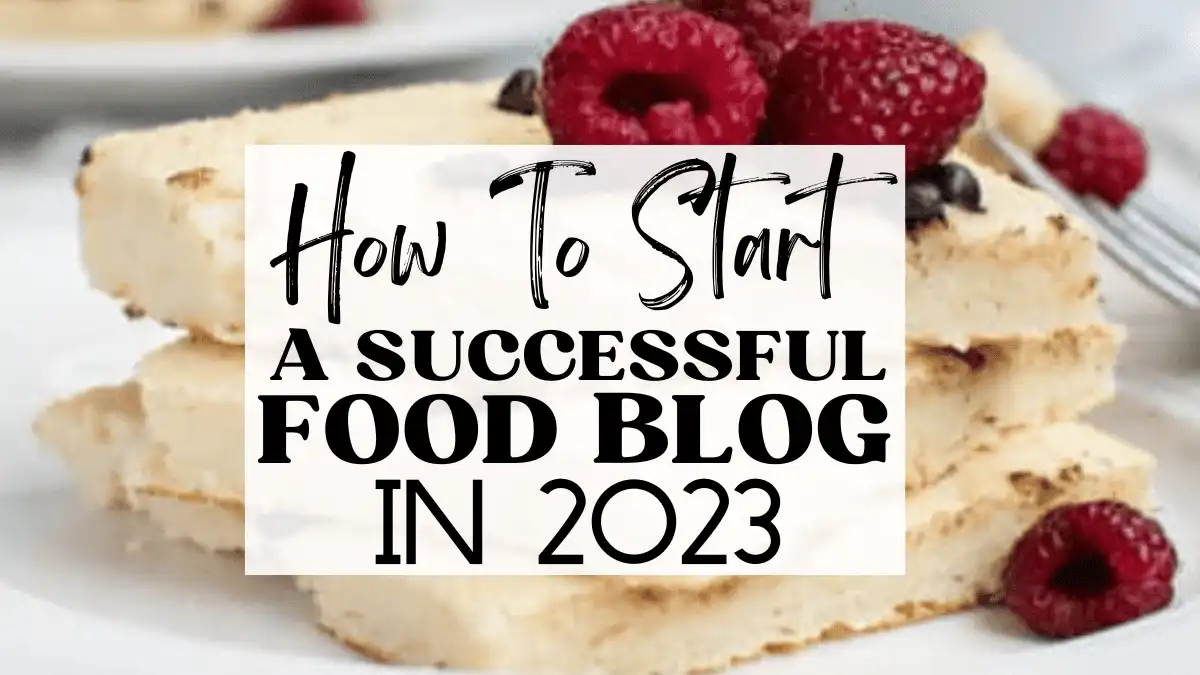 How To Start A Food Blog With Bigscoots In 2023
I've earned more than $250,000 from my food blog which I work on part-time. If you want to learn how to start your own food blog, plus a few tips and resources I highly recommend, then you can click this link to learn how to become a food blogger right now!
We earn a commission if you make a purchase, at no additional cost to you.

Previous Food Blog Income Reports:
That's it for the October 2023 food blog income report! See you next month, hopefully with more inspiring numbers!