Last Updated on March 8, 2023 by Toya
You have to try this refreshing, tangy, sweet keto lemonade recipe made with no sugar which has only 1.9g net carbs per serving. Made in just 10 minutes, this swerve lemonade served with some ice is the ultimate summer refreshment!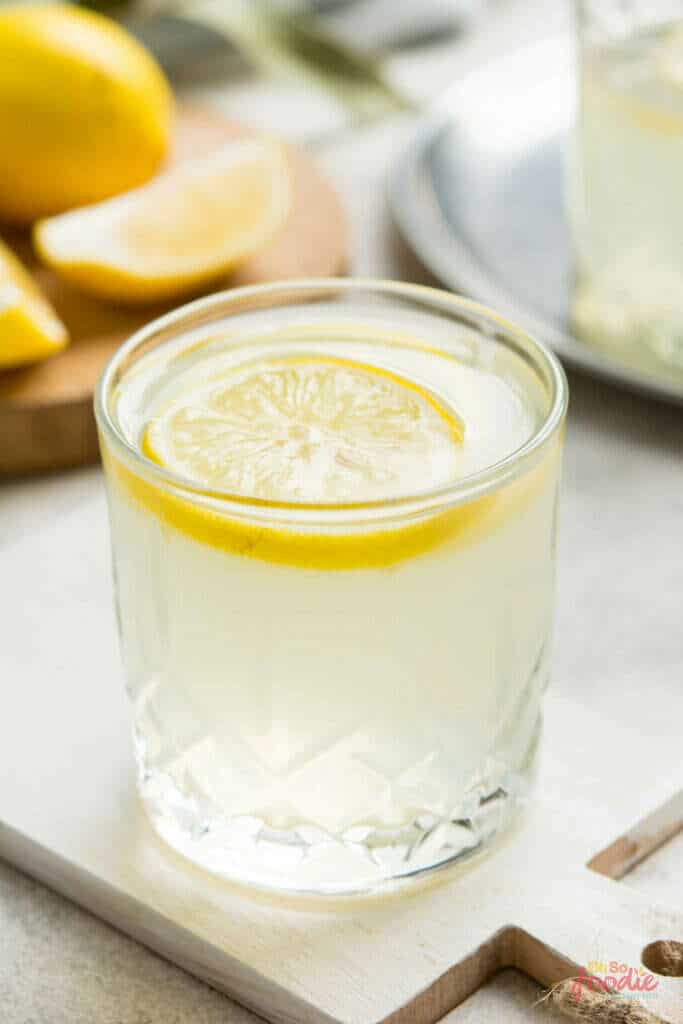 Keto Lemonade
This refreshing keto lemonade drink, like this Starbucks pink drink, is exactly what the entire family will appreciate on a hot day.
If you're looking for a healthy drink that you can feel comfortable serving your entire family, then this drink is it. The best part is that this is one of the easiest recipes you'll ever make and it has no sugar, very few carbs, and the same great taste as typical lemonade drinks.
This keto lemonade is the absolute summer dream!
Tips to make amazing lemonade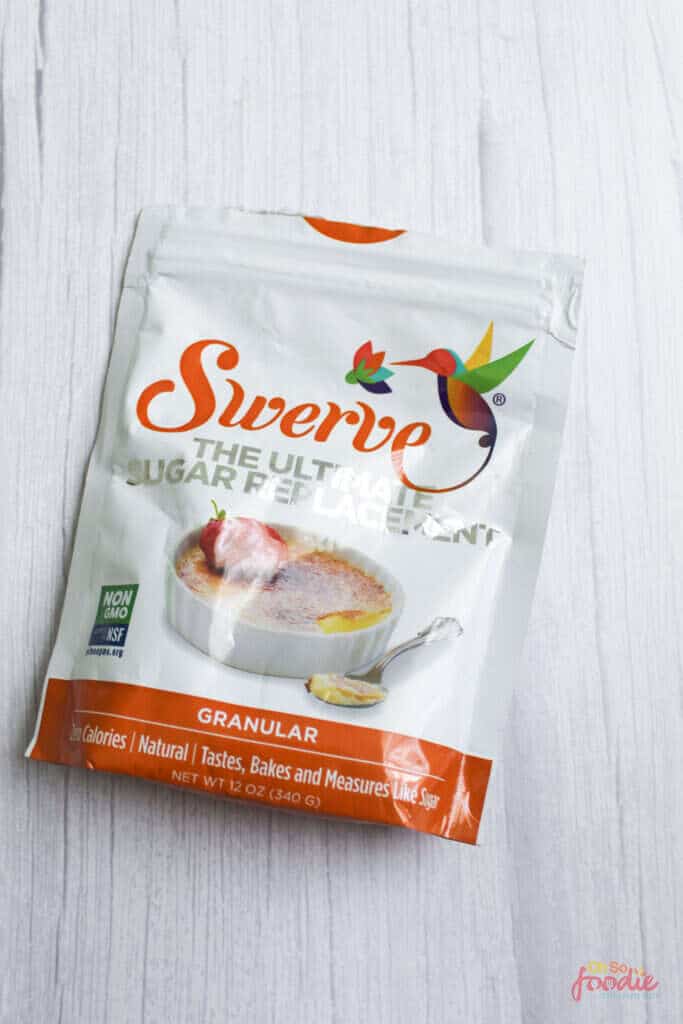 Use granulated swerve in your recipe. This sweetener will help you achieve an amazing low carb lemonade drink without any aftertaste. In a hurry? Grab some swerve sweetener at Amazon. I've tried numerous other sweeteners in my low carb lemonade recipes and found this one works best.
Do not use concentered lemon juice as it may give your drink a weird taste. If you can, always use

fresh lemons

.

For an extra dose of electrolytes, you can add a pinch of your favorite sea salt to taste.
Ingredients to make keto swerve lemonade
You only need these three ingredients to make this recipe:
3 ½ cups of filtered water

½ cup freshly squeezed lemon juice

1/3 cup Granulated Swerve
How to make keto lemonade
To start, gather your ingredients in one place.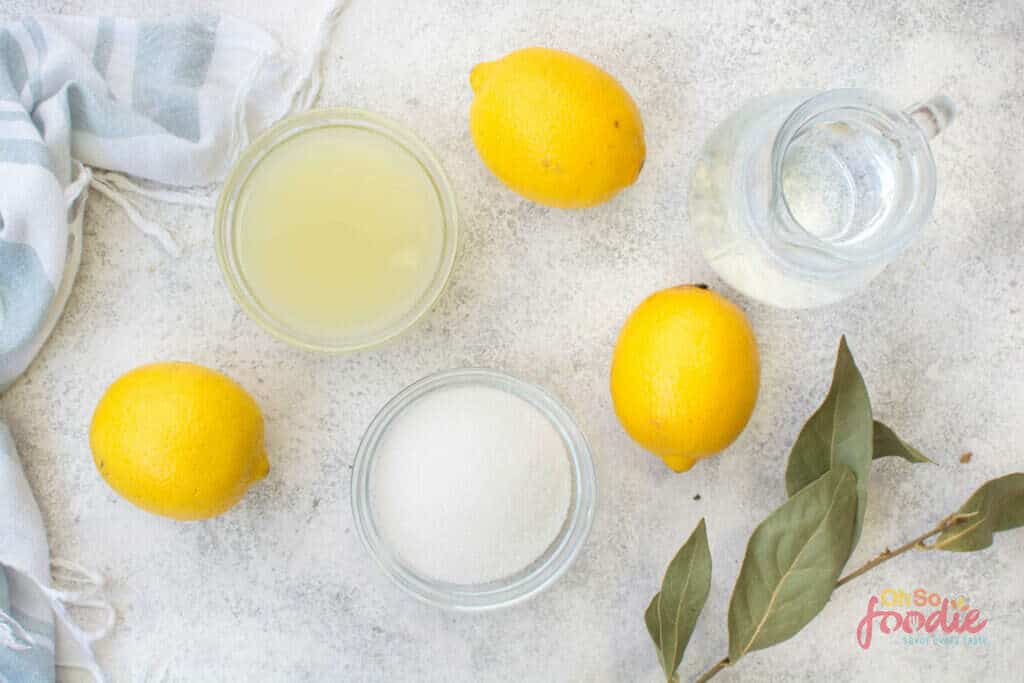 Next, simmer the water with the swerve sweetener until the swerve has dissolved into a simple keto syrup.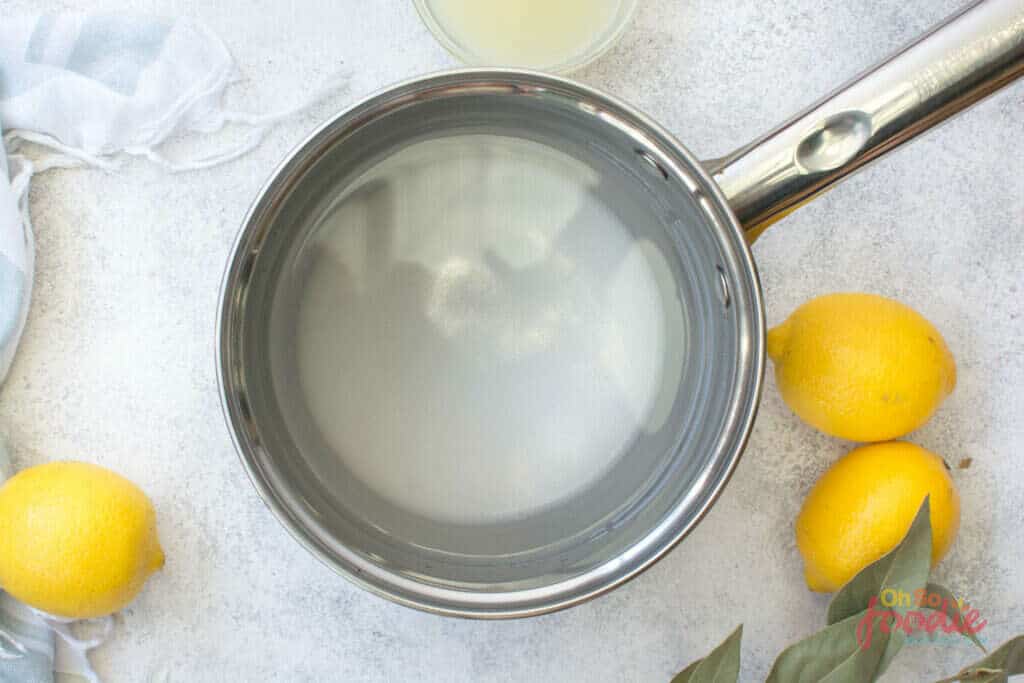 Remove from the heat and cool down, then stir in the lemon juice.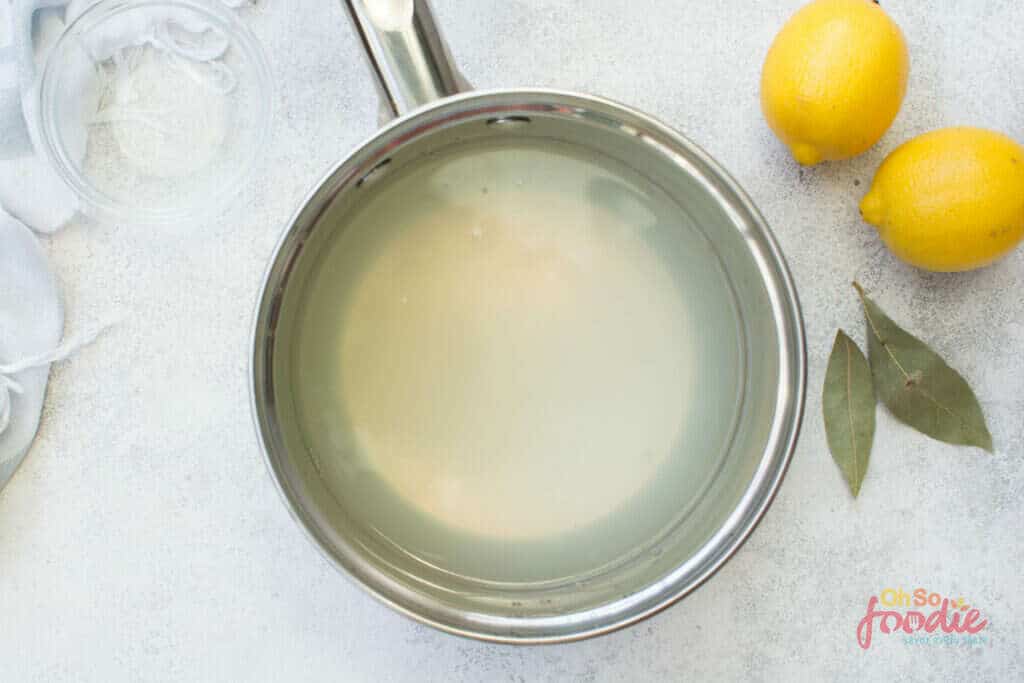 The finished product should look like this: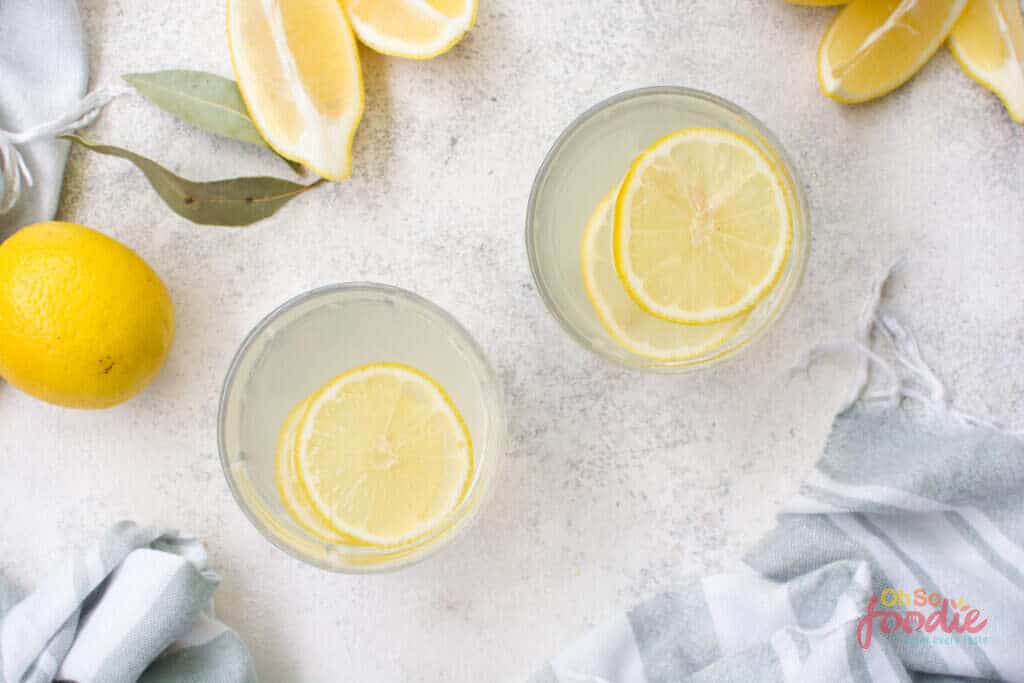 Serve this easy keto lemonade recipe with lemon slices and ice if desired.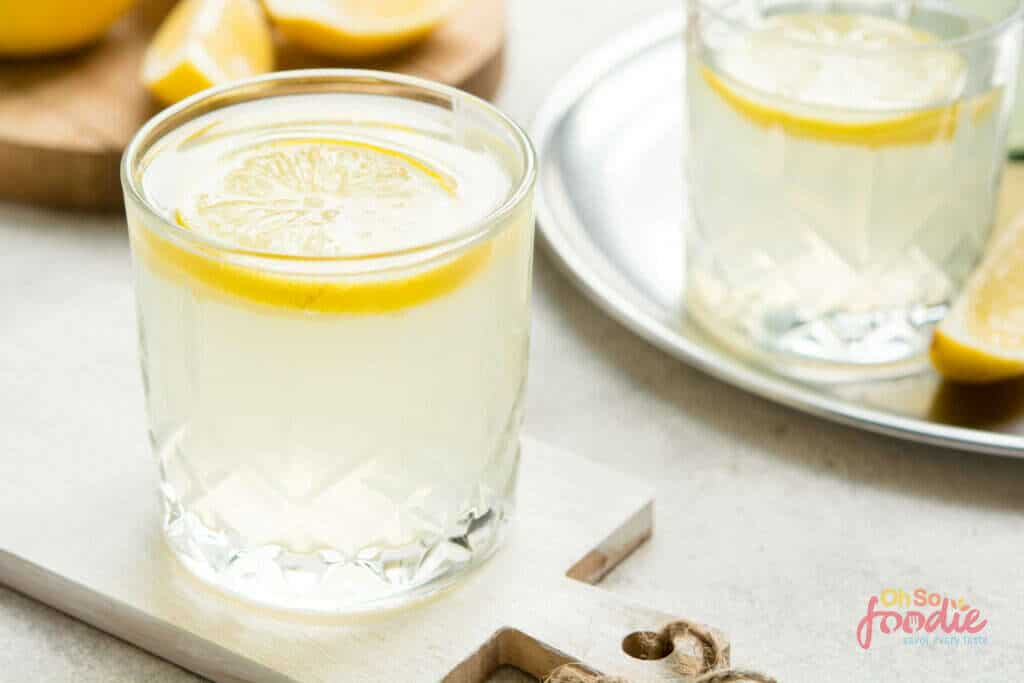 Flavor variations for this low carb lemonade recipe
The lemonade tastes great as is, but you can also jazz it up a bit. Here are some ideas:
Serve with fresh mint leaves

Serve with some mashed blueberries

Serve with some mashed strawberries

Serve with some mashed raspberries

With some vodka for a nice keto spiked lemonade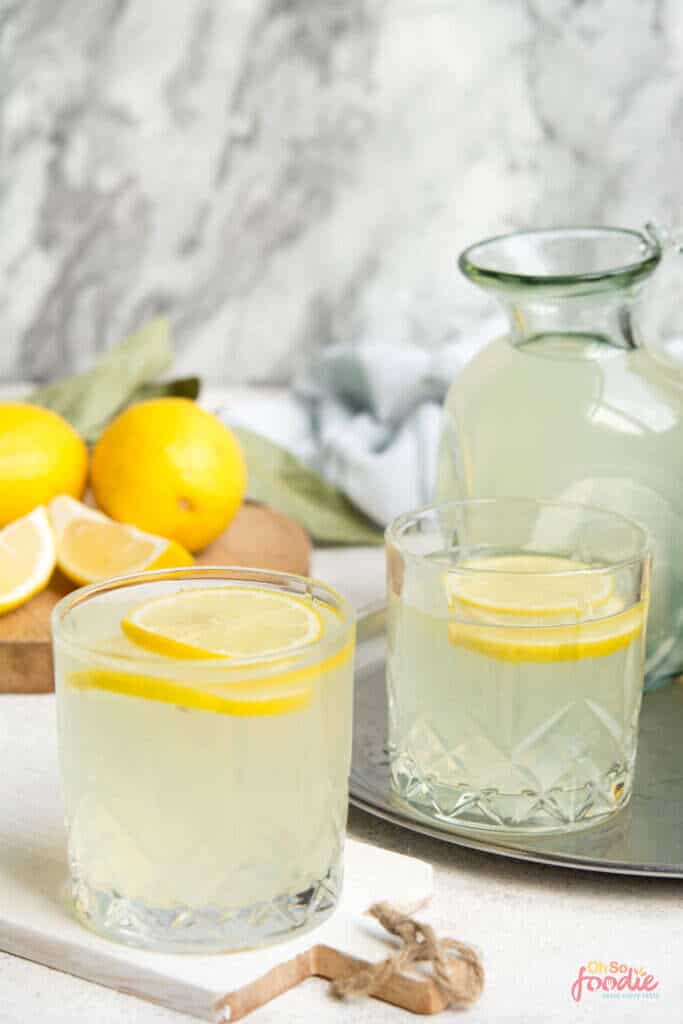 Storing and freezing keto friendly lemonade
To store this lemonade, you can simply place it in the fridge overnight in an air-tight container. Properly stored, this lemonade drink will last up to 5 days in the fridge.
You can also freeze the keto-friendly lemonade in ice cubes to add to keto cocktails.
Keto lemonade FAQs
Is it okay to have lemonade on keto?
Lemons are considered a low carb fruit, and are among the few fruits that are okay to have on keto. Therefore, lemonade is okay to have on keto if the lemonade is made with lemons and a low carb sweetener.
How many freshly squeezed lemons are needed?
To make this particular lemonade recipe, you need 4 medium or 3 large lemons.
What is the best keto sweetener to add to lemonade?
For this recipe swerve was used to sweeten the lemonade. It is a natural sugar replacement that is sweet and delicious with no aftertaste. Plus, it dissolves well and has 0 net carbs so it is very easy to make a truly delicious keto lemonade with swerve.
However, you can use other keto-friendly sweeteners for this lemonade recipe.
It should be noted that not all keto sweeteners are the same, especially when it comes to making a really good keto lemonade recipe. This is so because some keto sweeteners may have a minty or bitter aftertaste which you may not appreciate in your lemonade.
So, for me, the best keto sweeteners for making lemonade besides swerve are:
Can this lemonade be made ahead?
Yes, you can make this drink ahead. In fact, it tastes even better made ahead and chilled for a day before consumption.
How to make a large batch of keto lemonade
Interested in making a large batch of low carb lemonade? Simply double, triple or quadruple your ingredients. The current recipe makes 4 glasses.
So, if for instance, you're looking to make 12 glasses, simply use 10 1/2 cups of water, 1 1/2 cups of lemon juice, and 1 cup of granulated swerve. This will make you 12 glasses of keto diet lemonade.
How many net carbs are in this unsweetened lemonade recipe?
The low carb sweetener used to make this lemonade has no carbs. Therefore, the only carbs contained in the lemonade are found in the lemon juice.
As such, there are 2.12 grams of carbs in each serving of this drink and 0.2 grams of fiber. This means that in every serving of ketogenic lemonade, there are 1.9 grams of net carbs.
Are Lemons keto?
Lemons are indeed keto-friendly as the juice yielded from 1 lemon fruit (45 grams of lemon juice) has only 3.16 grams of net carbs. Because of this, lemons can be used to make quite a number of delicious keto recipes including my favorite keto lemon meringue pie and of course, the refreshing unsweetened lemonade contained here.
How many carbs in lemon juice?
There are approximately 17 -18 grams of carbs in every cup of lemon juice.
While this may seem like an awful lot for keto, once divided, the carbs become significantly less. For example, this recipe uses 1/2 a cup of lemon juice which means that the entire jar of sugar free lemonade contains 8.5 grams of carbs.
The jar of homemade lemonade has 4 servings which means that in each serving of sugar-free lemonade, there are approximately 2.13 grams of carbs.
Now that you know that it is okay to have lemonade on keto, as long as it is made with no sugar and no high fructose corn syrup, you can make this healthy lemonade without sugar all summer long! Who says that the keto diet is restrictive?
More keto summer drinks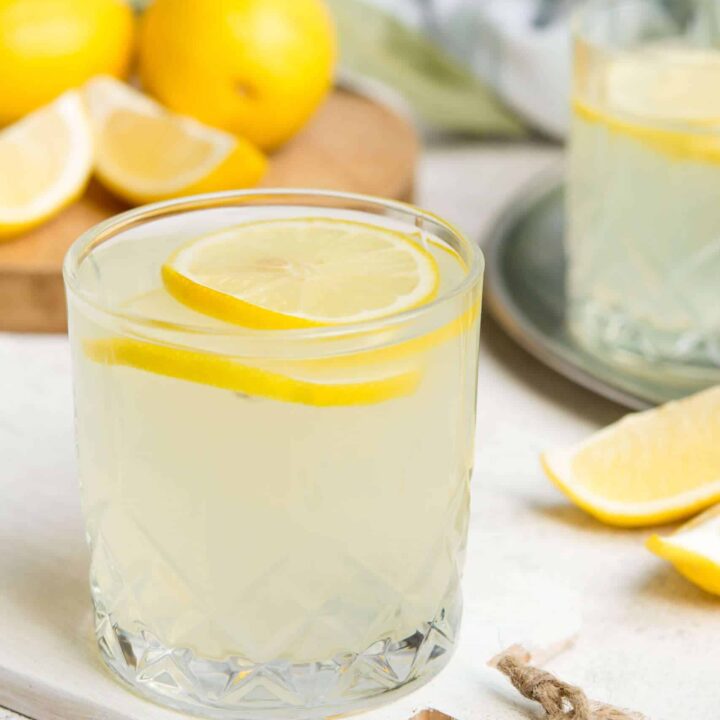 3 Ingredient Keto Lemonade
Refreshing, tangy, sweet, and sour, this keto lemonade recipe with some ice in it is the ultimate summer refreshment made with 3 ingredients and with 1.9 net carbs!
Ingredients
3 ½ cup filtered water
½ cup lemon juice
1/3 cup Granulated Swerve
Instructions
To start, first gather your ingredients in one place.
Next, simmer the water with the swerve sweetener until the swerve has dissolved.
Remove from the heat and cool down, then stir in the lemon juice.
Serve with lemon slices and ice if desired.
Nutrition Information:
Yield:

4
Serving Size:

1 glass
Amount Per Serving:
Calories:

9
Total Fat:

0.2g
Saturated Fat:

0.2g
Cholesterol:

0mg
Sodium:

6mg
Carbohydrates:

2.13g
Net Carbohydrates:

0.9g
Fiber:

0.2g
Sugar:

0.6g
Protein:

0.2g