Last Updated on June 18, 2023 by Toya
Are you ready to stock up your keto pantry with all the keto essentials you'll need to make this new lifestyle a success? If you are, then these keto necessities will help make it so much easier to do keto.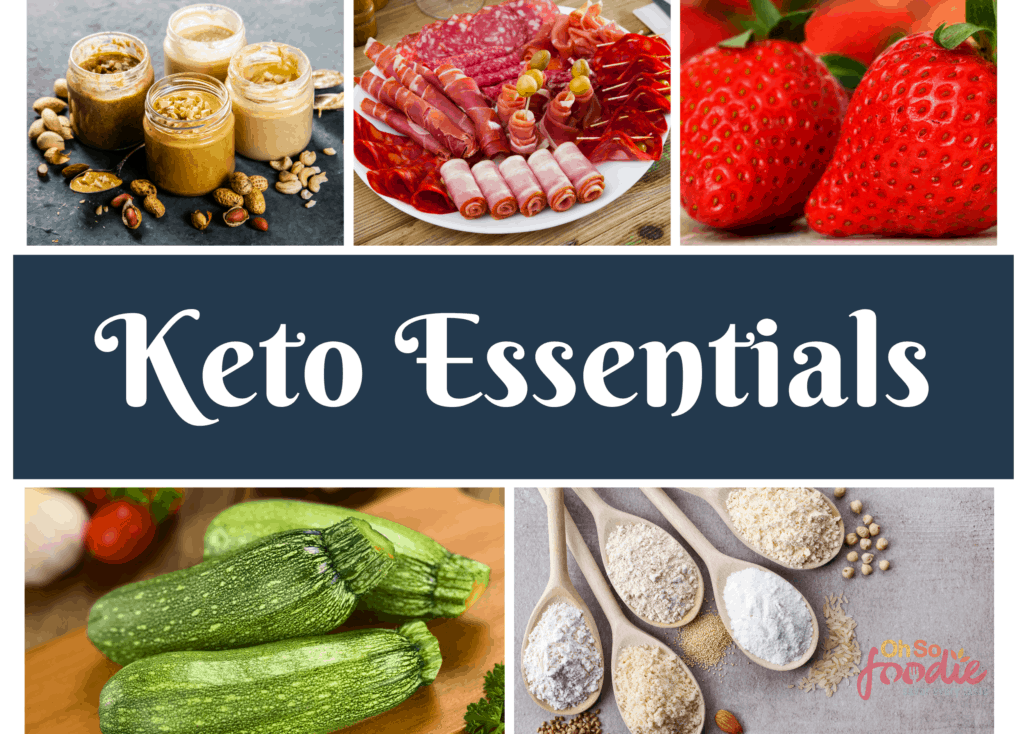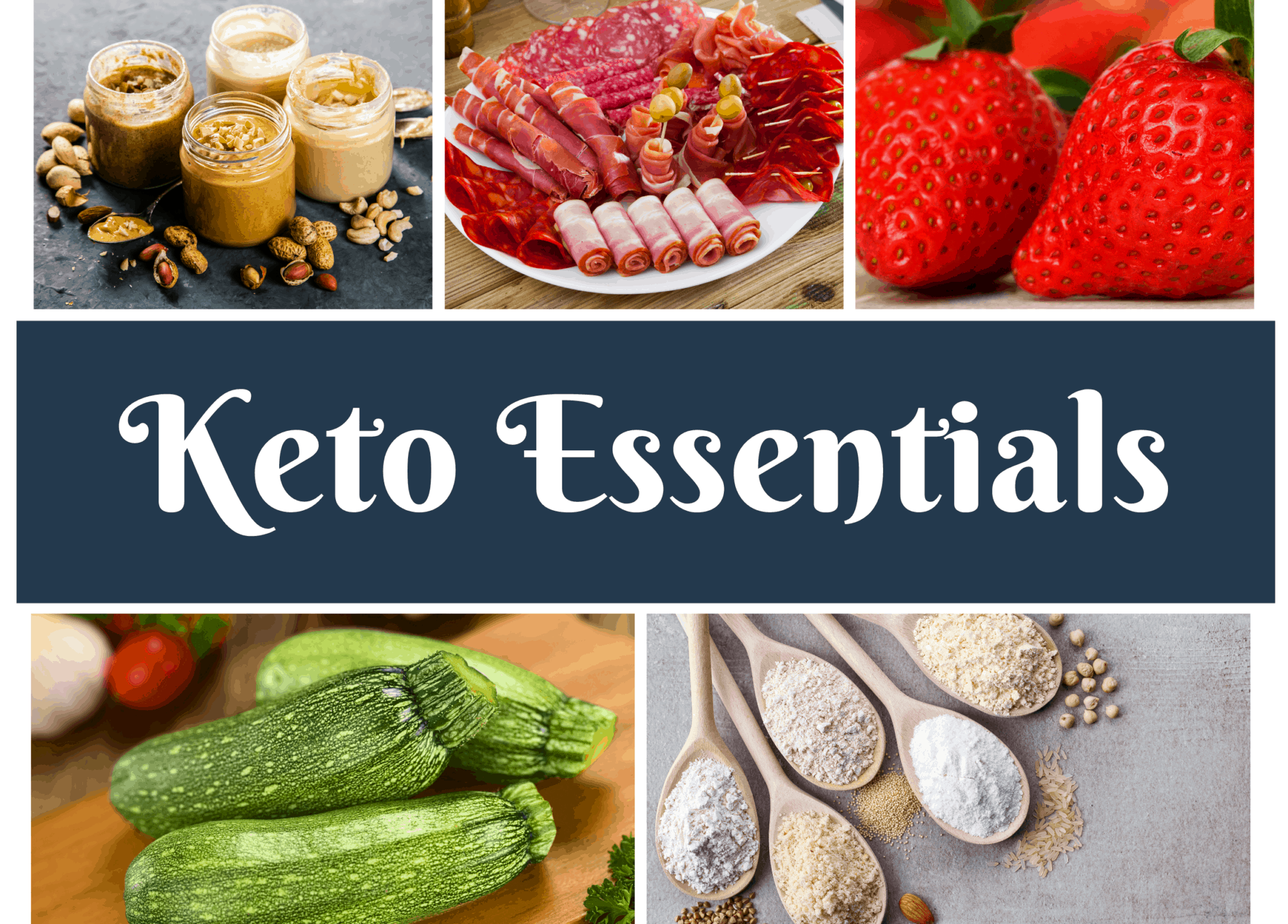 In this resource, everything you'll need to get started with your keto journey is outlined in a format that is easy to understand and follow.
You'll find all the essentials such as low carb food lists, essential keto products, where you can buy keto foods, handy keto meal plans and grocery lists and so much more! Check out all the keto essentials that can help you to stock up your pantry conveniently.
Keto essentials food list
Below you'll find a list of my very own keto favorites as well as foods my family enjoys. This list also includes foods and items that many people who are doing keto really enjoy.
This list can benefit you whether you're justing starting keto or have bee doing for a while and need some extra pointers. Within this list are the ingredients that can help you to prepare the delicious keto recipes that will fuel your body and help you achieve your goals.
Keto Fats, oils and butters
Keto supplements
MCT Oil

– This oil offers multiple of benefits for people doing keto. It is great for adding to bulletproof coffee recipes.

Keto Protein Powder

– This supplement helps to

raise ketone levels and supplies energy to support your daily activities. You can use it in your water, coffees, smoothies or teas.
Keto Meats, Poultry and Fish
These are the meats that are the most essential when your starting keto.
Chicken (all cuts)

Duck

Turkey

Bacon/Ham

Ground Beef

Beef

Pork

Sausages

Lamb

Shrimp

Tuna

Mackerel

Salmon

Crab

Tilapia

Trout

Cod

Smoked Scallops
Keto Pantry items – flours,

sweetness

, baking goods
Almond Flour – Great for making keto breads,

pancakes

, waffles,

croissants

etc. Almond flour is very popular with people doing keto.
Coconut flour – This is an off-white flour commonly used in keto, gluten free and low carb baking and cooking. This flour is perfect for making pancakes, waffles,

breads

and other keto baked goods as well.
Flaxseed Meal

– Flaxseed meal is also used to bake or cook on ket

o.

Almond Meal

– This is made from blanched flour and used in keto cooking.

Pysllium Husk

– This is also another product used in keto cooking which helps to retain moisture and prevents bread and baked goods from crumbling.

Xanthan Gum

– Gluten free flours like almond and coconut flours do not have the same characteristics as all purpose flour. Because of that, baked good made with gluten free products ofter crumble. Xanthan gum provides the tackiness that gluten lends to doughs and batters and thus prevent baked good made with gluten free flours from crumbling.

Baking Powder

Baking Soda



Monk fruit


Erythritol

Yacon Syrup

Stevia

Xylitol
Keto produce
Zucchini

Cabbage

Mushrooms

Bell Peppers

Broccoli

Celery

Onions

Cauliflower

Onions

Lettuce

Kale

Spinach

Raspberries

Blackberries

Cranberries

Lemons

Avocado

Tomato

Coconut Meat
Keto dressings, sauces, condiments, and spices
Balsamic vinegar

Tabasco sauce (hot sauces)

Primal Kitchen Ranch Dressing.

Primal Kitchen Italian Vinaigrette Dressing

Tahini dressing

Ranch dressing

Marinara sauce

Mayonnaise

Mustard

Pesto

Allspice

Bayleaf

Paprika

Onion powder

Garlic powder

Thyme

Basil

Coriander

Tarragon

Mint

Cinnamon

Ginger

Cayenne

Cumin
Keto drinks
Of course, there are a few essential drinks that you can enjoy on keto. These help to keep you hydrated without the carbs. Of course the most important is water. There is also coffee, teas such as green tea, chamomile, peppermint, and low-carb sparkling waters.
Keto Food List Printable
Keto food list to make keto shopping very easy. These printables are a must!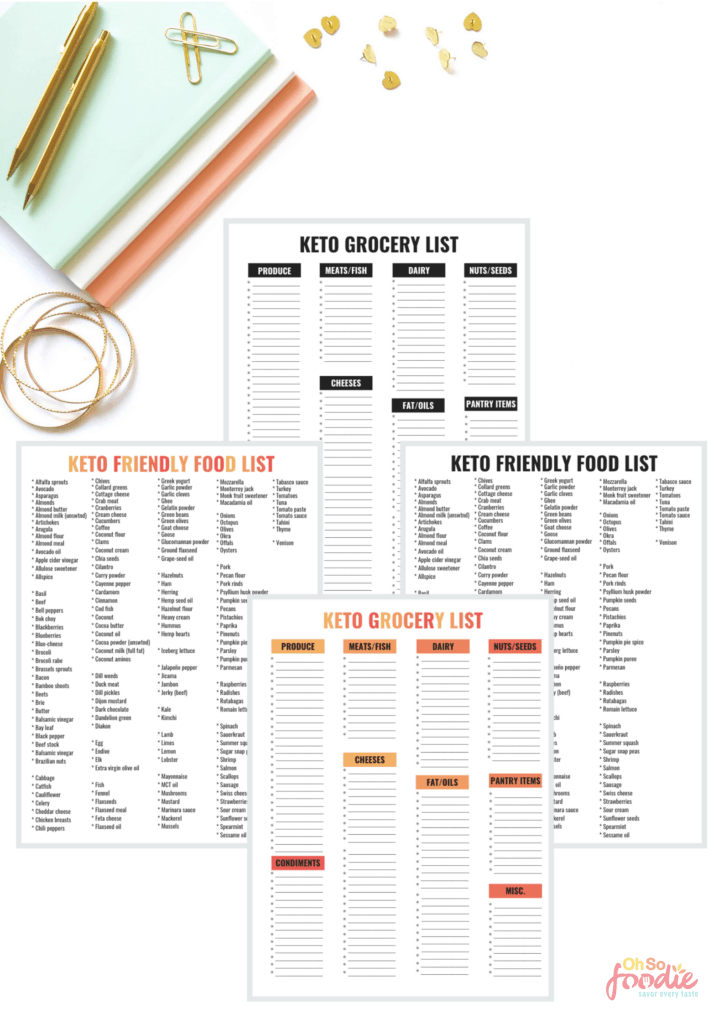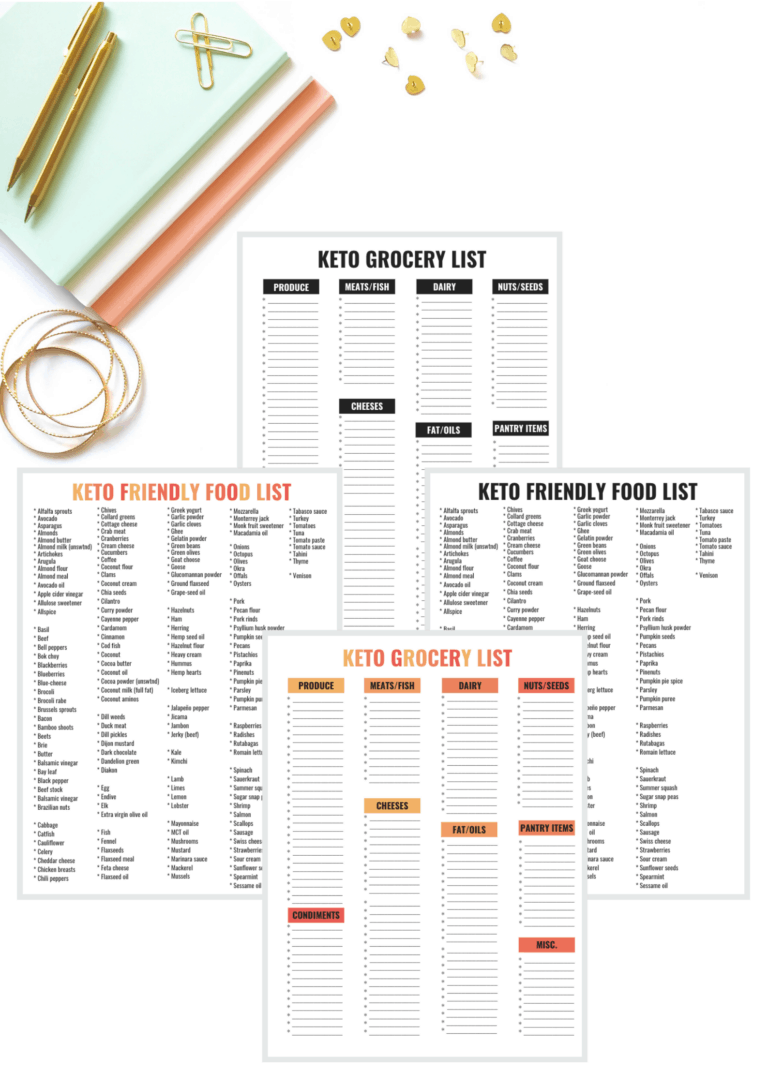 Keto essential products (Useful
keto necessities everyone needs)
There are a few essential products you may find very helpful if you're doing keto. These include:
Where to shop for keto
Where to buy keto items in stores?
Costco: Eggs, riced cauliflower, avocados, green beans, Primal kitchen mayo, coconut flour, almond flour, berries, low carb vegetables, seafood, beef, chicken, pork, bacon, salmon, cage free eggs, cheese, etc.
Walgreens: Heavy whipping cream, cream cheese, berries, coconut, grass fed butter, smoked sausages, coconut flour, almond flour, sugar free syrup
Walmart: Vegetables, sour cream, sausages, pantry ingredients, meats, keto snacks, mct oil, keto noodles, keto bbq sauces, swerve sweeteners
Trader Joe's: Cheese wraps, mashed cauliflower, almond flour, bacon, coconut aminos, chia seeds, Ghee, nut and seed butters, frozen vegetables, frozen berries, fresh vegetables, fresh fruits, cheese, deli meats
Target: Fresh vegetables, meats, and seafood.
Where Can You Buy Keto Items Online?
Amazon: You can find so many important keto items from amazon. Shopping online with Amazon isn't just easy and convenient, but it can also help you get a wider variety of keto essentials that you may not find in stores. These include keto pantry ingredients, keto snacks, keto supplements, keto nut butters, oils, and a long list of other items that will come in handy.
Thrive Market: Like amazon, thrive market also has a large variety of keto low carb essentials. These include, snacks, oils, pantry items and so much more.
iHerb: Coconut flour, almond flour, chia seeds, supplements, sweeteners
2 Week keto meal plan for beginners
Another must have is this easy to use 2 week keto meal plan. This is a MUST HAVE for you if you're just starting keto and you want an easy to follow meal plan with meals and groceries planned out for you.
This meal plan is only for 2 weeks and gives you a chance to get acclimated with the keto way of eating without all the extra stress you would normally encounter during this transition.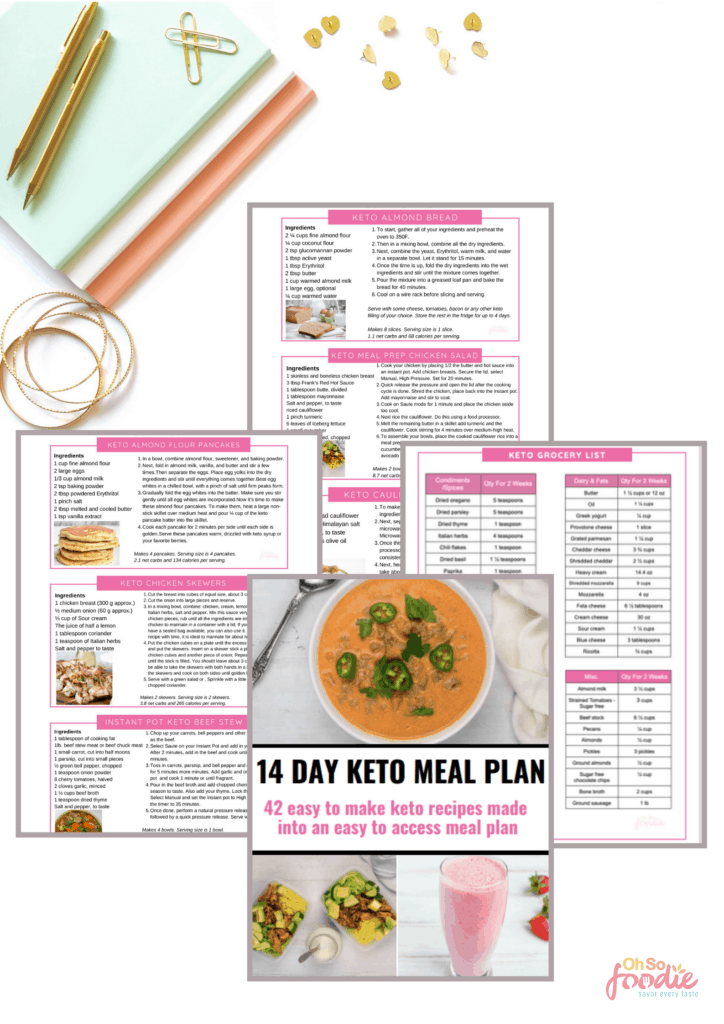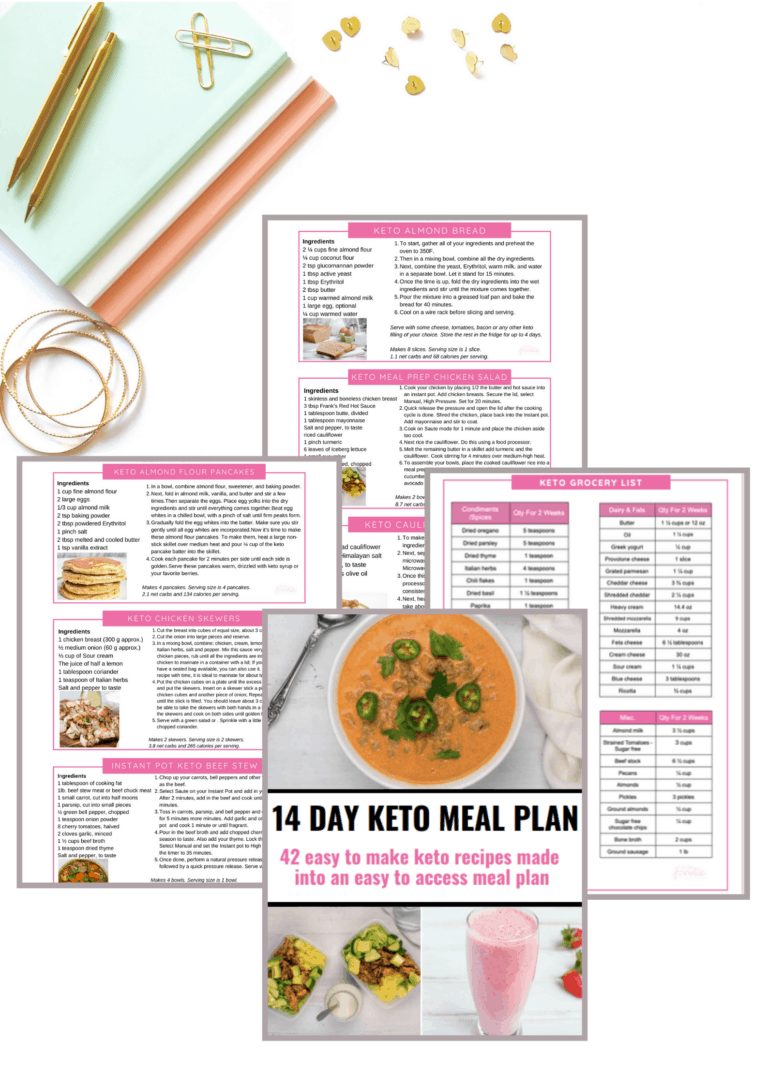 When you think about keto must-haves, you may think of just the foods you'll need to make this new lifestyle possible. However, the keto essentials also include knowing things like where to buy keto foods and products as well as tips, tricks, and printables that can help make it easy for you to attempt what may seem like a new and confusing keto journey. These tips, tricks, and ideas above will help to make the process easier for you!