This easy keto cheesy garlic breadsticks recipe is an amazing keto cheese snack or appetizer that you can enjoy guilt free.
If you've been on the keto diet for any length of time, you do know that it can sometimes feel very limiting: especially in family gatherings or with friends, because, indeed, you cannot consume many of the snacks that are offered. In fact, the tables of most parties are full of all kinds of temptations that do not fit into a keto lifestyle.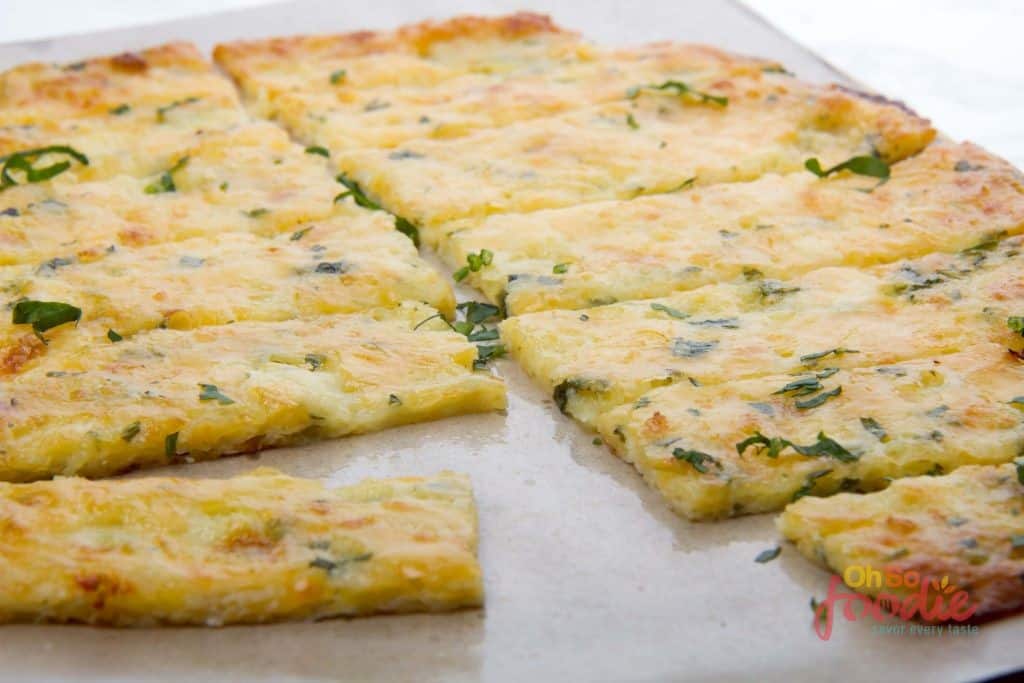 It has been shown that people who successfully follow diets, usually prepare and plan all their meals in advance, for that, we want to suggest this delicious snack option.
The keto cheesy breadsticks can be original and delicious snacks that will leave you very satisfied, they are easy to prepare and their cost isn't high, you can use the combination of cheeses you have at home. Don't miss the opportunity to make this simple and delicious recipe to share in your next meetings.
How many carbs are in these keto cheese sticks?
These keto cheese sticks contain approximately 0.9. net carbs per serving which is great for a keto snack. With the carbs being so low in these keto cheese sticks, you're able to enjoy this homemade keto snack without guilt on a 30 grams of carbs per day keto diet.
Tips to make the best keto breadsticks
For this recipe, it is essential to have waxed paper or a silicone blanket for baking because it tends to be very sticky. If you do not have them it is better to postpone the preparation.

You can substitute garlic for coriander and parsley to make cheesy breadsticks with fine herbs.
Ingredients to make cheesy low carb breadsticks



In order to make these low carb bread sticks, these are the ingredients you need:
1 cup shredded mozzarella cheese

1 cup shredded cheddar cheese

¼ cup Parmesan cheese

1 egg

2 tablespoons finely chopped parsley

2 cloves of garlic

Salt and pepper to taste
How to make keto cheesy garlic breadsticks



1. First, gather all of your ingredients in one place for an easy preparation.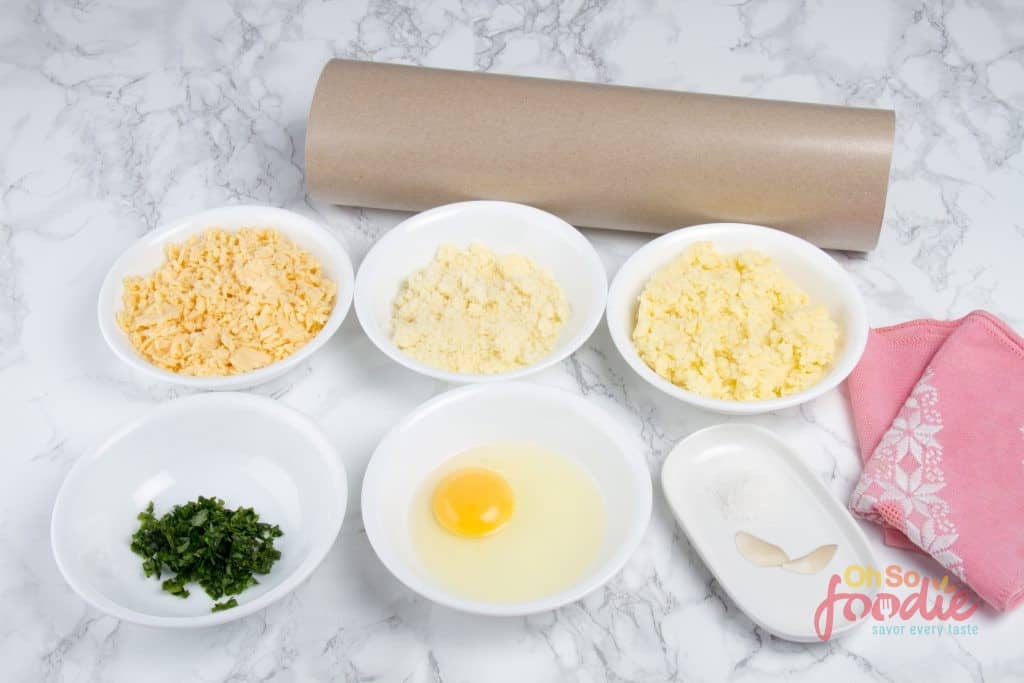 2. Preheat the oven to 150 ° F / 300 ° C and prepare a baking sheet. Add a little butter or oil to the mold and cover very well with the waxed paper.
3. Next, in a mixing bowl, integrate the cheeses one by one, starting with the cheddar cheese, then add the mozzarella cheese and finally the Parmesan cheese.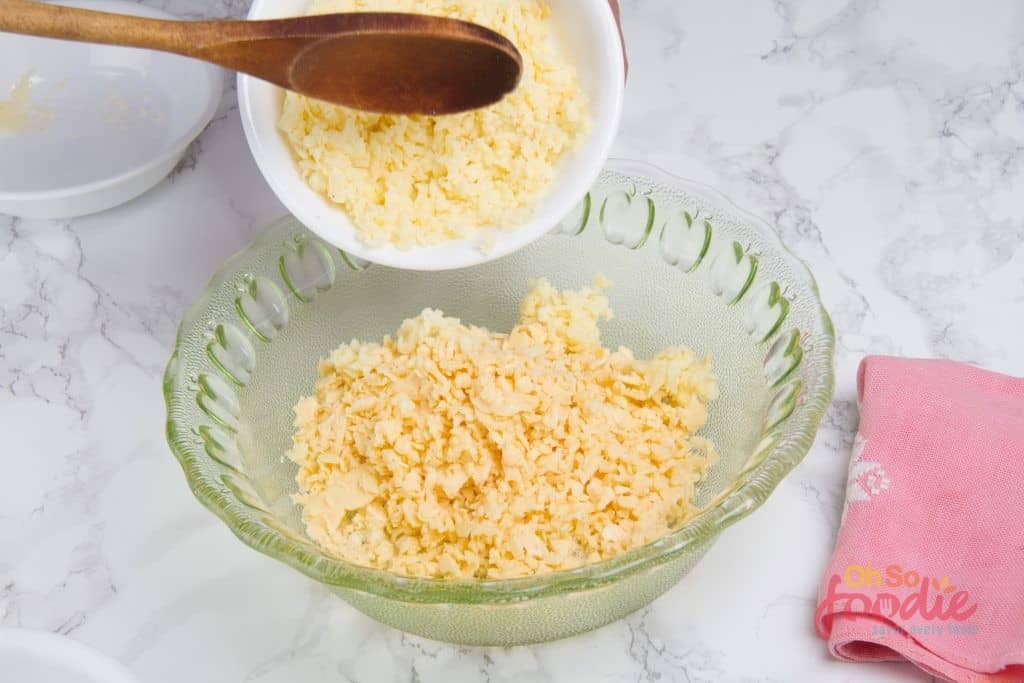 4. Stir very well and when perfectly integrated, add the whole egg, crushed garlic, and parsley.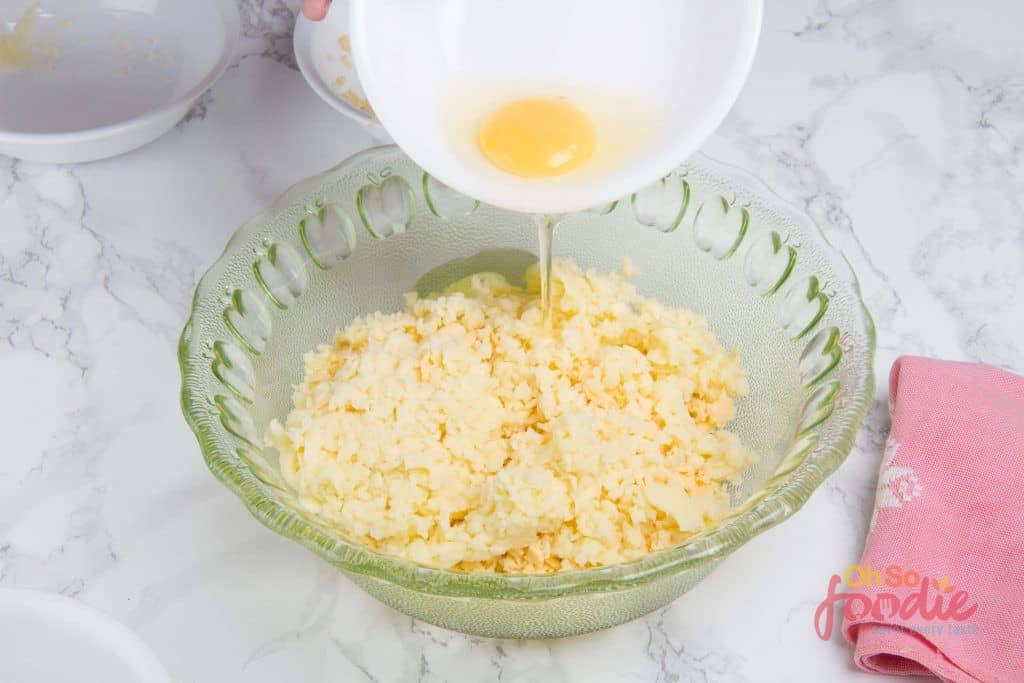 5. Next, you will stir vigorously with a spoon until you get a homogeneous mixture that looks likes the photo below. Lastly, season with salt and pepper to taste.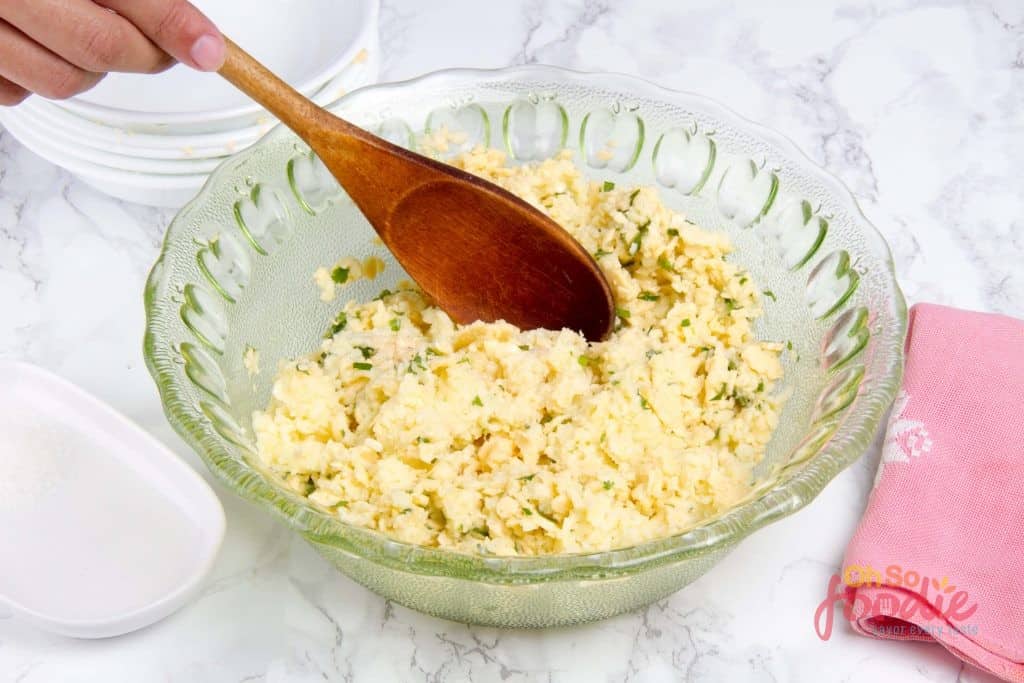 6. Pour the mixture into the baking sheet and flatten on top with a trowel, trying to make the surface even as possible.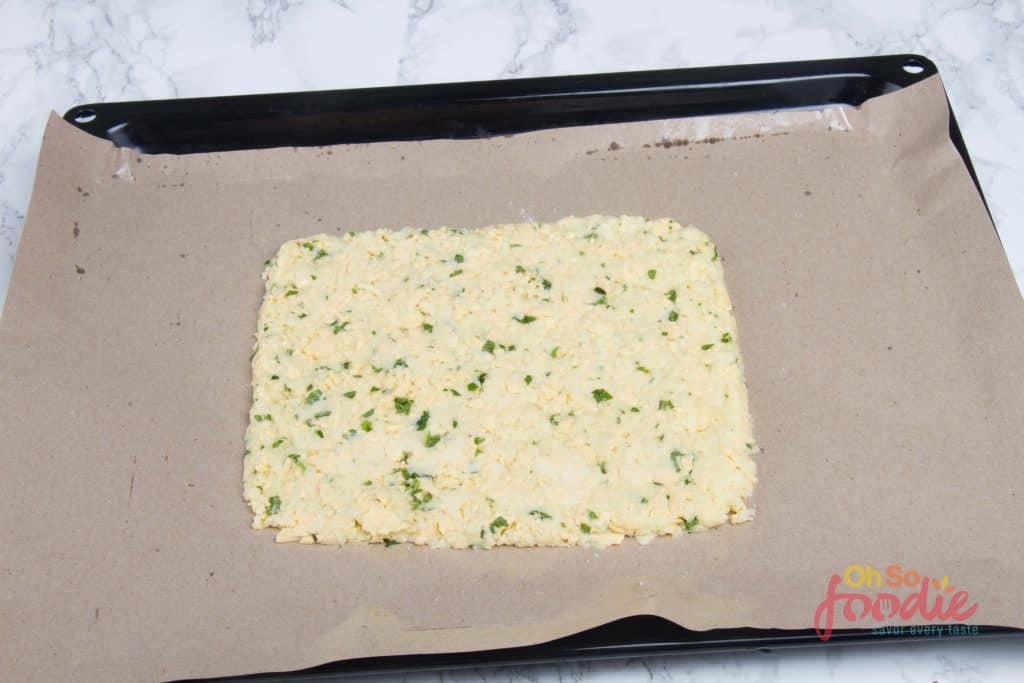 7. With a knife or a long trowel, make a rectangular shape to the dough to obtain bread sticks of similar sizes.
8. Bake this for a maximum of 15 minutes until the surface is golden brown. After 15 minutes have passed, remove the keto breadsticks from the oven and let it cool for at least 10 minutes.
9. Then cut the low carb breadsticks with a pizza cutter or a sharp knife, first transversely, dividing the dough into two and then longitudinally forming the breadsticks approximately 2 cm wide by 10 cm long.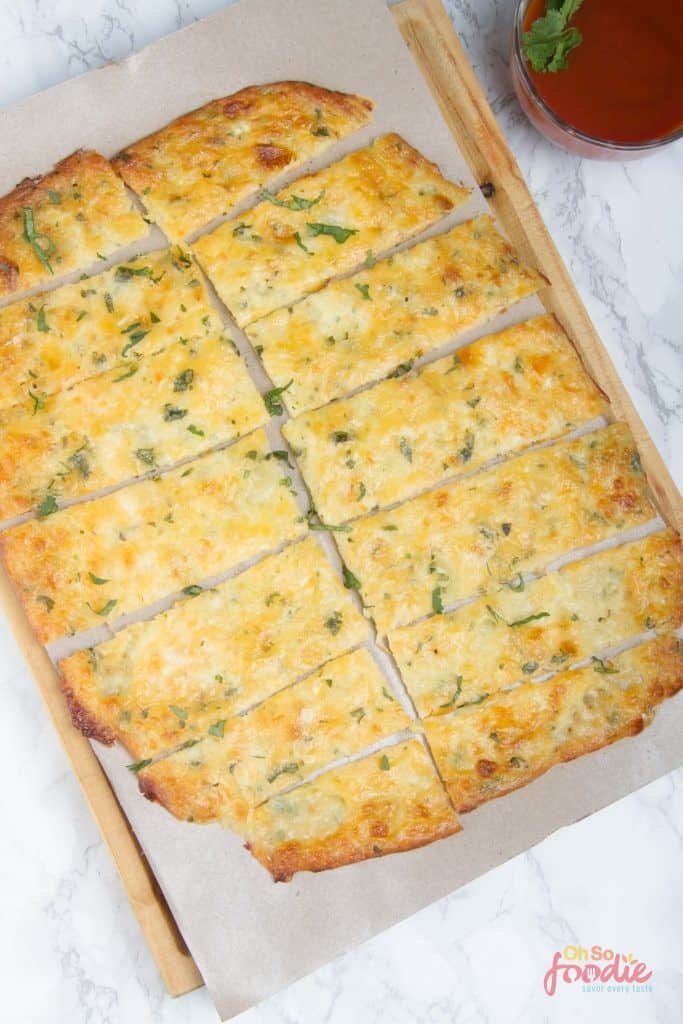 These keto cheesy garlic breadsticks can be served with a low carb marinara sauce and makes the perfect keto snack or appetizer.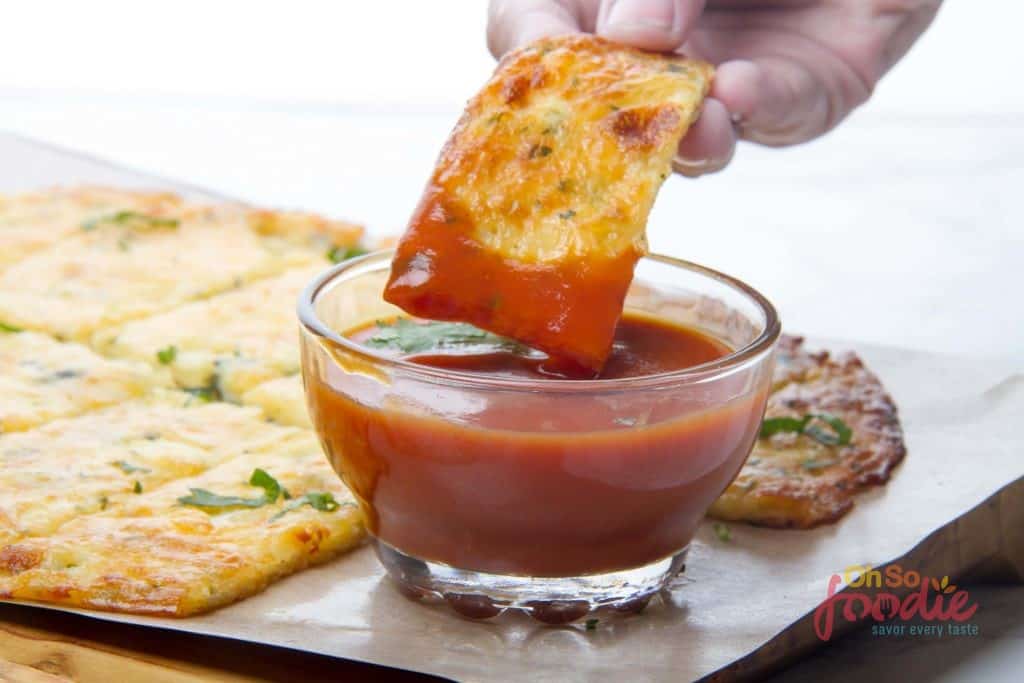 How to serve keto cheesy garlic breadsticks
These can be used as a simple keto snack that takes minutes to make. Therefore you can have these on their own. Just get a nice low carb sauce to accompany these.

You can also serve this to accompany salads. These made the perfect accompaniment for salads on the

keto lifestyle

.
Tools used to make easy keto breadsticks
These are the tools we used to make this easy recipe:

Baking Tray

Waxed Paper – This is essential as these cheese stick will become sticky. The wax paper will make cleaning a breeze!
More keto snacks
Keto Cheesy Garlic Breadsticks (4 Ingredients, Easy & Low Carb)

Yield: 14 pieces

Prep Time: 10 minutes

Cook Time: 20 minutes

Total Time: 30 minutes

This easy keto cheesy garlic bread sticks recipe is an amazing keto cheese snack or appetizer that you can enjoy guilt free.

Ingredients

1 cup shredded mozzarella cheese
1 cup shredded cheddar cheese
¼ cup Parmesan cheese
1 egg
2 tablespoons finely chopped parsley
2 cloves of garlic
Salt and pepper to taste

Instructions

First, gather all of your ingredients in one place for an easy preparation.
Preheat the oven to 150 ° F / 300 °
C and prepare a baking sheet. Add a little butter or oil to the mold and cover very well with the waxed paper.
Next, in a mixing bowl, integrate the cheeses one by one, starting with the cheddar cheese, then add the
mozzarella cheese and finally the Parmesan cheese.
Stir very well and when perfectly integrated, add the whole egg, crushed garlic, and parsley.
Next, you will stir vigorously with a spoon until you get a homogeneous mixture that looks likes the photo below. Lastly, season with salt and pepper to taste.
Pour the mixture into the baking sheet and flatten on top with a trowel, trying to make the surface even as possible.
With a knife or a long trowel, make a rectangular shape to the dough to obtain bread sticks of similar sizes.
Bake this for a maximum of 15 minutes until the surface is golden brown. After 15 minutes have passed, remove the keto breadsticks from the oven and let it cool for at least 10
minutes.
Then cut the low carb breadsticks with a pizza cutter or a sharp knife, first transversely, dividing the dough into two and then longitudinally forming the breadsticks approximately 2
cm wide by 10 cm long.

Nutrition Information:

Yield: 7 Serving Size: 2 slices
Amount Per Serving: Calories: 113 Total Fat: 8.4g Saturated Fat: 5.2g Cholesterol: 48mg Sodium: 208mg Carbohydrates: 1g Net Carbohydrates: 0.9g Fiber: 0.1g Sugar: 0.2g Protein: 8.6g