Chocolate Chip cookies are probably the most famous types of the cookies in the world. They are very popular across the globe and they owe it to their amazing taste and very cute appearance. The chocolate chip cookies are perfect as everyday snack, to be served for breakfast as a sweet addition, or brunch. The classic Chocolate chip cookies are sadly filled with carbs, but do not despair. We have created the best possible recipe for Keto friendly chocolate chip cookies which does not require any chilling time, no hard-to-find ingredients and with perfect texture. Once you bake them, the entire batch will be gone in less than 5 minutes. Do not believe it? We dare you to try eating just one.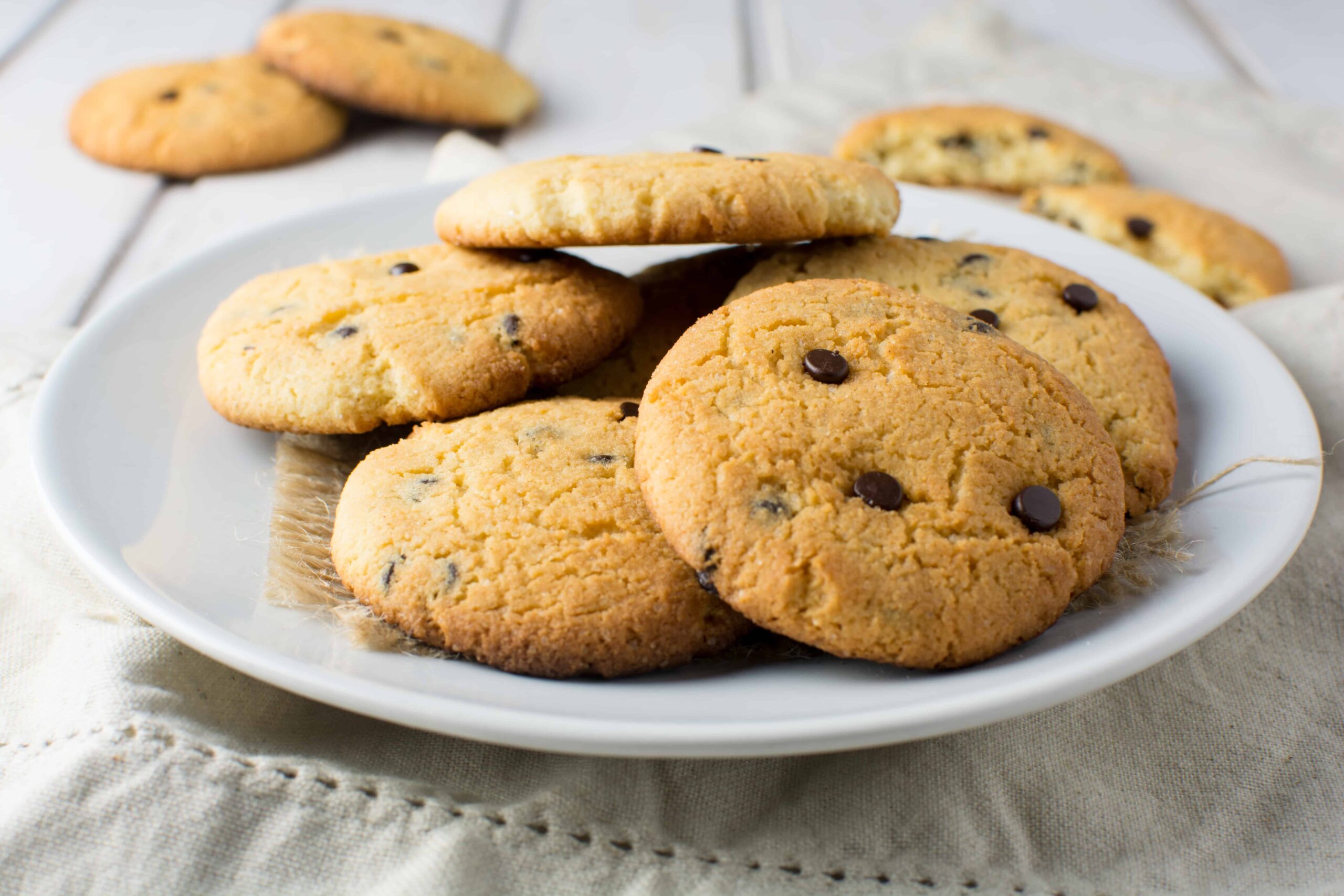 TIPS on HOW TO MAKE:
Tip 1 – these cookies are entirely made with coconut flour. Although many believe it is not possible and the cookies will fell apart or bee to dry, well, the special tip in avoiding this is finding a super fine almond flour. It works like a wonder.
Tip 2 – use xanthan gum. You already know Keto flours do not contain gluten. We need this little friend to make our dough stretchy and pliable and the xanthan gum will perfectly replace it.
Tip 3 – these cookies are perfect with vanilla extract, but for a twist use bourbon-vanilla. It is a crowd pleaser for sure.
Keto Chip chocolate Cookies
Cuisine: American
Preparation time: 15 minutes
Cooking time: 10 minutes
Serve: 12 cookies, serving size 1 cookie
Ingredients:
salted butter, room temperature
¾ cup granulated Erythritol
1 teaspoon sugar-free vanilla extract
1 large egg
1 ½ cup superfine coconut flour
½ teaspoon baking powder
½ teaspoon xanthan gum
sugar free chocolate chips
Instructions:
Preheat oven to 350F.
Line baking sheet with parchment paper.
In a mixing bowl, cream butter and Erythritol.
Add egg and vanilla extract. Beat for 15 seconds, no more no less. Less will not mix up well, and more, well it will just become watery.
Fold in coconut flour, baking powder and xanthan gum.
Stir using a silicone spatula until the dough comes together.
Fold in chocolate chips. Let the dough rest for 5 minutes.
Shape the dough into 12 balls.
Arrange the dough balls on a baking sheet. Press gently to flatten, ½-inch thick.
Bake the cookies for 10 minutes.
Cool the cookies on a wire rack for 10 minutes or until firm up. At the first removal from the oven, they will be soft, but as they cool down, they will get the right texture.