This thick, creamy, and rich instant pot keto taco chicken soup for cold winter days is the best! It is so easy to make with classic kitchen staples and no weird ingredients. The best part is that this taco soup contains only 3.5 grams of net carbs per serving!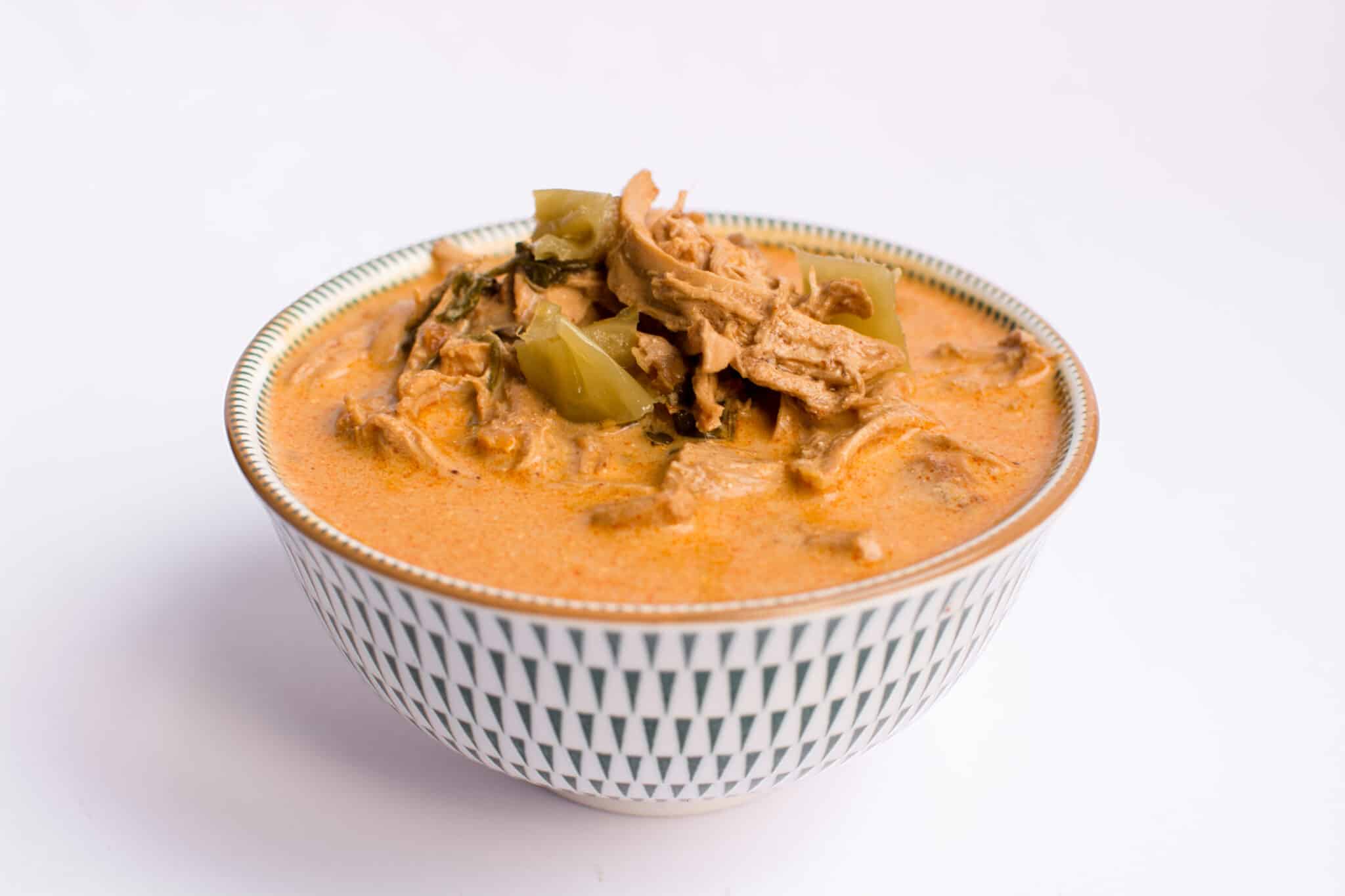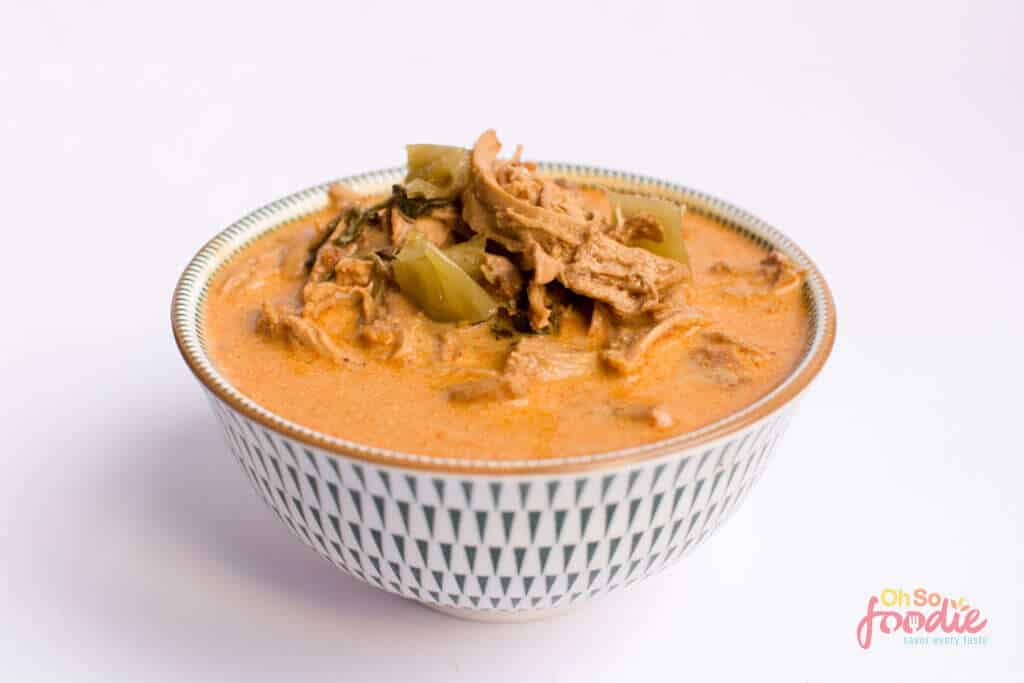 The chicken taco soup is made with our homemade keto taco seasoning. This is great and makes the taco soup that much better without all the carbs or sugar found in the store-bought version.
The soup is made in an instant pot and yes – it is made with just one pot, which makes clean up a breeze afterwards!
Tips to make keto chicken taco soup
The soup is made with homemade chicken broth. This really makes the difference as this broth is made with quality ingredients and is so much better than store-bought versions.

The soup has heavy cream and cream cheese in it, but you can swap the cream cheese with some sour cream.
Ingredients to make low carb chicken taco soup
1lb. chicken breast fillets, or other chicken meat (skinless and boneless)

1 ½ tablespoon Taco seasoning

½ teaspoon onion powder

¼ teaspoon garlic powder

2 cups bone broth

can chopped tomatoes, no sugar added

¼ cup heavy cream

2 tablespoons cream cheese

1 jalapeno, sliced. For serving

Chopped cilantro, for garnish
How to make keto chicken taco soup
To start, first gather all your ingredients in one place then select saute on your instant pot.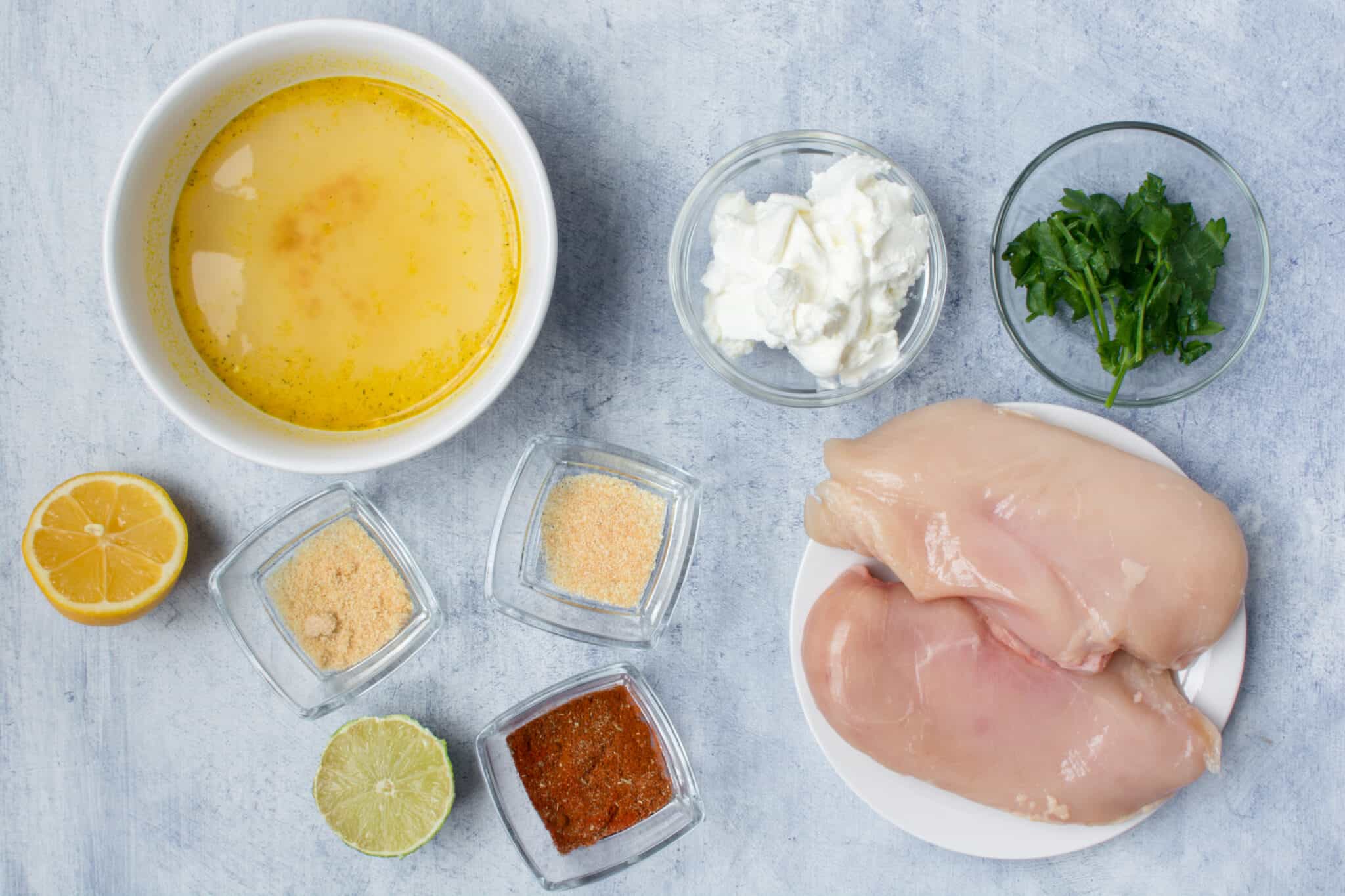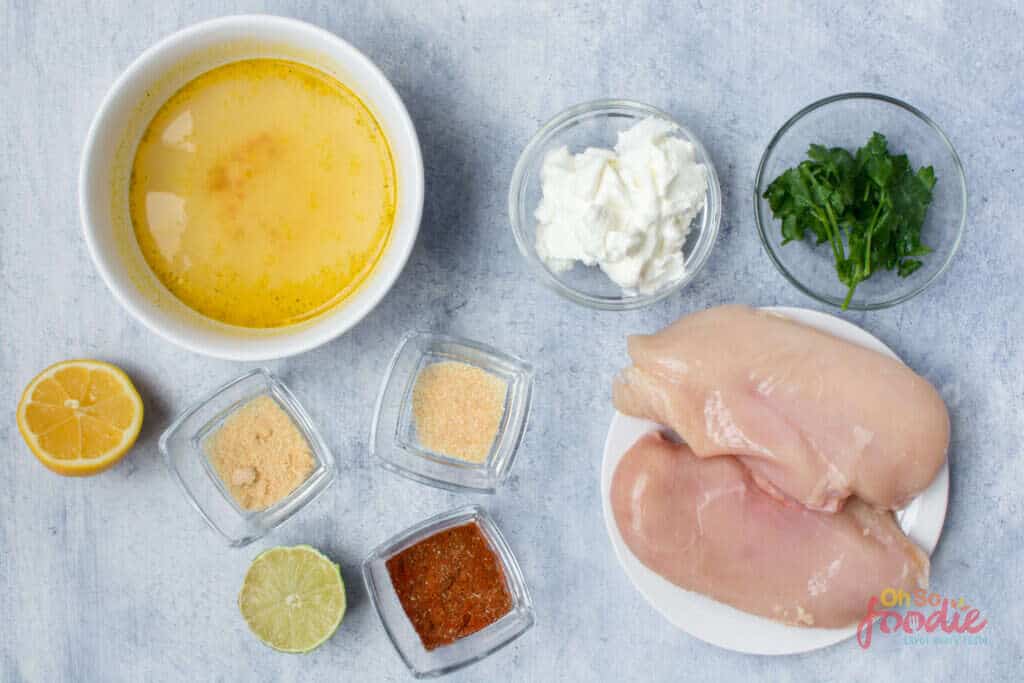 Place chicken in instant pot with onion powder, garlic, taco seasoning and broth and cook.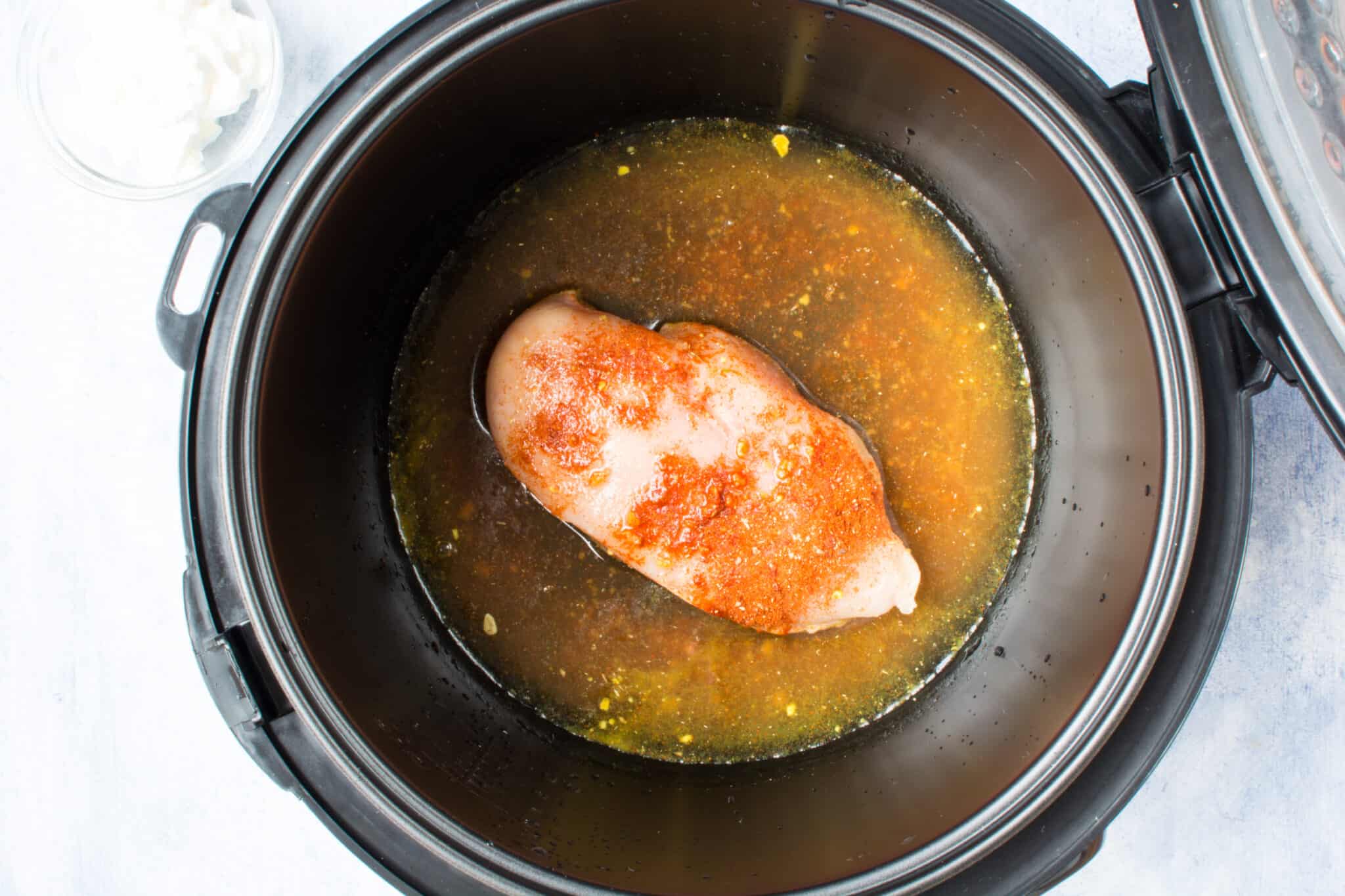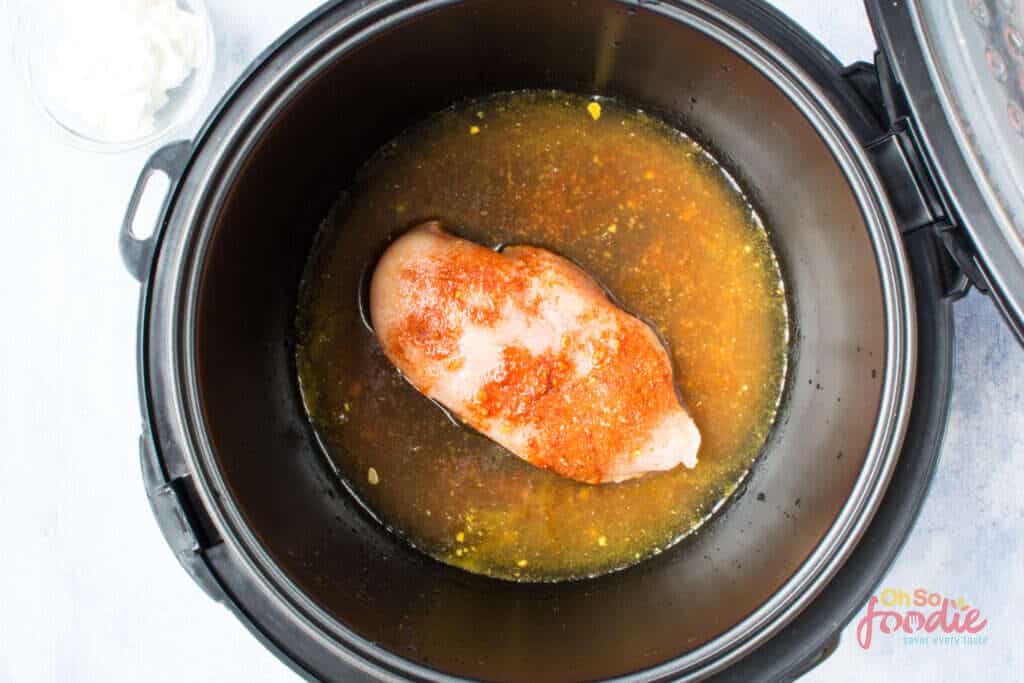 Remove chicken from pot and shred it.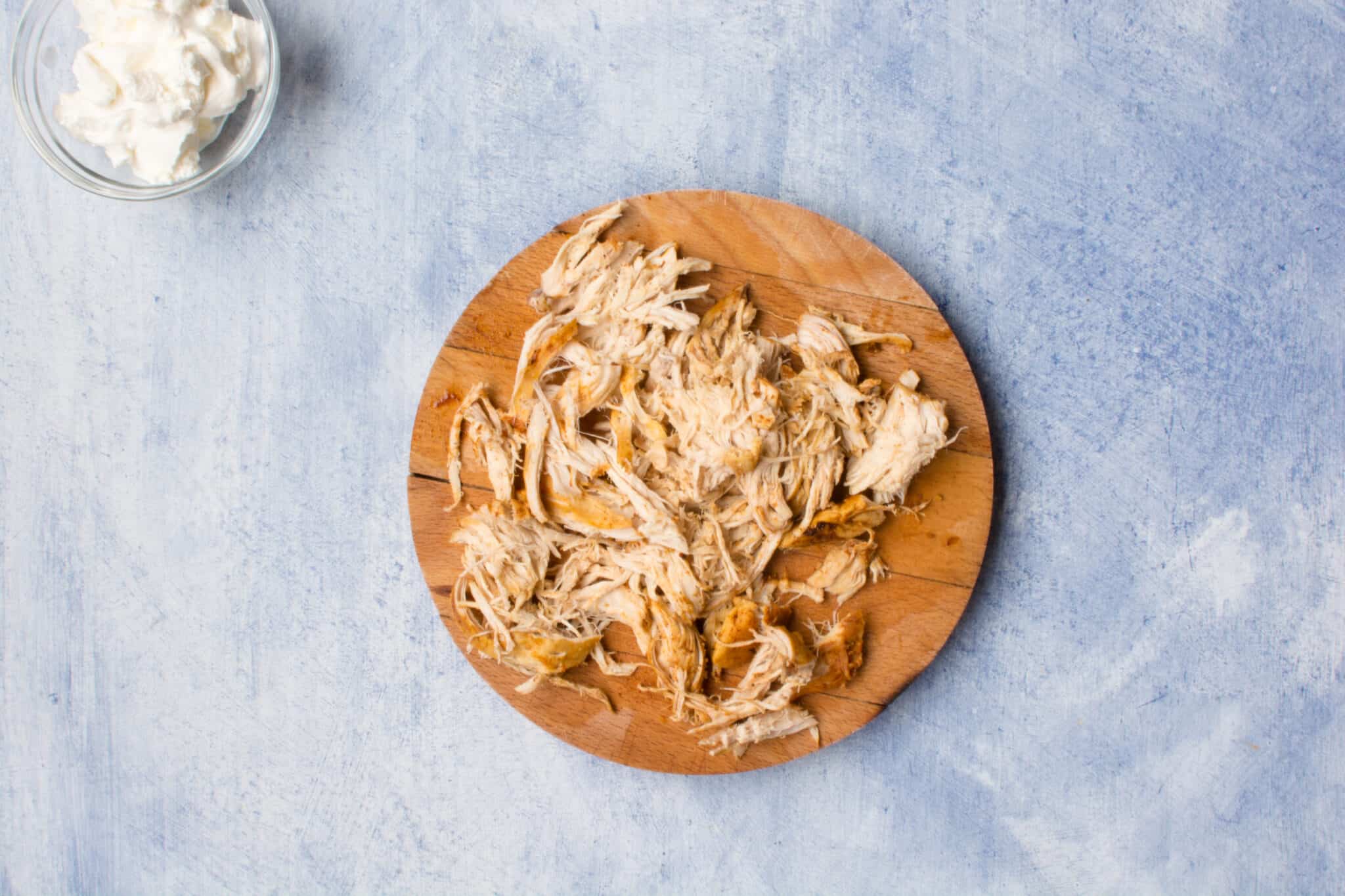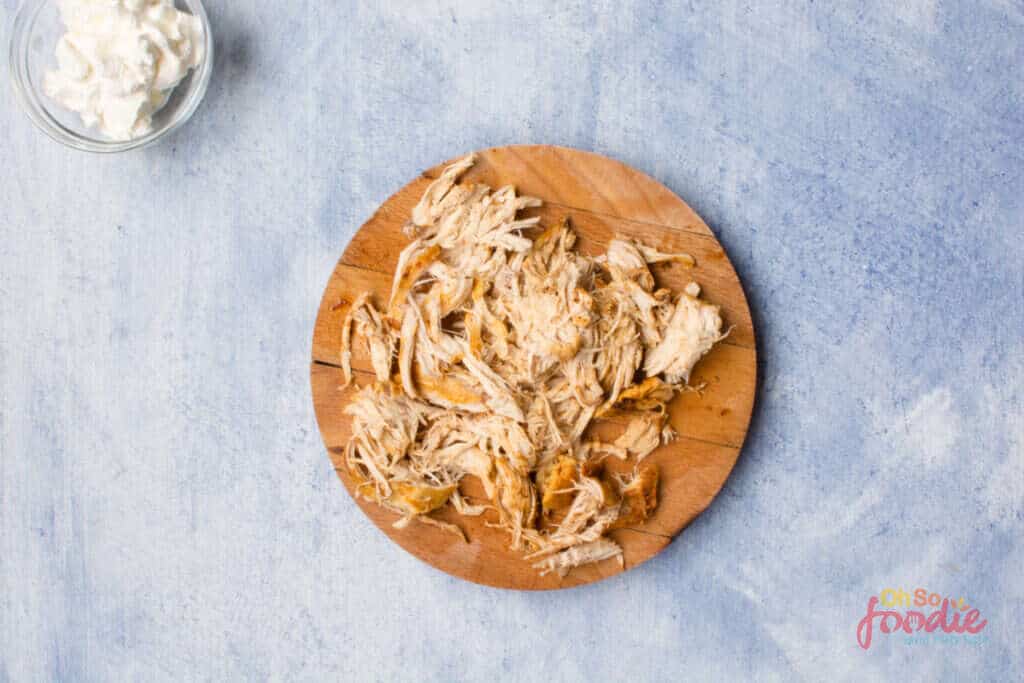 Then place back into the Instant Pot. Also add lemon juice, lime juice and cream cheese and cook on saute until the cheese is melted.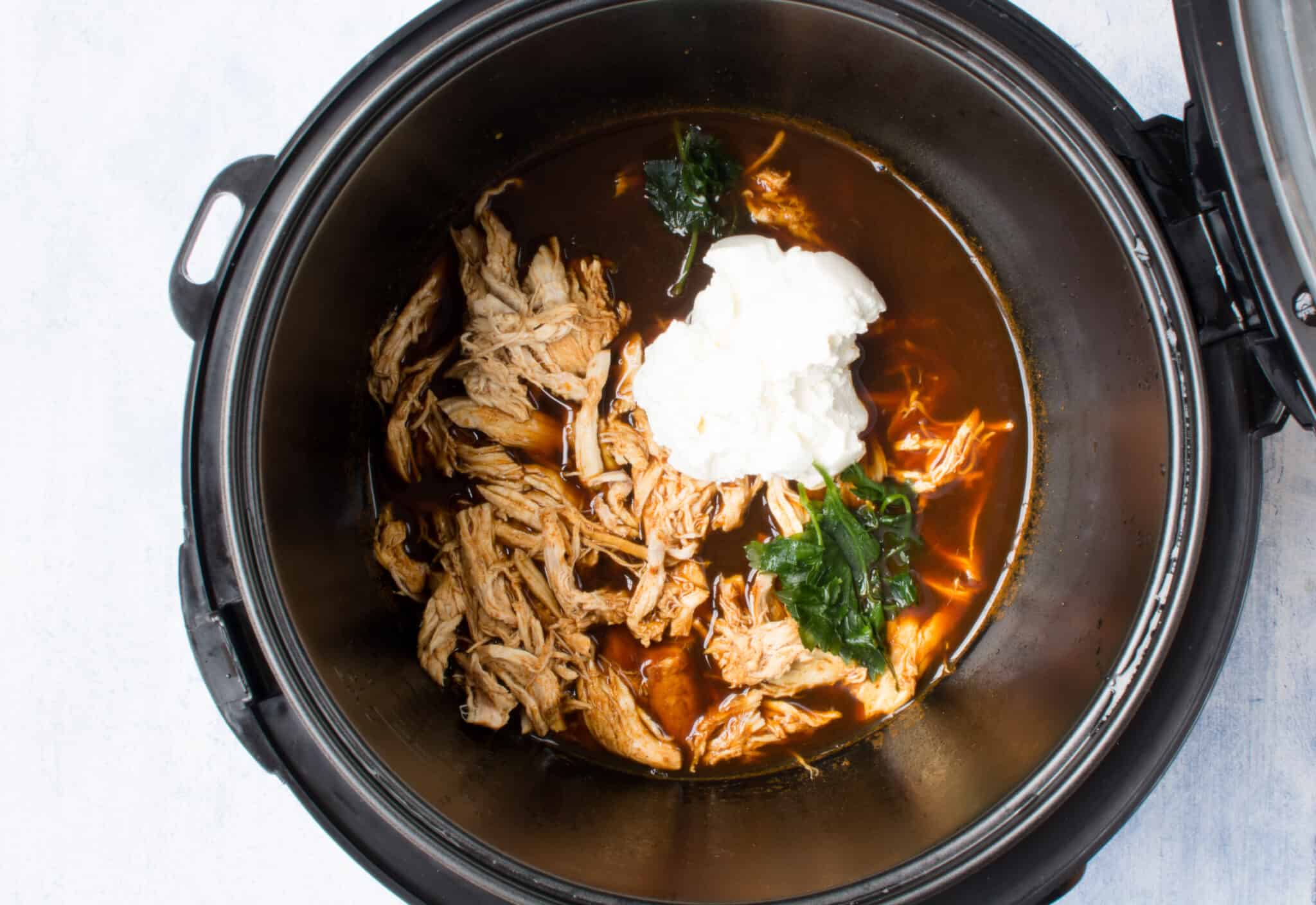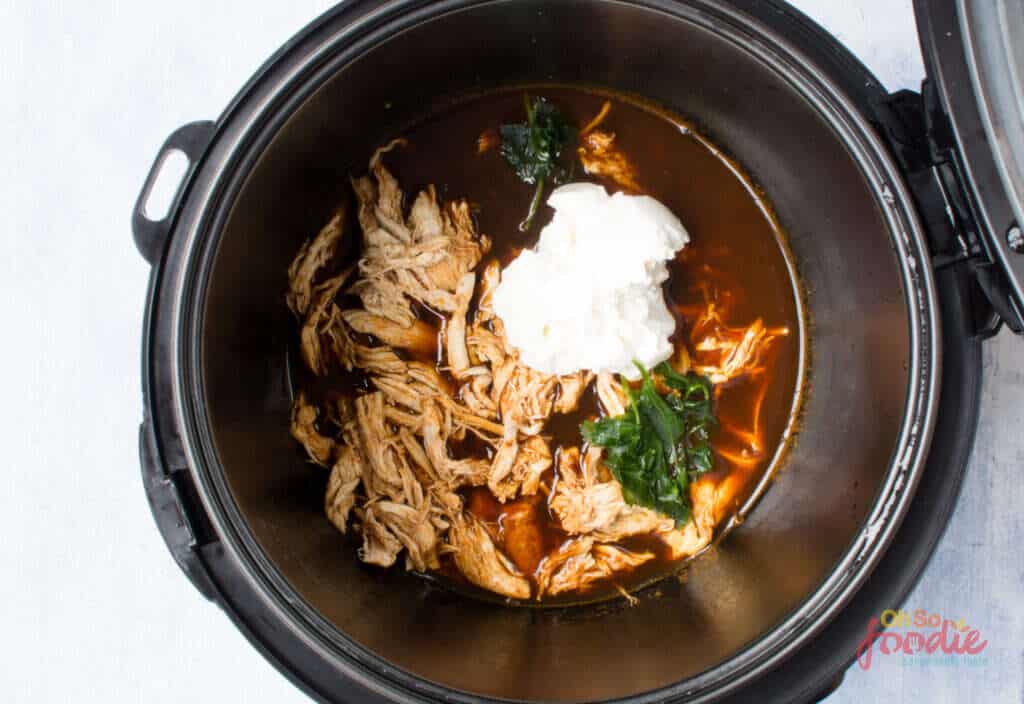 Pour in the chicken broth and scrape any browned bits. Add tomatoes and lock lid into place.
Select Manual and adjust to High pressure. Set the time to 10 minutes.
Once the cooking cycle is done, perform a natural pressure release.
Stir in heavy cream and cream cheese. Adjust the seasonings if needed and simmer the soup for 3 minutes on Saute.
Serve this creamy chicken taco soup warm.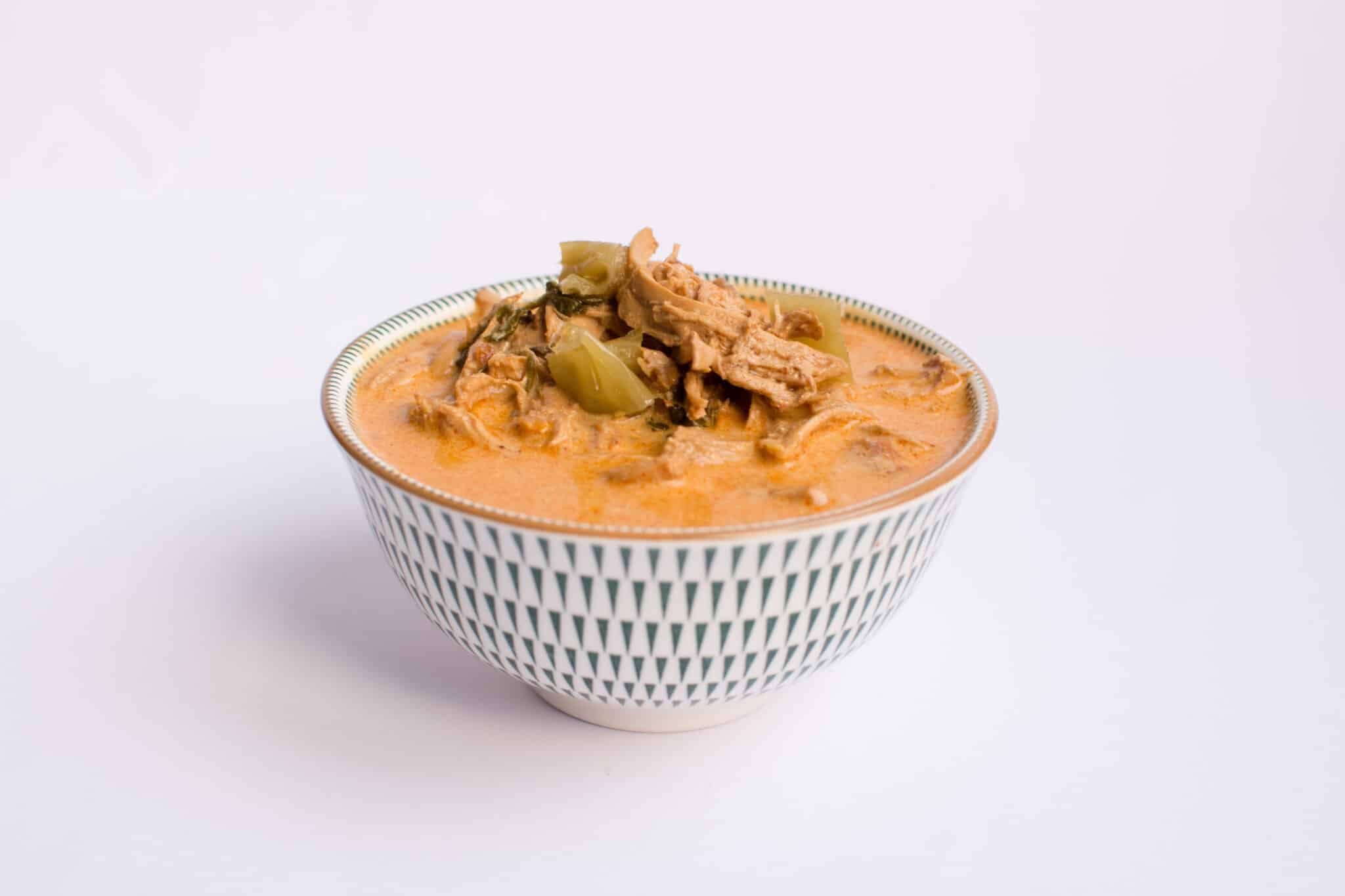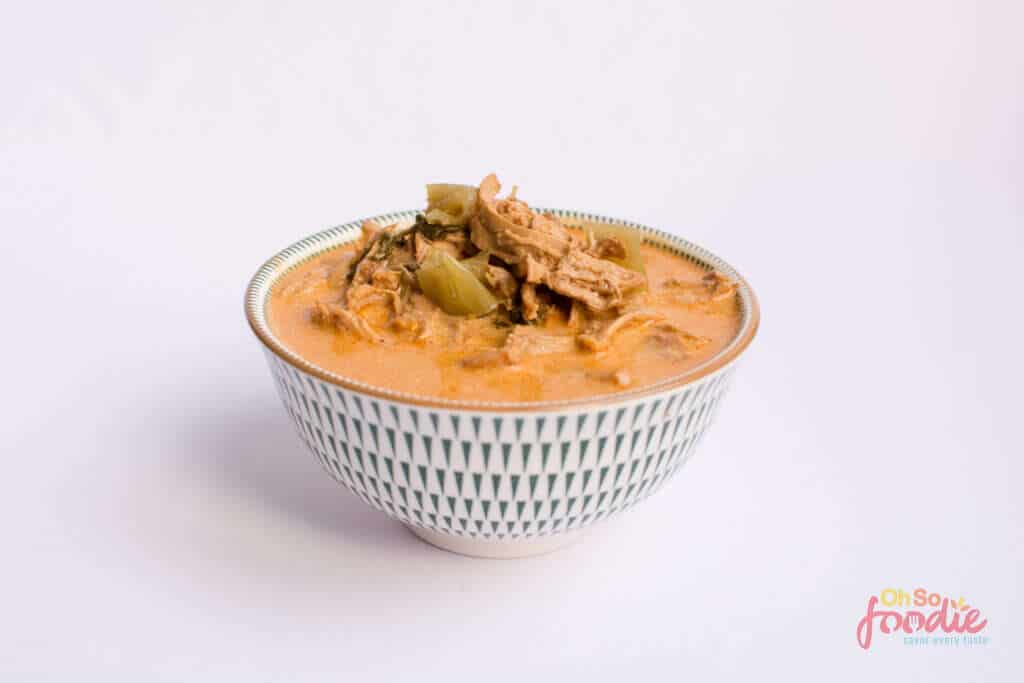 Variations for Keto chicken taco soup
Can the recipe use different types or cuts of chicken?
You can make this recipe with the boneless and skinless chicken thighs, or drumsticks. These are even better as they are juicier than the chicken breasts.
Can it be made with beef?
Yes, you can make it with the beef. You can choose the ground beef or the top round beef cuts. If using ground beef you will have to cook it in IP on saute until browned and just add rest of the ingredients.
If using the top round, brown one in Instant Pot on saute. Add 1 cup beef broth and cook the beef on high pressure for 25-30 minutes depending on the thickness of the beef. Shred and use as the recipe says.
Cook in a crockpot rather than an instant pot
The instant pot is an appliance that cooks on different level – with the Instant pot you can cook on high pressure, low pressure, saute, slow cook and many more. However, if you do not have one, you can use a crockpot for this recipe. The crockpot will help the flavors develop better and make it so that the lower temperatures lessen the chance of scorching ingredients that tend to stick to the bottom of a pan or burn in an oven
With all these, the crock pot is also a good option for cooking the chicken taco soup.
Does it matter which instant pot is used?
It really does not matter which Instant pot you use, as long as it has good capacity. By this I mean the Instant pot of 6 quarts which is ideal for cooking for 4-6.
Toppings for easy keto taco soup
You can top the soup with:
Some chopped avocado, for extra healthy fats

Sour cream, to reduce the heat

Feta cheese, a bit unusual but pairs great

Or chopped desired herbs
Also, adding some nice crisp Keto tortilla strips is a great topping idea.
How to store
Store this instant pot keto taco chicken soup in a fridge for up to 3 days in an airtight container.
You can also freeze the soup. Freeze the soup in an airtight container or zip-lock bag for up to 2 months. To reheat, thaw and reheat over the stove.
More keto soup recipes