Last Updated on November 23, 2022 by Toya
Are you looking for a cheap keto grocery list that can fit into a tight budget? If you are, then you're in the right place. This low budget keto grocery list is perfect for anyone with an average low budget of $225 per person and wants to do keto.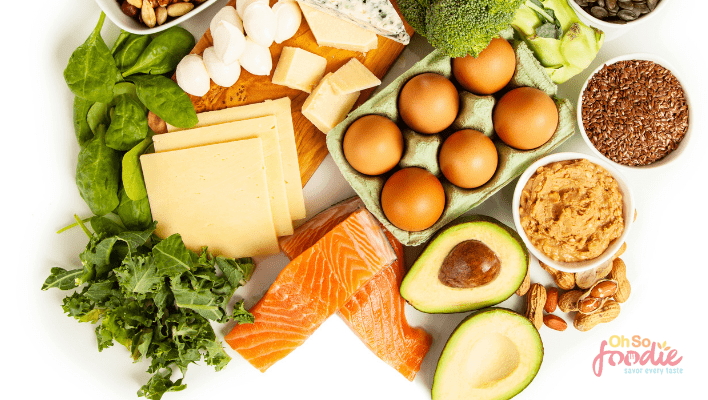 Everyone knows that keto can be expensive. What with all those specialty keto products that are popping up every day, the dollars can really add up when shopping for keto foods.
But, it does not have to be that way and this budget friendly keto grocery list will show you how inexpensive some keto foods are.
So long as you don't let yourself get carried away in the grocery store, you can use this cheap keto grocery list to buy foods that can make you some solid keto meals throughout out the month.
What is cheap keto grocery list?
A cheap keto grocery list is one in which you don not have to spend a lot of money to get all the things you need to make good, sustainable meals for a period of time such as 1 week, 2 weeks or even 1 month.
On average a low budget grocery list is about $225 per month for a single person. This is completely different from this keto grocery list for beginners that has all the keto foods you can have regardless of the price.
How do you keto on a tight budget?
You keep a tight budget by purchasing keto foods at a great price, shopping at stores where there are discounts or where the prices of foods are lower and or even shopping in bulk and or shopping for necessities rather than wants. All of these are great ways to do keto if you're on a tight budget.
Some other tips for doing keto on a tight budget are as follows:
Watch for sales and buy 2 or 3 of everything then freeze them to help them last longer

Buy cheaper cuts of meat like pork tenderloin

Cook cheaper cuts of meat in a slow cooker or large pots at lower temperature with

vegetables for some hearty soups. This can make soups that last a few days.

Add mushrooms to stir fries and other such recipes to boost the meaty flavor and cut down on how much meat is in the recipe.

Make casseroles, pies and lasagnas to stretch meats and other produce longer.

Make a few meatless meals each week to cut down on meat consumption on keto as meat can be one of the most expensive food items you purchase.

Buy bags of frozen chicken from stores like Costco as they're cheaper that way.

Ignore all, or most of the keto junk foods or keto processed foods. You'll save so much that way.
Budget friendly grocery list
Cheap Keto Produce
All of those prices reflect the average price per pound of each keto friendly produce in the US. These prices are estimates, so expect most to be slightly higher or slightly lower depending on where you are in the country.
Cucumbers – $1.26

Bagged spinach – $1.28

Green beans – $2.13

Zucchini – $1.48

Butternut squash – $1.29

Bell peppers – $1.78

Green cabbage – $0.62

Onions – $0.41

Broccoli – $1.97

Zucchini – $1.54

Mushrooms – $1.41

Frozen berries – $3.54
You can use these ingredients to make stuffed bell peppers, zucchini noodles, spaghetti squash noodles, cucumber salads, stuffed avocado and more.
Cheap keto dairy products
In this section, cheese will be one of the most expensive items, but, on keto, cheese is a staple as it is used in so many keto recipes.
Eggs – $1.48 (per dozen)

Cheddar cheese – $5.54 per pound

Mozzarella cheese – $5 to $11 per pound

Cream cheese – between $1.25 and $3.60 per 8oz

Heavy cream – between $3.50 to $6.90 per carton
Cheap keto proteins
Poultry
The prices will reflect the average price per pound of each cut of poultry:
Chicken leg quarters – $0.89

Whole chicken – $1.18

Bone-in chicken thighs – $1.25

Split chicken breast – $1.70
Beef
Ground beef – $5.69

Beef chuck-eye steak – $9 per pound

Pork
Pork tenderloin – $2.99 – $4 per pound

Pork loin roast – $1.20 -$1.86 per pound

Pork shoulder – $2.50 per pound

Grond pork – $3.08 per pound

Sliced bacon – $5.83 per pound
Seafood
Canned tuna – $3.50 for a 4-pack

Shrimp – between $5.54 – $14.00 per bag
Use these proteins to add to soups, stir fries, use the canned tuna for tuna dips, sautés, stews and so much more.
Cheap keto specialty items
These are some of the specialty keto items. They're some of the priciest keto items on this list, but, if you want to be able to make you keto cookies, keto breads, keto muffins and other keto baked goods, these are a must.
Almond flour – $7-$13 per bag

Coconut flour – $9-$15 per bag

Xanthum gum – $8 per bag

Keto sweetener – $5- $15 per bag

Sugar free cocoa powder – $8.49 per bag
These are some of the cheapest keto ingredients you can add to your shopping cart when you are on a budget. Granted, you don't have to add everything on this list to your cart, but, it is helpful to know the ball park price of some of the budget friend keto products you can enjoy.