Last Updated on October 5, 2022 by Toya
This creamy keto shrimp Alfredo recipe with zucchini noodles (zoodles) will quickly become one of your favorite low carb lunches or dinners to make.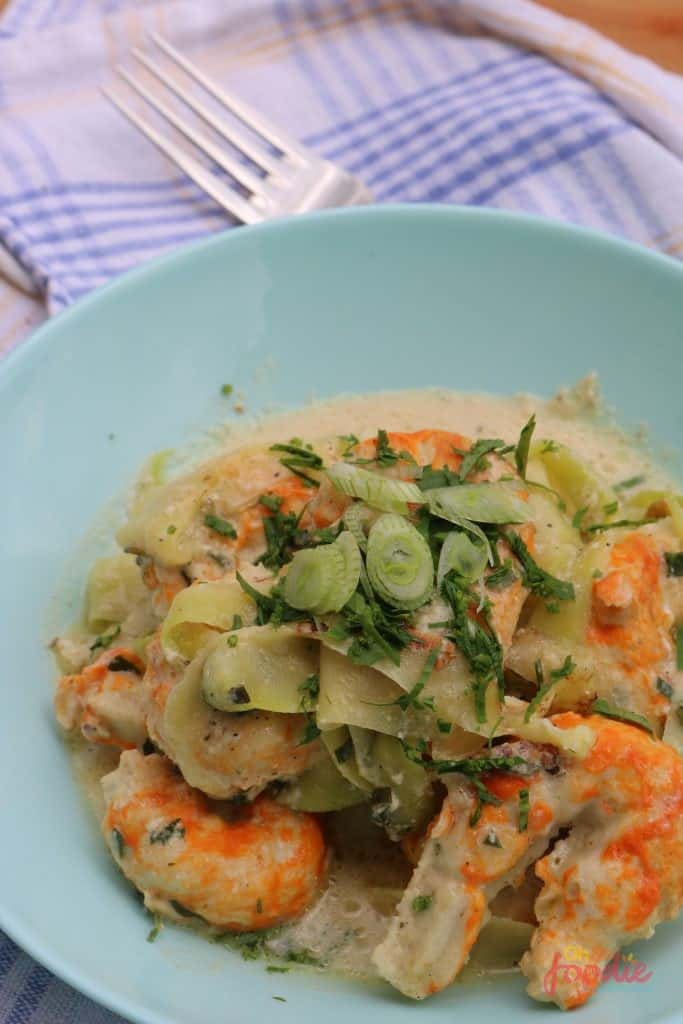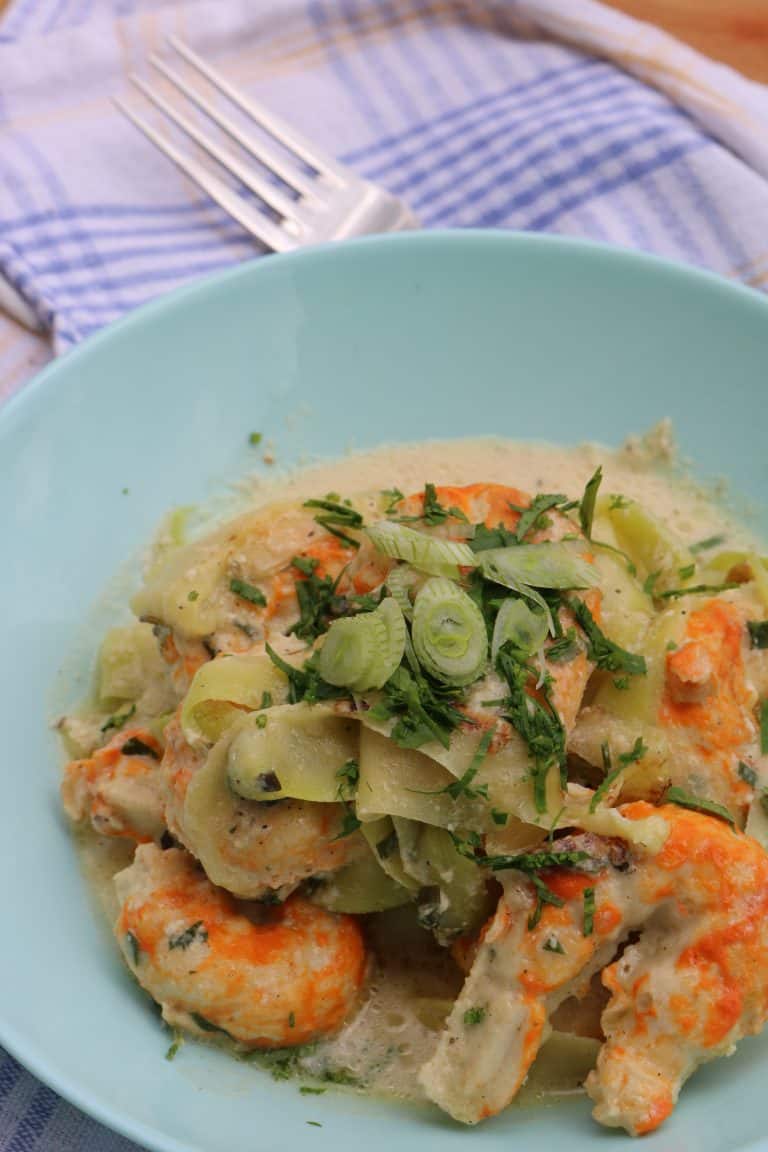 If you've been missing a good Alfredo recipe since you started following a low carb or keto eating plan, then you won't be disappointed in this easy low carb shrimp Alfredo recipe.
Obviously, you can't eat regular noodles on a keto diet, and there is the option of using shirataki noodles to make a delicious keto Alfredo dish, but, you may not want to deal with learning to cook shiratki noodles as it can be complicated.

Don't fret, zucchini noodles can be used to make a meal that is very tasty and healthy that you and your family can enjoy for dinner.
Not only will this keto low carb creamy shrimp Alfredo recipe be delicious as we've mentioned above, but, because this recipe uses zoodles, it will be significantly lower in calories.
More Keto Zucchini Recipes
Looking more more keto zucchini recipe to make on the keto diet? Here are a few you may want to try:
Easy Keto Low Carb Shrimp Alfredo With Zucchini Noodles Tips

Before we get into the recipe, you may have a few questions about the main ingredients in this recipe. These are common questions that people wanting to make this recipe may often wonder about. They are:

Is shrimp good on the keto diet?
The answer is yes. Generally, fish and shellfish are keto friendly foods that you can enjoy without any guilt. Raw shrimp contains 0 grams of carbs which makes it perfect in this dish! So, if you really enjoy shrimp, also try out this easy cajun shrimp recipe too!
How many carbs are in zoodles?
Zoodles are made from zucchini, a vegetable which forms part of the approved keto food list. One medium zucchini contains 4 grams of net carbs. Therefore, it is okay to have on the keto diet.
Also, here are some other tips that may be helpful to you in regards to this recipe below:
How to make zucchini noodles for this low shrimp Alfredo recipe
To make zucchini noodles you use a handy spiralizer and easily slice your zucchini into spaghetti-like shape in minutes.

However, if you don't have a spiralizer, you simply need to use a box grater or a potato peeler to make your zucchini noodles. The end result will look like this in the image below: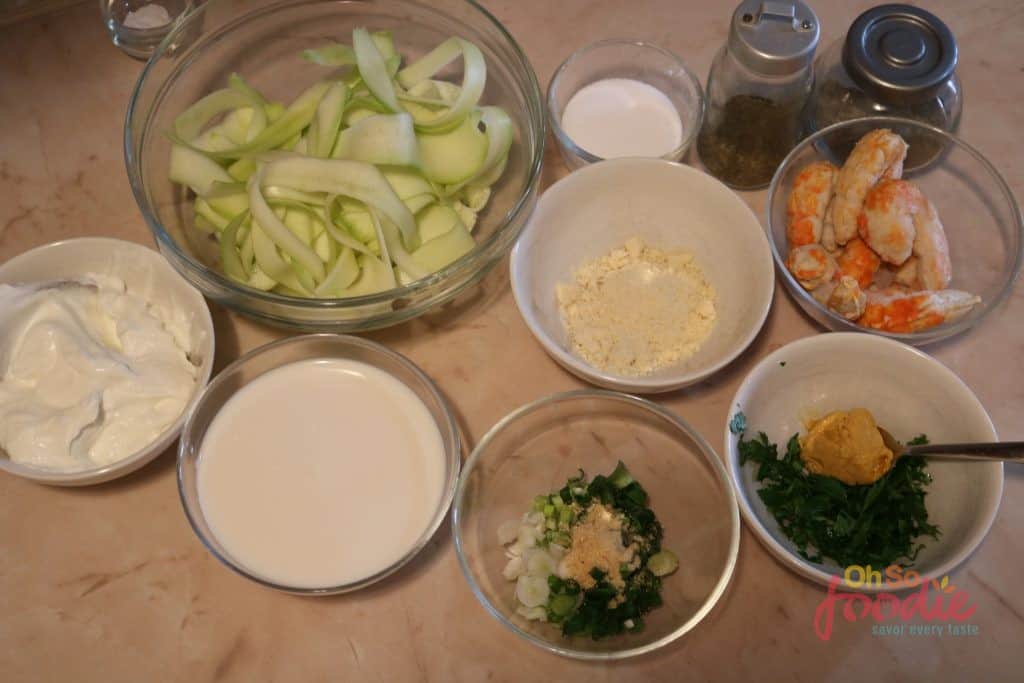 How to clean and de-vein your shrimp
If you don't want to spend extra on shrimp that is already cleaned and de-vein, then you simply have to follow these simple instructions.
Grab your shrimp, slide your thumb underneath the thin shell and peel them all of gently. Then for the tail, use your thumb and forefinger to grab on to the tail and tug it gently off.
Next grab a pairing knife to create a thin slit down the back of the shrimp (Don't cut all the way through, just the surface) You'll find a dark vein that runs down the back of the shrimp. Get rid of that.
That's it!
How to make this delicious keto shrimp Alfredo meal
This keto Alfredo with shrimp and zoodles is made with a twist as it has a lot less cream than most other Alfredo recipes you'll come across.
This low carb noodle recipe is thus healthier, along with being easy to prepare and delicious.
The hardest parts, which aren't hard at all, were covered above.

Now, let's begin cooking:
We begin by gathering all of the ingredients needed for this recipe in one place. These ingredients include one zucchini, sour cream or cream cheese, heavy cream, Parmesan cheese, shrimp, spring onion, Dijon mustard, garlic powder, salt and pepper, dried oregano, freshly chopped parsley, cooking oil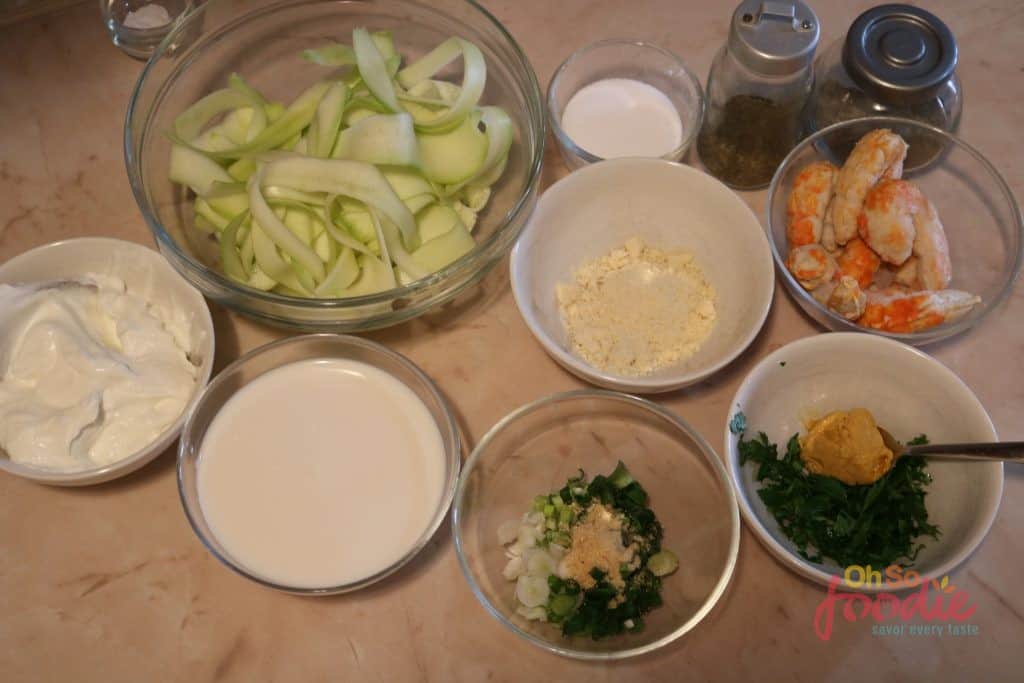 Then you preheat your frying pan and place chopped onion and garlic powder in preheated cooking oil on medium-high heat. Cook this for 3 minutes.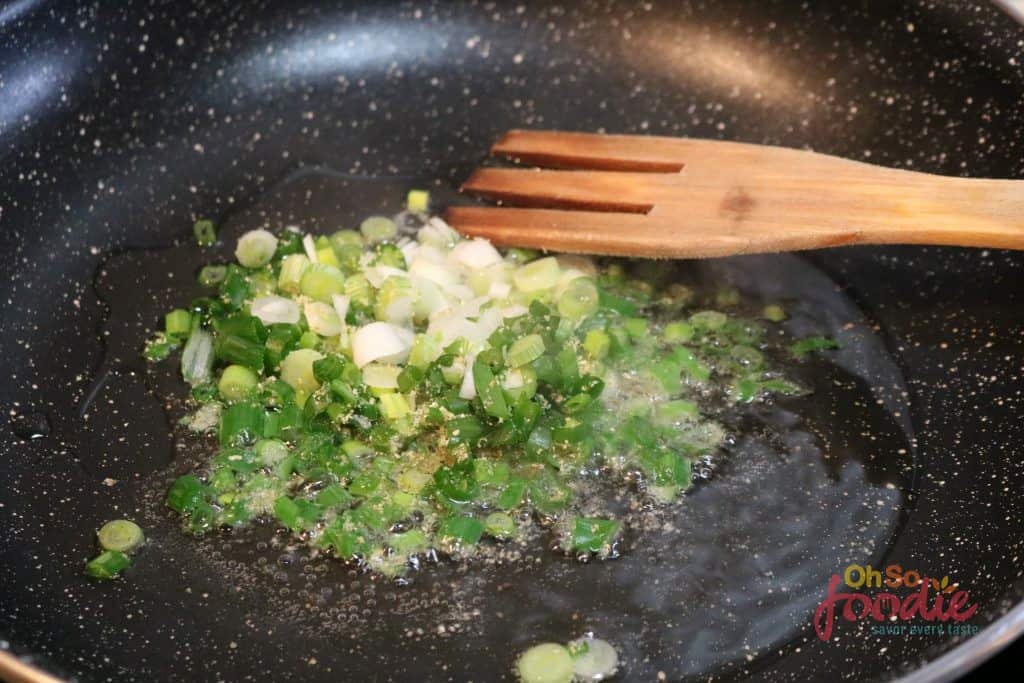 Next add in your cleaned shrimp and cook for 3 more minutes.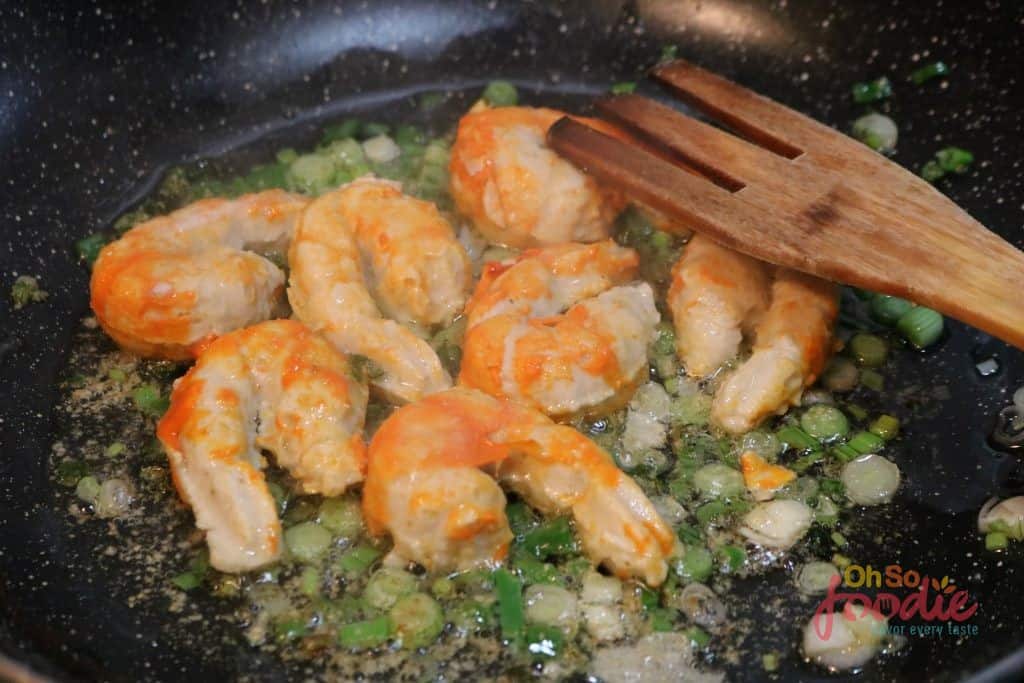 Next add in the sour cream, Dijon mustard and season with oregano, salt and pepper to taste. Stir until everything is combined well and you have a creamy consistency.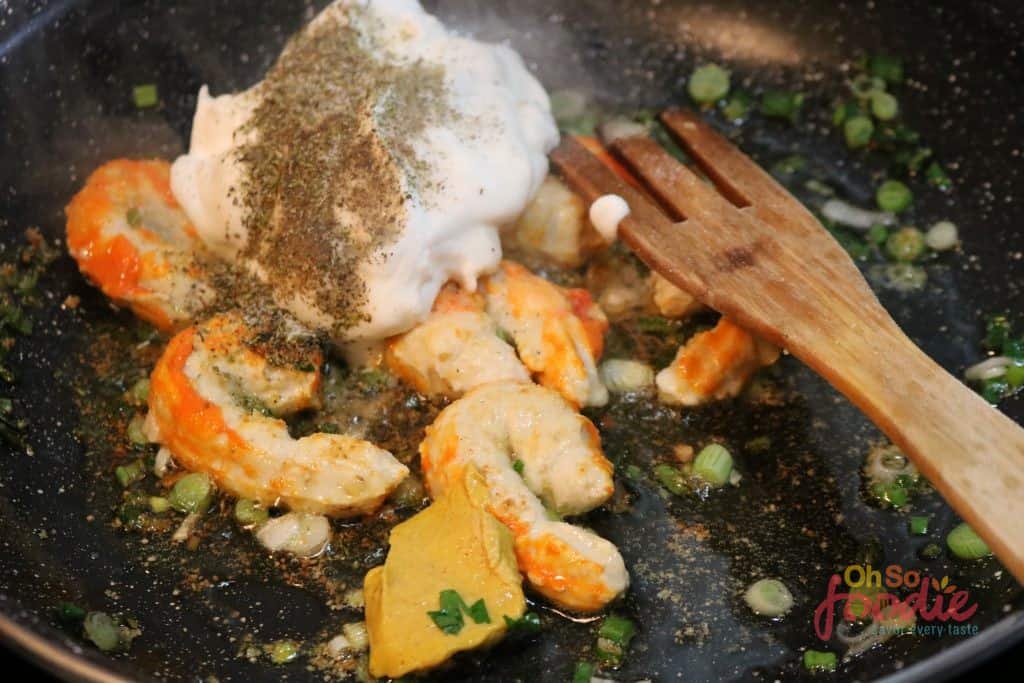 To this mixture, add the heavy cream and stir until everything is once again combined well. You can also feel free to check out some other heavy cream substitutes for pasta here if you have no heavy cream available.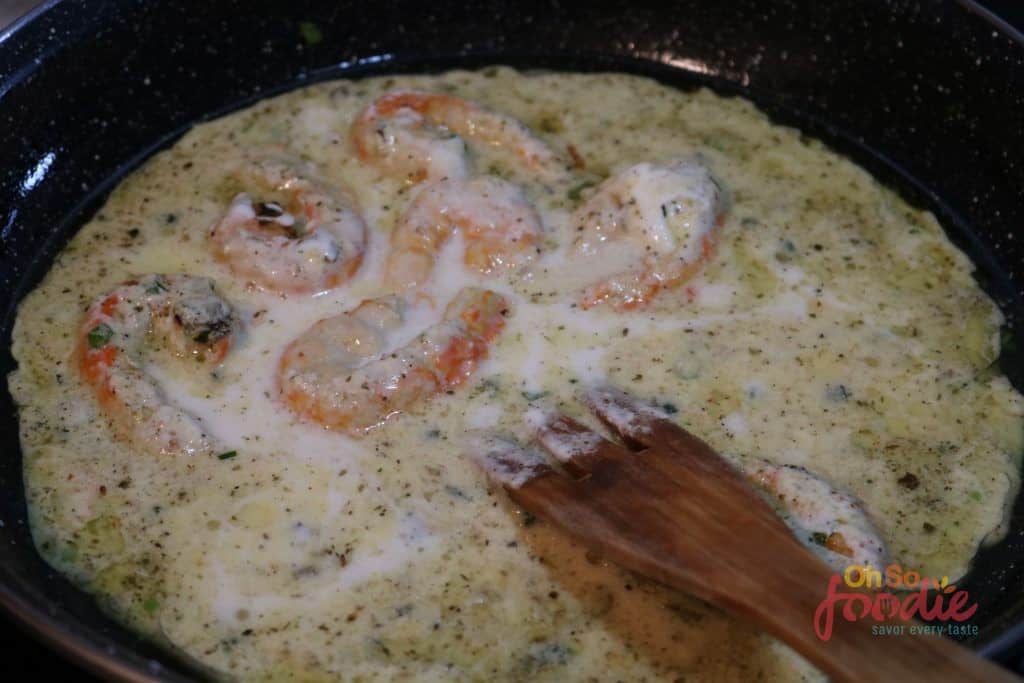 Add your sliced or spiralized zucchini into your cooking pan.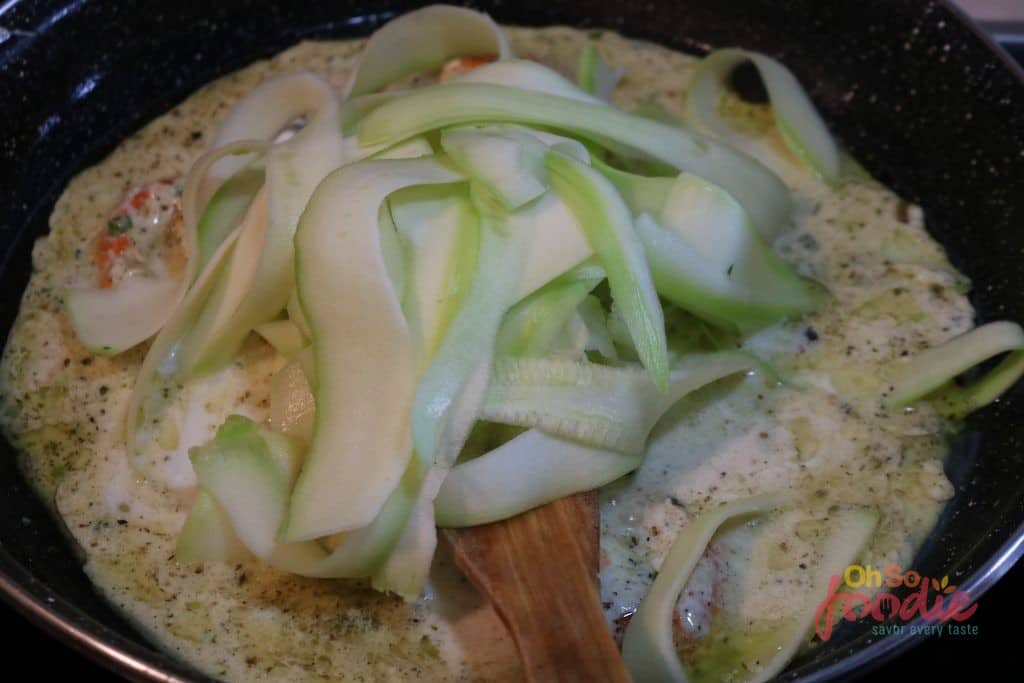 Add in Parmesan cheese, stir everything in together and let all of this cook for about 5 minutes.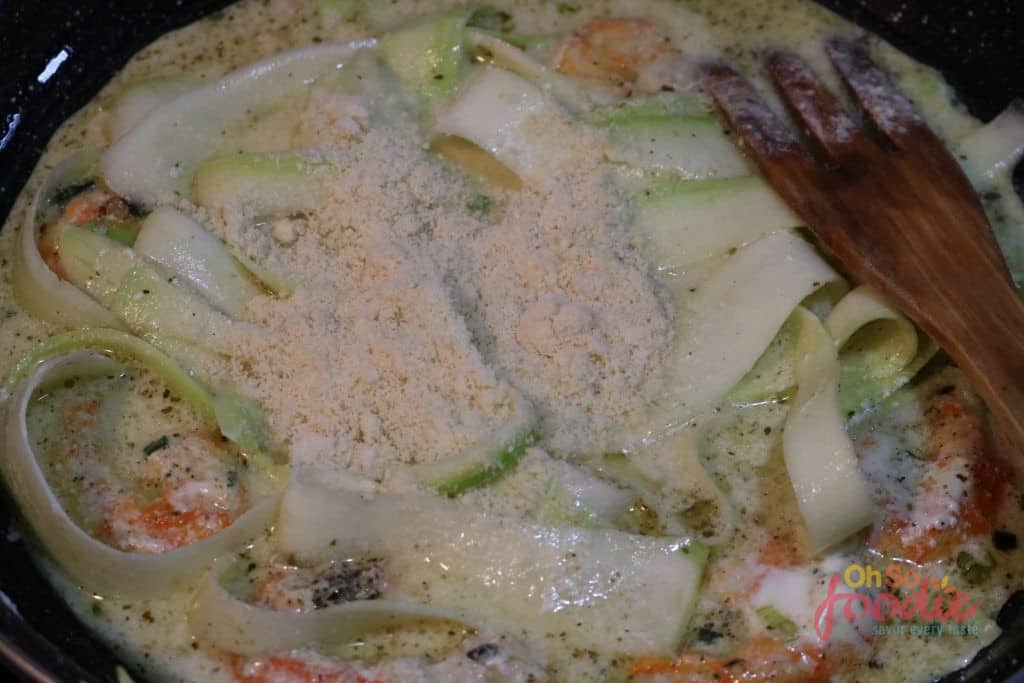 Once the time is up, you should add your chopped parsley and stir.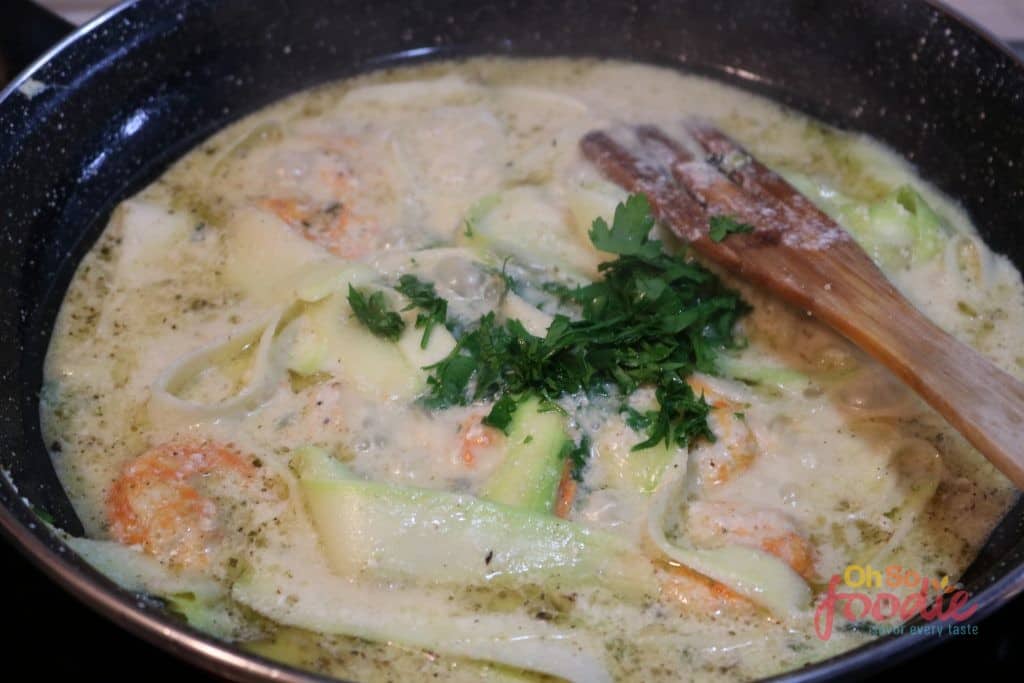 Now that everything is done, you can serve this delicious keto recipe for either lunch or dinner!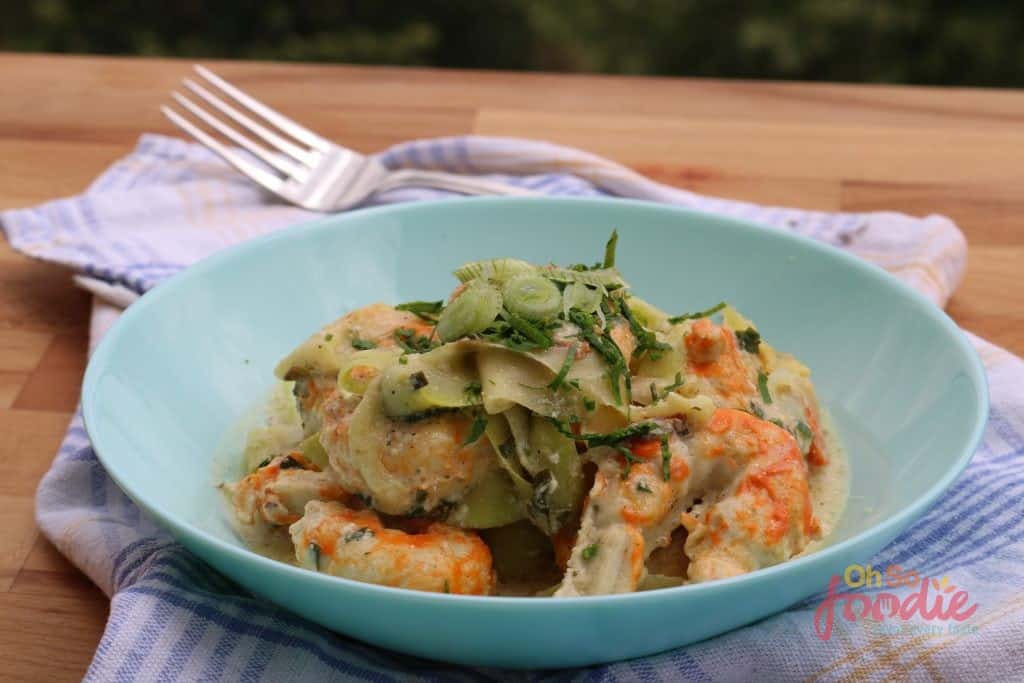 Variations you can make with keto shrimp Alfredo
In the event that you do not have zucchinis on hand, or you do not want to use zucchini. You can make at least 3 easy variations of this recipe:
Keto shrimp Alfredo with broccoli
If you really enjoy broccoli. This variation is one you must try out. After you've cooked your shrimp and added in your heavy cream, you simply add in about a cup and a half of broccoli, then add in your Parmesan cheese. Cook for about 5 minutes and serve!
Keto shrimp Alfredo with shirataki noodles
Shirataki noodles are becoming more and more popular on the keto diet. They're a sort of noodles that are native of Japan and are made with konjac yam. These noodles are very low in calories and contain no carbs which make them the perfect noodles to add to this keto shrimp Alfredo recipe.
Keto shrimp Alfredo with spaghetti squash
For this variation, you just need to make some spaghetti squash noodles in your oven. Then serve the shrimp alfredo on top of this spaghetti squash!
Tools to make keto low carb shrimp Alfredo with zoodles
To make this recipe you will need the following:
Earth Stone Frying pan – This is durable, non-stick, free from chemicals and Eco-friendly.
Spiralizer – If you want your zucchini noodles to be shaped exactly like regular noodles, the spiralizer is the perfect tool to get.
As you can see from the step by step guide above, this recipe is pretty easy and in the end, you're left with a tasty low carb recipe that you will really enjoy that only has 7.8 of net carbs per serving.
We hope you enjoy this hearty low carb and keto shrimp Alfredo and will make it one of your staple keto dishes! Enjoy!
506 cals / 38.9g fat / 9.7g carbs / 1.9g fiber/ 31.9 protein = 7.8 net carbs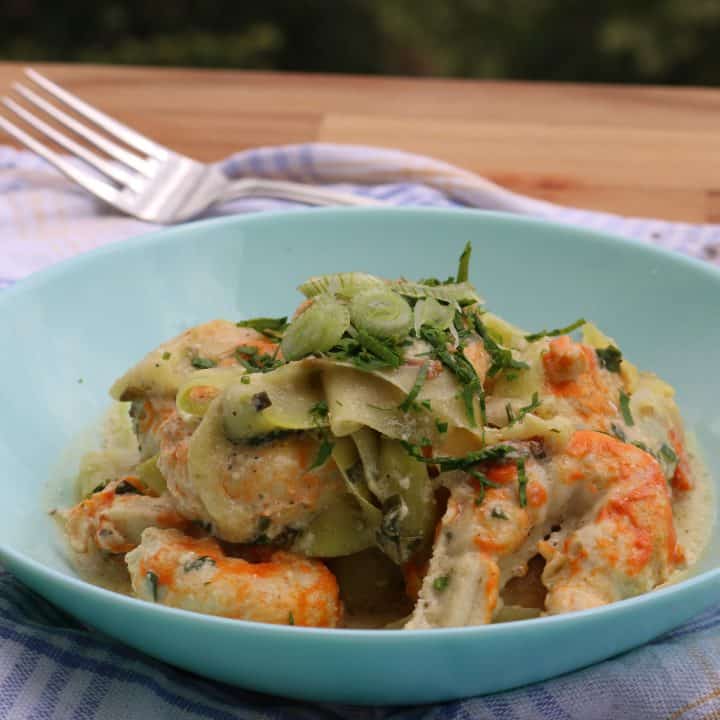 Keto Shrimp Alfredo Recipe
This creamy keto shrimp Alfredo recipe with zucchini noodles is delicious, easy to make and perfect for weight loss on the keto diet.
Ingredients
1 zucchini, shredded with potato peeler
½ cup + 1 tablespoon sour cream or cream cheese
½ cup heavy cream
4 tablespoons grated Parmesan cheese
5 oz. shrimp
1 spring onion thinly sliced
1 teaspoon Dijon mustard
½ teaspoon garlic powder
salt and pepper to taste
1 teaspoon dried oregano
2 tablespoons freshly chopped parsley
2 tablespoon cooking oil
Instructions
Gather all of the ingredients.
Prepare your shrimp and your zucchini noodles, onions and parsley.
Heat a large frying pan over medium heat. Once hot, add the oil followed by the parsley, chopped onion and garlic powder. Cook for 3 minutes.
Next, add in the cleaned and de-veined shrimp and cook for 3 more minutes.
Next, add in the sour cream, Dijon mustard, oregano and mix everything well.
Next add in the heavy cream, zucchini and Parmesan cheese and cook for 5 minutes.
Lastly, add in parsley, stir. Plate and serve.
Recommended Products
As an Amazon Associate and member of other affiliate programs, I earn from qualifying purchases.
Nutrition Information:
Yield:

2
Amount Per Serving:
Calories:

506
Total Fat:

38.9g
Saturated Fat:

24.1g
Cholesterol:

274mg
Sodium:

658mg
Carbohydrates:

9.7g
Fiber:

1.9g
Sugar:

2.3g
Protein:

31.9g