Last Updated on November 4, 2021 by Toya
Try out this easy keto ground beef casserole recipe made in under an hour! This keto comfort food recipe is low in carb, low in calories and tastes so good!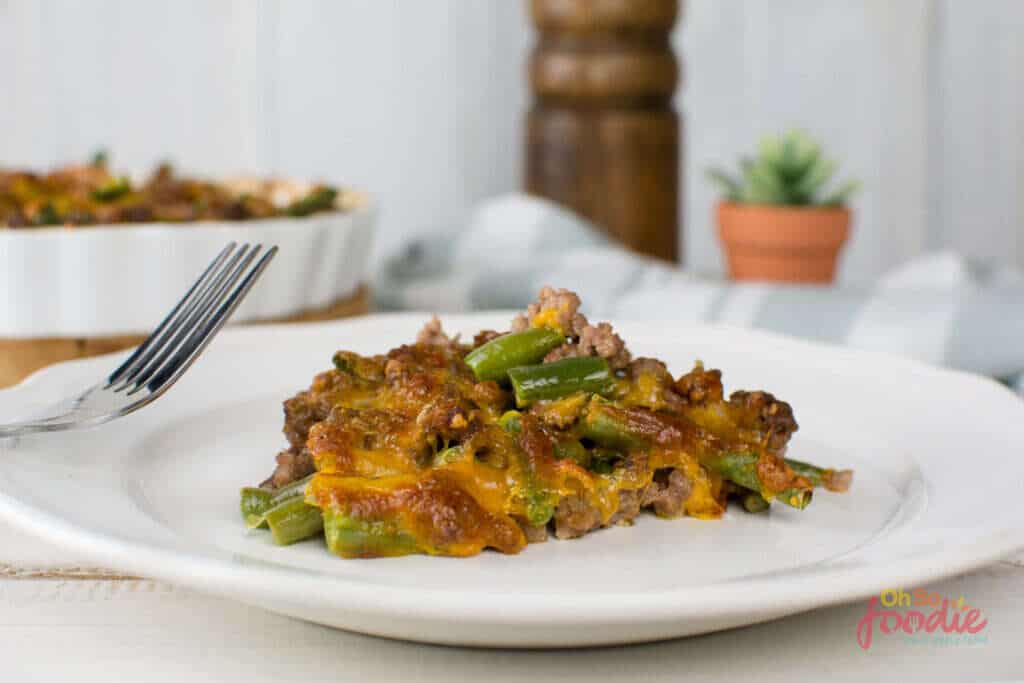 This ground beef casserole is the perfect comfort dish for cold days. It is also great for days when you have very little time to spend behind the kitchen counter. Loaded with ground beef, green beans, and cheese, this tasty casserole recipe is sure to become a family favorite!
And, if you are worried about the beans in this recipe, there is no need to be. The green beans will not ruin your keto diet. In fact, a cup of green beans has only 6 grams of net carbs.
Also, thanks to the cheddar cheese and ground beef you will get enough fats, but also quality protein, while enjoying every bite. Besides being a Keto friendly, this dish is perfect for family gathering and is best served warm.
Can you eat ground beef on a keto diet?
Many people wonder if ground beef is okay to et on the keto diet and the answer is yes it is. Ground beef, like any other type of meat contains little to no carbs. In fact, 1 lb of ground beef contain zero grams of carbs. So, yes, you can enjoy ground beef on the keto diet with no guilt at all. This is great as there are so many delicious recipes that can be made with ground beef. You should try out some of my other low carb ground beef recipes.

Tips to make the best keto ground beef casserole
This entire recipe can be made in one skillet. If you have a cast iron skillet you can cook the beef in it, then add rest of the ingredients and continue baking in that same skillet. This will give you a mess-free kitchen and the result will be a tasty one pot keto meal that every one will praise.

You can use can beans for this, but make sure to look for beans packed in water. Make sure to read the label. If you want to go on the safe side, go with frozen green beans that have been thawed overnight. You can also try to find fresh green beans if it is possible.

Instead of cheddar cheese you can use other types of the cheese. Cheese like Mozzarella will give a creaminess to the recipe, while Gouda will give some extra fat. You can choose whatever cheese you like as they're all keto friendly.

Ingredients to make an easy keto beef casserole dish
These are all the ingredients you will need to have to make this easy ground beef casserole recipe. They include:
0.75lb. ground beef

2oz. cream cheese

½ cup heavy cream

Salt and pepper, to taste

¼ teaspoon garlic powder, optional

2 cups thawed green beans

1 cup shredded cheddar cheese
How to make keto ground beef casserole
Gather all of the ingredients needed for the recipe.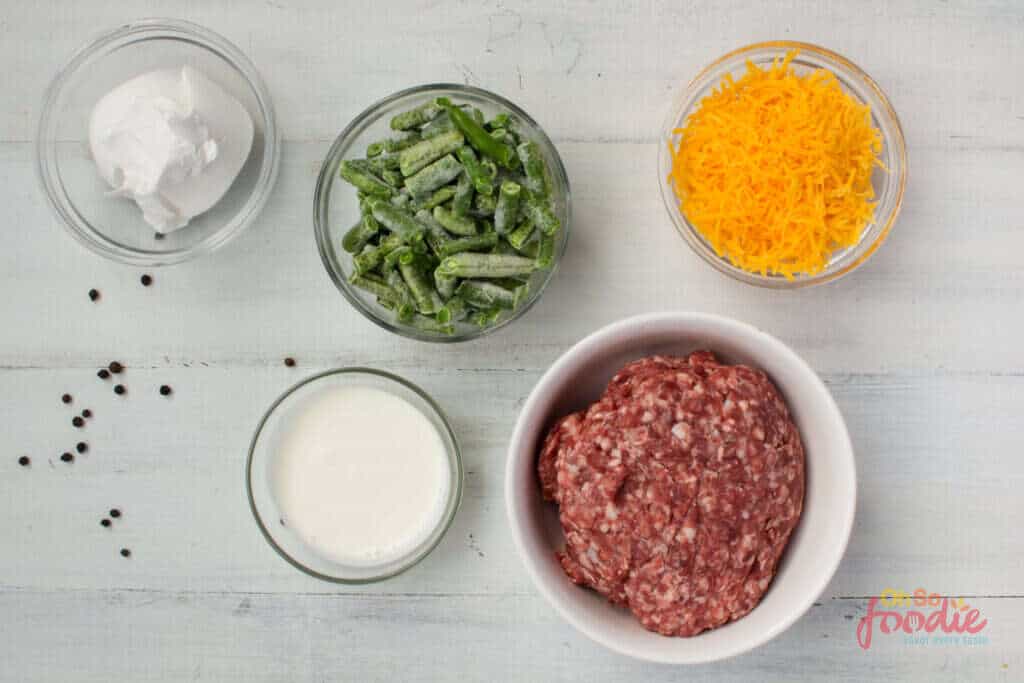 Then preheat oven to 350F in preparation for the casserole.

Cook the ground beef in a skillet until it has browned.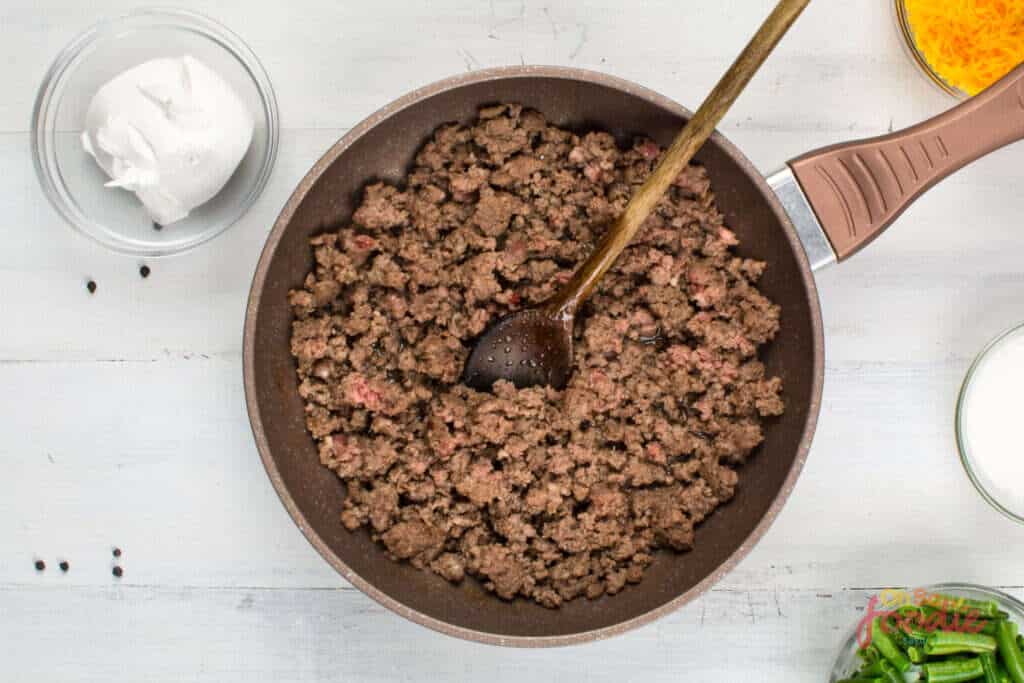 Next, stir in the cream cheese and cook until it has melted.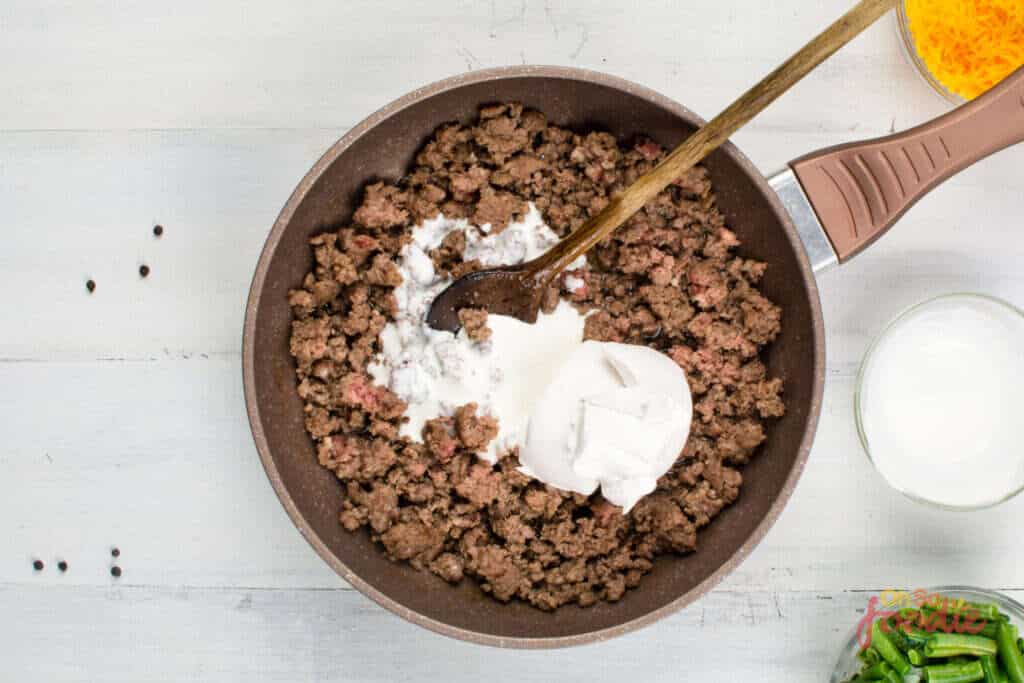 At this point, pour in heavy cream and add green beans then cook for 8 minutes.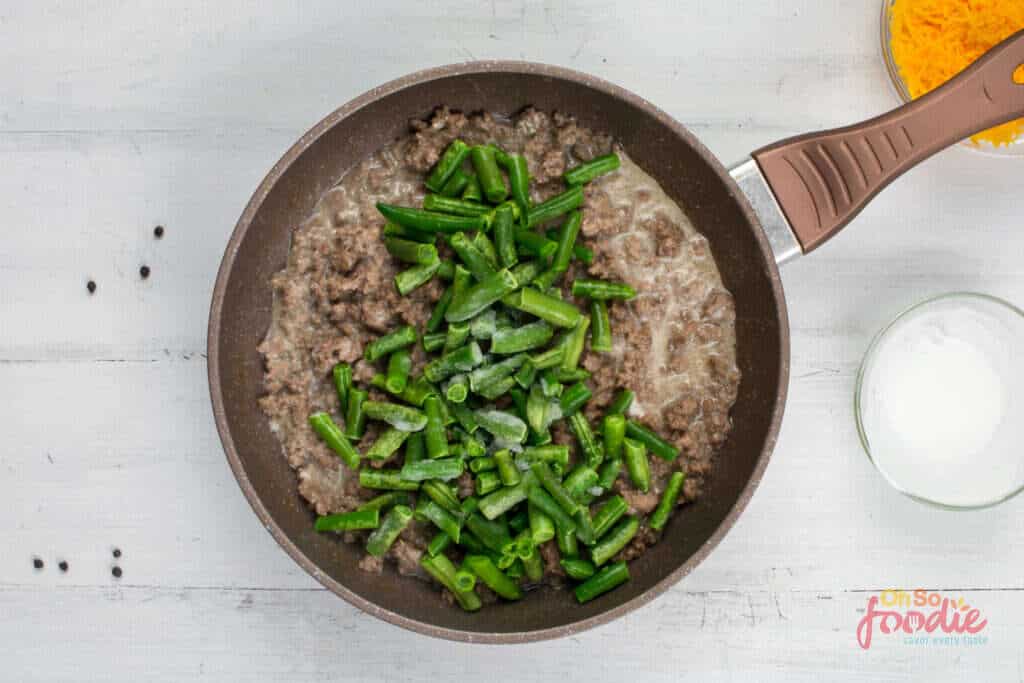 Once the beef and beans have been cooked, transfer the mixture into a casserole dish and top with cheddar cheese.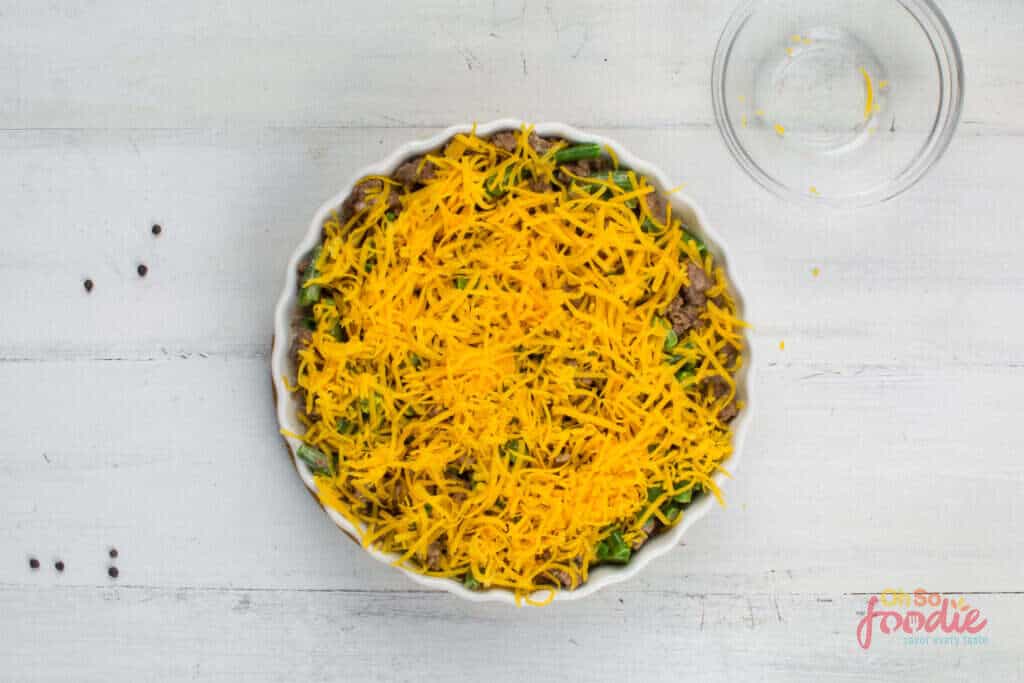 Bake the keto casserole in the oven for 25 minutes. Then, cool the casserole on a wire rack for 5 minutes before serving.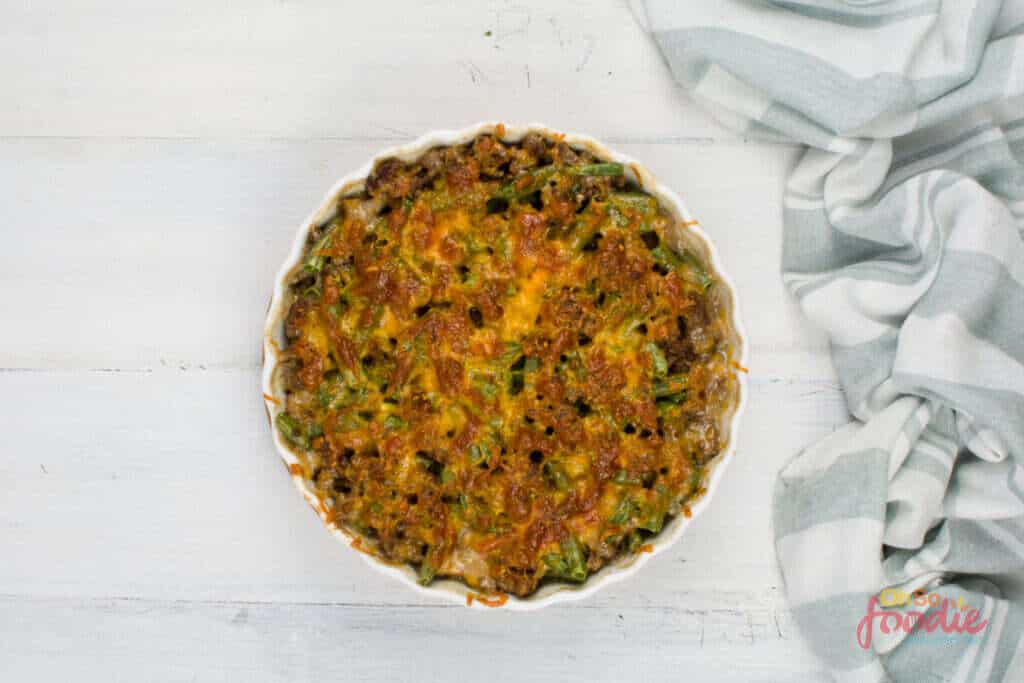 This casserole makes six servings.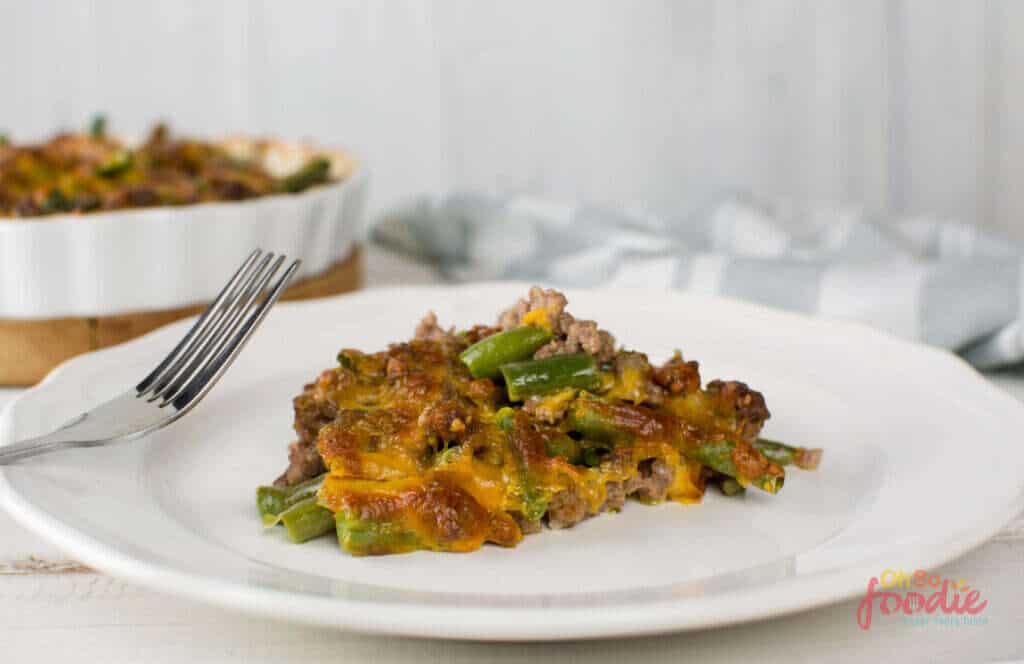 Low Carb Ground Beef Casserole FAQs
How many calories are in ground beef casserole?

This is a low calorie keto casserole recipe that contains only 299 calories per serving. Great for people who are trying to lose weight by eating lower calorie meals.

How many carbs are in keto ground beef casserole?
There are 2.1 grams of net carbs in every serving of this ground beef casserole.
Can I make this casserole in a skillet?
Yes, you can easily cook this entire beef casserole in a skillet. Once you've cooked the ground beef and the beans and mixed everything together in the skillet, you simply top the mixture with cheese and bake the casserole in the oven.
Finally, if you enjoyed this casserole dish, feel free to check out 24 more easy keto recipes for lunch here.
More keto ground beef recipes