Last Updated on October 29, 2022 by Toya
Here is the best substitute for paprika in dry rub + 4 other alternatives you're likely to find in your kitchen.
Dry rub, also sometimes referred to as spice rub or meat rub is a mixture of ground spices, herbs, and sugar used to add flavor or coat food before it is cooked.
Dry rubs are used a lot in barbecues or meat recipes, as in this juicy pork ribs recipe, and can elevate the taste of all types of raw meat including ribs, chicken, shrimp pork, lamb, turkey, etc. Often, dry rubs are also used to flavor vegetables aw well.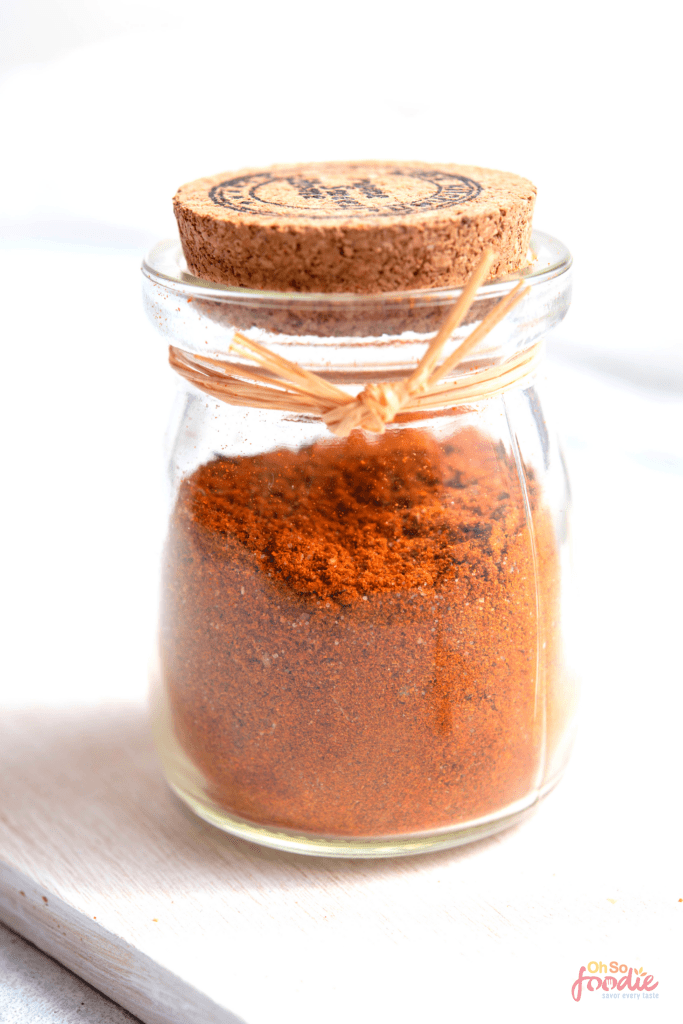 Dry rubs come in many different flavors and most recipes you'll find use paprika powder which adds a mild, sweet, fruity flavor and a nice reddish color to the spice rub.
However, if you're making a dry rub recipe and you don't have any paprika, or you don't want to make a grocery store run, there are some other common paprika replacements that will work just as well.
Best substitutes for paprika in dry rub
Ancho chili powder
Ancho chili powder is an excellent substitute for paprika in dry rub. In fact, I think it is the best substitute for a meat rub recipe. Ancho chili powder is made from poblano peppers and is a deep red chili powder with a mild, sweet, fruity flavor and smoky notes, and a slight heat.
In a meat rub recipe that calls for regular paprika, use a little less ancho chili powder.
Chipotle powder
If you can find chipotle powder, then you can use it as a suitable substitute for paprika in dry rub recipes. Chipotle powder works because it will add a nice rich orange-red color to the dry rub, similar to paprika. But, it is also quite mild in flavor.
Also, chipotle powder will add a smoky element to the dry rub which only serves to enhance your recipe some more!
Homemade paprika
If you have red chile peppers on hand, you can use them to make some homemade paprika powder for a dry rub.
Simply, slice, deseed and dry the red chile peppers in your oven, then use a spice grinder to pulverize the dried red chile peppers.
If you want hot paprika use some moderately spicy chiles like Aleppo peppers or Fresno peppers, but, if you want regular paprika flavor, red bell peppers will do just fine.
Aleppo pepper powder
In the absence of paprika, Aleppo pepper powder will make another good paprika alternative in dry rub.
Aleppo pepper powder is made from dried Aleppo peppers and its flavor can be described as mild, tangy, and fruity with a little bit of heat. Therefore it's best suited for you if you don't mind a little kick and it will work best as a substitute for hot paprika in spice rubs.
Start by using less Aleppo pepper in the dry rub, taste, then adjust to your liking.
Chili powder
Chili powder is a blend of dried, crushed chili pepper and spices like oregano, garlic powder, cayenne pepper, cumin, paprika, and oregano. It can make a good substitute for paprika in a dry rub recipe where all, or some of these other spices are being used.
These are 5 of the best ways to substitute paprika in dry rub. Most of these options are common spices or spice mixes that a lot of us keep in our kitchens. Therefore, you're likely to have something that works on hand.