Last Updated on December 7, 2022 by Toya
Keep reading to see the best potato substitute plus 9 other ways to substitute potatoes with common veggies.
Potatoes are waxy, crisp, mild-tasting vegetables with a savory flavor that becomes buttery and slightly sweet when cooked. They're also quite popular and are used in a ton of different dishes.
There are many varieties of potatoes, but the most popular are russet and Yukon gold. If you're making a recipe that calls for it but you don't have it, can't find it, or have started eating low carb and need to replace it, I'll share some ideas for the best substitutes for potatoes below.
What are the best substitutes for potatoes?
The best potato alternatives are:
Sweet potatoes

Rutabaga

Turnips

Cauliflower

Carrots

Celery Roots

Parsnips

Radishes

Jicama

Zucchini

Eggplant
Common ways to substitute for potatoes
Sweet potatoes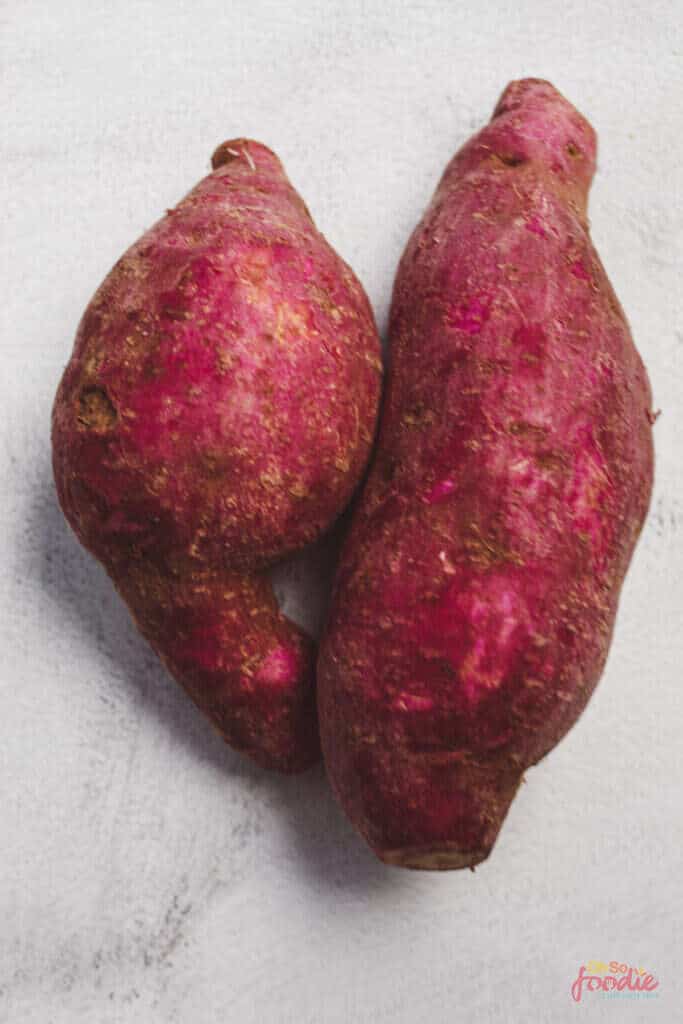 If you can get your hands on them, sweet potatoes are the perfect substitute for potatoes. They work well in many soups, stews, fries, and mashed potato recipes.
Because they're sweet, any recipe that uses sweet potatoes instead of potatoes will taste different. However, you can use sweet potatoes as a substitute for potatoes if you want a healthier alternative or if you just don't have any regular potatoes available.
Substitute 1 cup of potatoes for 1 cup of sweet potatoes
Rutabaga
If you can find it, rutabaga is another easy way to replace potatoes. Rutabaga is a cross between a cabbage and a turnip and while it is slightly bitter and firm when raw, it does take on the slightly sweet, savory flavor similar to potatoes when cooked. In fact, I find that rutabaga is a great sub for Yukon gold potatoes when cooked.
Use this vegetable to make recipes like mash, fries, soups, stews, and more.
Substitute 1 cup of rutabaga for 1 cup of potatoes
Turnips
While turnips are crisp, starchy, and slightly bitter when raw, they turn a slightly nutty, earthy sweet flavor and take on a velvety texture when cooked. Use turnips to make salads, and roasted vegetables, to make sautees, mash, soups, and more.
Radishes are another suitable potato substitute that is easy to find. Radishes have a more peppery, pungent flavor, however, they make great faux-roasted potatoes, fries, salads, and even soups!
Note, radishes come in an assortment of colors including white, pink, purple, and red.
Substitute 1 cup of radishes for 1 cup of potatoes
Jicama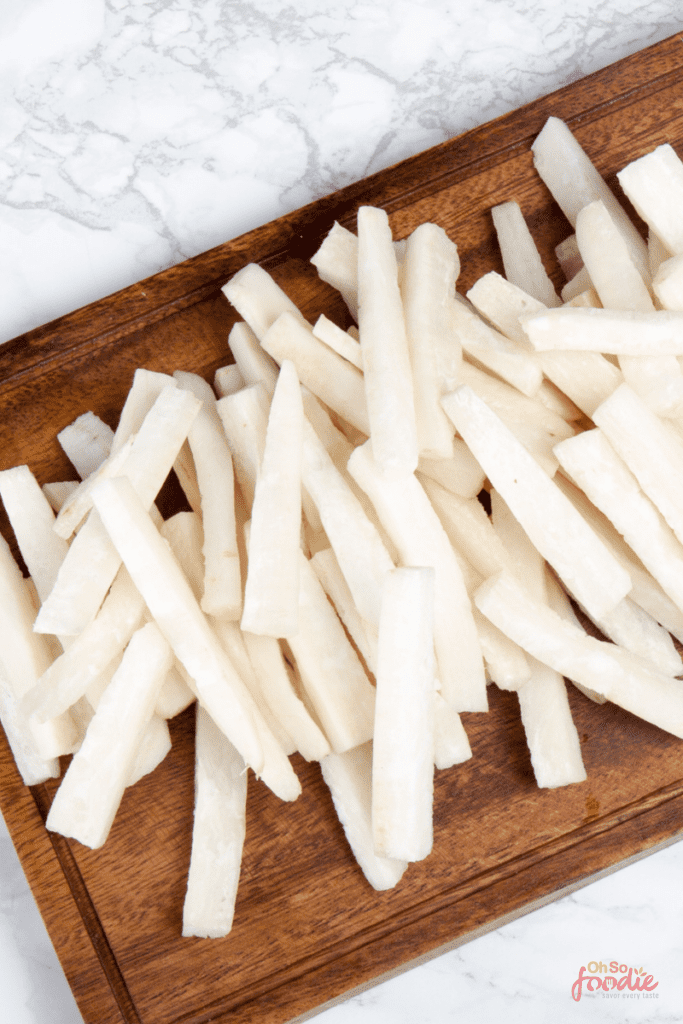 If you can get your hands on some Jicama, it can be used as a good potato substitute too. Jicama is a root vegetable with crisp flesh that will remind you of a mix between an apple and a potato.
Jicama is slightly sweet and nutty and can be used to make fries, soups, salads, and more.
For example, I used jicama to make some deliciously crispy keto fries linked below.
Substitution: 1 cup of jicama = 1 cup of potatoes
Celeriac or celery roots
Have some celery roots available? If so, you can also use those as a simple alternative to potatoes. Celery roots or celeriac, have a celery flavor, but if you don't mind this, you can use it to make fries and even mash!
Substitute 1 cup of celeriac for 1 cup of potatoes
Parsnips
While they are not the first vegetable you'd think of when looking for a sub for potatoes, parsnips aren't a bad idea either.
Parsnips are a vegetable that is a cross between carrots and parsley. This veggie has a mild, slightly sweet flavor with notes of licorice, nonetheless, in a pinch, you can use parsnips to make fries and mash!
Cauliflower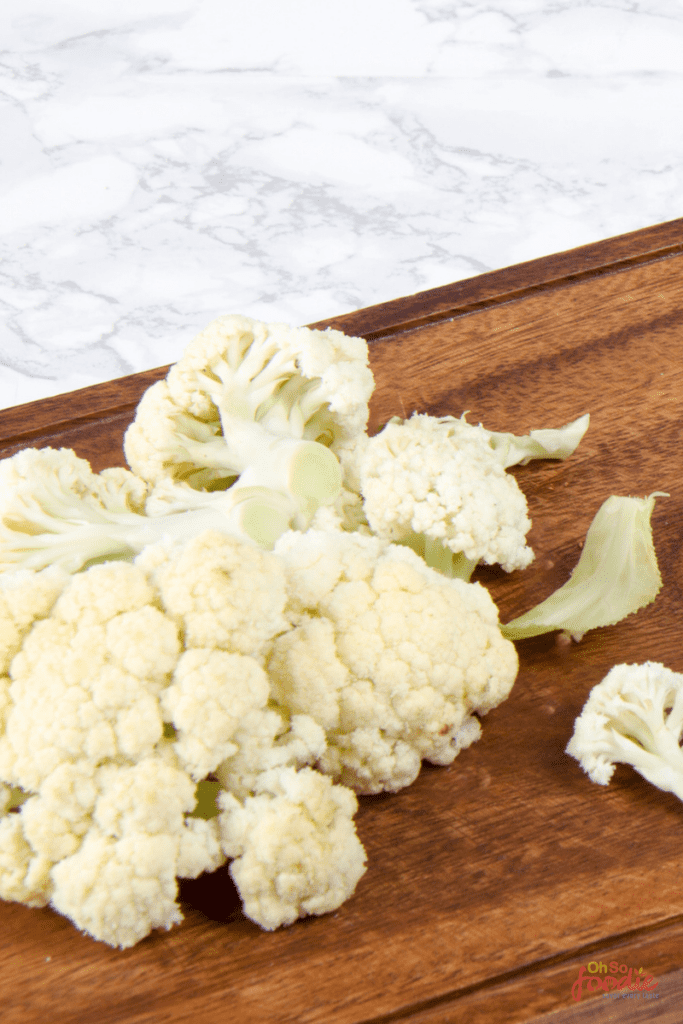 Not only is cauliflower a great substitute for rice, but, Cauliflower makes amazing mash too! As such, it is one of the best potato substitutes. It also doesn't hurt that cauliflower has a slightly nutty, slightly sweet, yet mild flavor that can take on other flavors well and can also work in soups, casseroles, and more.
You can see how I've used cauliflower instead of potatoes to make delicious cauliflower mash, casseroles, and even hash browns! (all links below)
Zucchini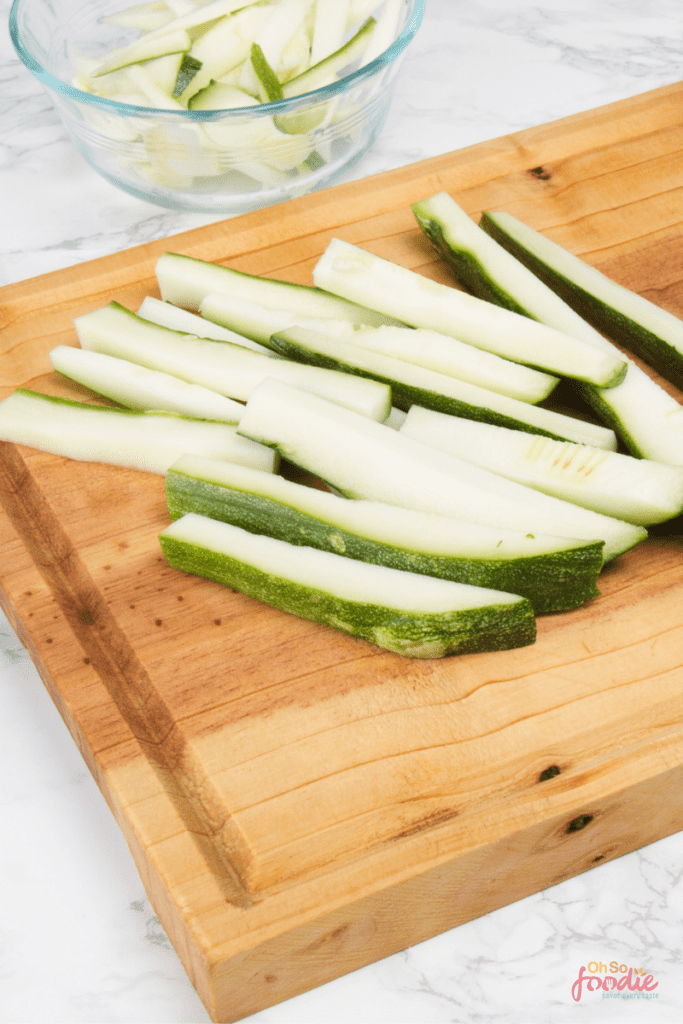 While it is not the best substitute for potatoes, zucchini can replace potatoes in a few recipes.
For example, you can use zucchini to make zucchini fries as in this easy crispy fried zucchini recipe linked below.
I personally wouldn't use zucchini to replace potatoes in any other recipe besides fries.
Eggplant
Like zucchini, I'd only use eggplants as a potato substitute in a recipe like fries. Eggplants are mild and slightly sweet and can make delicious fries once properly coated.
FAQs about the best potato substitutions
What is the best keto substitute for potatoes?
The best keto substitute for potatoes is jicama. This low carb potato substitute works well because it can be used to make a whole list of recipes that potatoes are usually used to make. These include fries, mash, roasted vegetables, soups salads, and more.
Recipes made with potato substitutes