Last Updated on March 13, 2023 by Toya
Check out the best dill substitute for salmon plus 6 other easy ways to substitute for dill in a salmon recipe. Most of these dill substitutes are herbs you have at home, in your kitchen garden or can find easily at your favorite fresh market.
Dill is used in multiple different ways for salmon. Sometimes it's used to make a sauce for salmon, other times it's used to garnish cooked salmon, and other times it's added to salmon while it gets baked.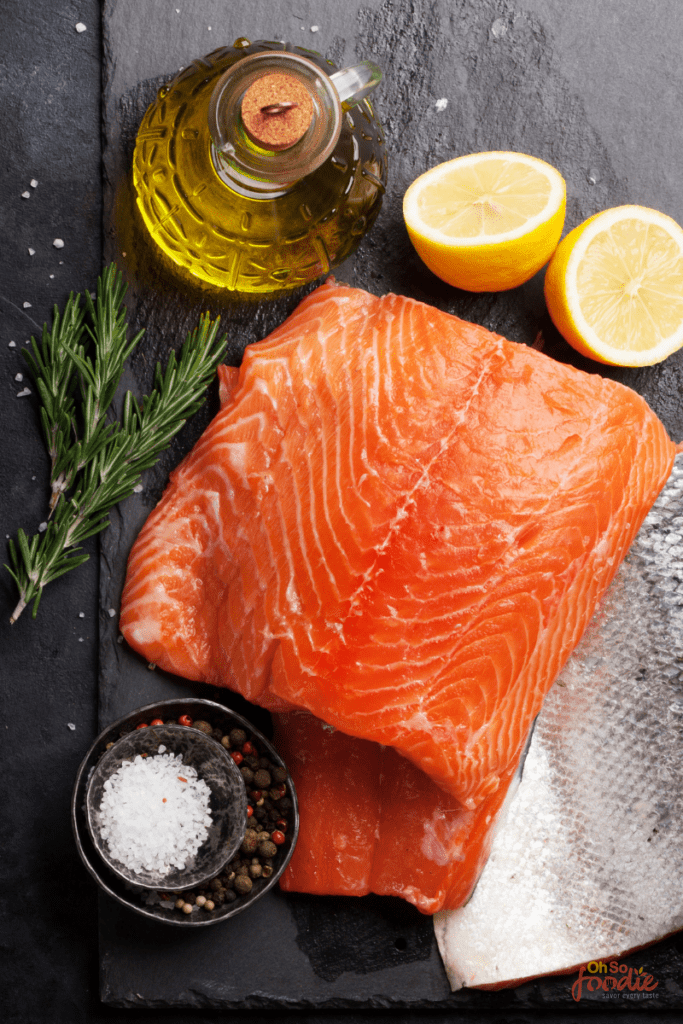 Dill has a flavor that is somewhere between anise, celery, and parsley and adds a lovely fresh bright, almost sweet flavor to salmon.
Therefore, if you're unable to find any dill, you will need herbs that can add similar flavors. Thankfully, there are a few possible options.
What are the best substitutes for dill in salmon?
The best substitutes for dill in a salmon recipe are:
Rosemary

Celery

Parsley

Fennel

Tarragon

Thyme

Deliciously Dill by Spice Hunter
Each herb listed here has its own distinct flavor but they are perfect dill substitutes in a pinch.
Common dill substitutes for salmon
Rosemary
In the absence of dill, rosemary is in my opinion the best dill substitute for salmon. Rosemary infuses a wonderful woodsy aromatic flavor to all sorts of salmon recipes. I find that it works best for grilled, pan-seared, and baked salmon. Paired with a little lime, you'll be hard-pressed to find a better replacement for dill in your salmon recipe.
Of course, rosemary has a different flavor than dill and it will change the taste of your recipe, but if you're looking to try something different, or you can't find dill or don't like it, rosemary is a really good alternative to try out.
Celery
Since dill has traces of celery, celery is a great substitute for dill in a salmon recipe in the absence of dill. Use it as a garnish, in the sauce, you use to flavor your salmon, or added to the baking dish while you bake your salmon.
Parsley
Parsley is another really good dill substitute for salmon. It's perfect for garnishing but will also be a good sub to add to the salmon while it cooks.
It also doesn't hurt that dill has traces of parsley in its flavor.
Basil
If you have basil, this herb can also work in place of dill in a salmon recipe. Basil is sweet and savory with a hint of mint and anise, so it can add a nice flavor to a piece of salmon. Also, it is a great garnish.
Besides that, basil can be used to make a delicious creamy sauce to drizzle over your salmon once it is cooked.
Tarragon
Tarragon is one of my favorite dill substitutes to use in salmon recipes. It's a great garnish, but also an amazing herb to add a nice pungent licorice flavor to a salmon dish.
Thyme
Thyme is good in salmon too. Not as popular as dill of course, but you can add a few sprigs of fresh thyme to some pan-seared salmon and it will add a delightful flavor!
Fennel
Use fresh fennel to garnish salmon in place of dill. It will work because both fennel and dill look similar. Fennel can also be used to infuse flavor into baked salmon.
If you ever run out of dill while cooking some salmon, you have 6 great options to choose from here.
Deliciously dill by spice hunter
Deliciously dill by spice hunter is a blend of ingredients including onion, dill, lemon peel, ginger, garlic, and chives. It is salt-free and can easily enhance the flavor of your food if you're looking for a good dill alternative for salmon.
More Substitutes