Last Updated on November 12, 2023 by Toya
Do you love the tangy taste of pickled vegetables and fruits, but not a fan of cloves? No problem. I have the perfect recipe for you to make your own pickling spice without cloves. This easy-to-follow recipe will allow you to add unique flavors to your pickled goodies and impress your friends and family—without the cloves.
Whether you're pickling cucumbers, carrots, beets, or even watermelon, this recipe will work well with any pickled goods. Plus, you won't have to worry about the overwhelming taste and smell of cloves.
So, let's get started with this simple recipe for pickling spice without cloves.
Why Choose Pickling Spice Without Cloves?
If you're a pickling enthusiast, you know that cloves are a common ingredient in pickling spice blends. However, cloves have a strong and distinctive flavor that can sometimes overpower other flavors in your pickled goods.
Choosing to make pickling spice with no cloves means that you can experiment with different spices and herbs to create unique flavor profiles that suit your taste. You can customize the amount of each ingredient to create a blend that is perfect for your own pickling needs.
Additionally, you may be avoiding cloves due to allergies. If you are, this recipe is perfect for you!
Ingredients
These are the ingredients you will need:
1 tablespoon Sichuan peppercorns
1 tablespoon coriander seeds
2 tablespoons allspice berries
4 bay leaves
1 tablespoon of mustard seeds
3 whole star anise's
These ingredients are all easy to find at your local grocery store or online, and they are all commonly used in pickling recipes. If you can't find some of these ingredients, feel free to experiment with other spices and herbs to create your own unique blend.
It's important to note that the measurements for the ingredients above are just a guide. You can adjust the amounts of each spice to suit your personal taste preferences. For instance, if you love the taste of dill, feel free to add more dill seeds to the mix.
How to Make Pickling Spice Without Cloves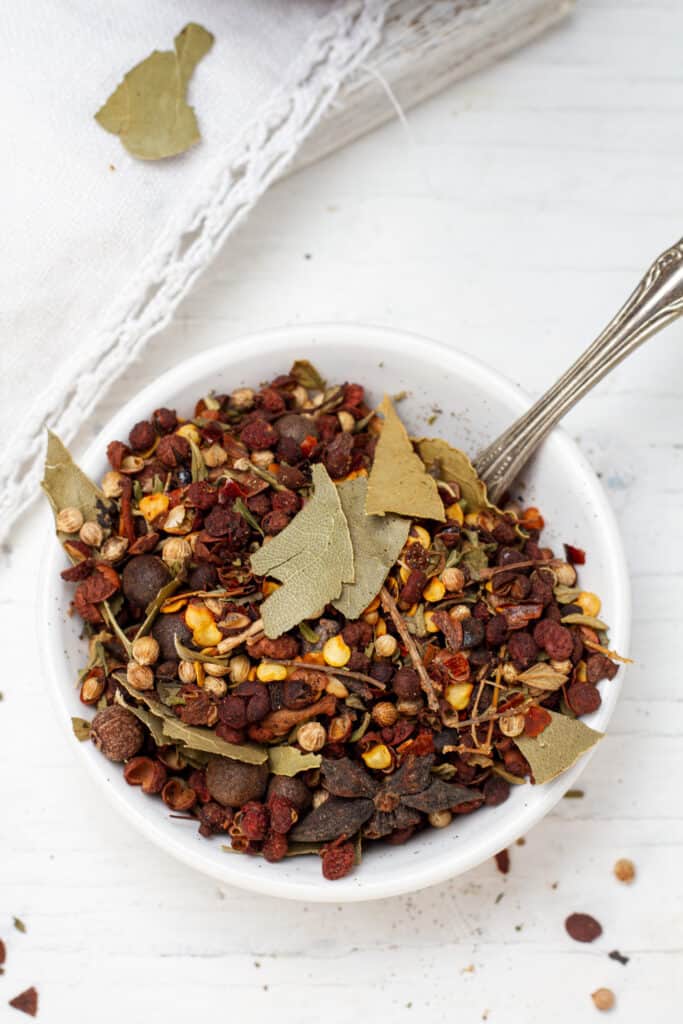 Step 1: Gather Your Ingredients
Step 2: Toast the Whole Spices
In a small, dry skillet, toast the mustard seeds, coriander seeds, dill seeds, and peppercorns over medium heat for 1-2 minutes, or until fragrant. Be sure to stir them constantly to prevent burning.
Step 4: Mix the Spices
In a small bowl, mix together the spices until they are well combined.
Store any unused pickling spice in an airtight container in a cool, dry place for up to 6 months.